Road and Bridge employees brace for possible budget cuts, but keep plowing
Operator, Darren Mayer
Asked what he likes about driving snowplows, veteran Road and Bridge operator, Darren Mayer gestures to the walls of Rock Creek Canyon and asks, "How do you get a better view on the job than that?" It's hard to argue with him. Mayer also mentions the freedom of being outside, not stuck in an office behind a computer, and says the employees of Lincoln County Road and Bridge are like a close-knit family, a phenomenon he hasn't experienced so much in other departments where he's worked. 
Mayer tells of helping rescue stranded motorists, school buses, and stuck cars, of a mother and her newborn baby stranded for hours in blizzard conditions, of the dangers of plowing in a complete whiteout where he couldn't see his plow blade ten feet in front of him and ending up plowing outside the roadside markers––when all the time he thought he was inside them. Of the danger, he casually explains, "If you haven't rolled a truck on its side at least once, you haven't been plowing very long." 
The sides of county roads can be steep, abrupt, unforgiving, and often the drivers can't tell where the edge is. Mayer once did a "soft roll" and was stuck four hours on his side in twenty below weather where he couldn't run his engine. Radios often don't reach the main office on some of the more remote roads the department plows. He had to wait patiently for the calvary to come rescue him.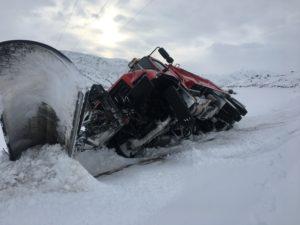 Since there isn't any storage room in a snowplow, he keeps extra clothes, ropes, and other safety gear on the passenger side seat. He often drives with his window open when he plows so he can hear the chattering of his blade and know its condition––if it has loose teeth or cutting edge. 
He points out the subtleties of plowing on the far side of the road from prevailing winds to avoid so much drifting. In February, when the storms come from different directions, the operators change their plowing technique. A four foot snow pile in the wind will cause eight feet of drift behind it. He enthuses about the adrenaline rush that comes from plowing big snow and seeing the rooster tail of snow shooting out from his blade. 
Mayer explains that one of the most frightening aspects of the job––along with whiteouts and semis–– is dangerous obstacles buried in the snow. Rocks can come loose on the sides of the road and be buried in the snow. Hitting a dead deer, horse or cow at thirty or thirty-five miles an hour, hard frozen to the ground, can throw a snowplow clear off the road if the driver doesn't see it. Occasionally, going very slowly, the driver can scrape the dead animal loose. More often, he calls for help, a pickup, chains and crowbars to pry the deer up and haul the carcass away.
Superintendent Matt McCloud
In spite of the dangers and difficulties, and in spite of lower pay than surrounding counties, much of the credit for such positive working conditions at Road and Bridge and being able to attract highly-skilled operators and mechanics, must be given to superintendent, Matt McCloud. 
McCloud, a veteran of more than twenty years of road work, eight as Road and Bridge superintendent, eschews the luxury of an office in the county building and prefers to maintain his spartan headquarters right in the Road and Bridge building near the point of entry at Kemmerer. He has a desk with a laptop, two filing cabinets, several chairs, a printer and a sign on the wall that says "Blue-Collar Worker." More comfortable with low-tech devices like paper, he laughs when he says the IT guy comes by every week to see what mess he has created on his laptop this time. 
While McCloud views himself as a "boots in the dirt" kind of guy, he is a member of Wyoming Association of Engineers and Road Supervisors WACERS, and the governor tapped him to serve on the standards road committee, a group dedicated to making sure that county organizations expend their funds properly. It's quite an honor, but he is clear about his priority though, "My job is to take care of my guys because it takes a very special person to do this type of work. I'm so proud of these guys. They work their butts off." McCloud drives a route along with his crew and often subs when other drivers are sick.
Superintendent McCloud discusses that clearing road is priority to enable other service providers to their jobs.
Positive working relationships
When considering the upcoming legislative session in a Covid-depressed economy, McCloud expresses great faith in the county commissioners and local legislators. "I'm close with the commissioners and Senator Dockstader. We work together in budget meetings all the time. It's my job to help them know how to keep things going." 
McCloud credited commissioners Kent Connelly, Robert King and Jerry Harmon with a tremendous  amount of hard work to make the budget numbers work. He expressed the same confidence that the incoming commissioner, Jerry Hansen, would do the same. A lot of the money for summer work like striping delineators (road markers) and maintaining guardrail comes from state and federal grants that county engineer, Amy Butler, works very hard to get. "Without that funding, we would not be able to do those projects."
To this end, McCloud is already making moves proactively to help with likely budget cuts by selling a building in LaBarge and not rehiring when a driver recently retired. It's unclear if these measures alone will be enough to meet probable shortfalls, but McCloud remains optimistic, "I have all faith in Senator Dockstader and our county commissioners. I know they will fight to help maintain services." My attitude is "We will find a way to work it out."
Road and Bridge Department runs on a rather modest $2.5M annual budget, given everything it does. 
The team has sixteen operators, including two designated mechanics, but mechanics also drive, and drivers work on their trucks with mechanics. The department maintains a fleet of sixteen plow trucks, six motor graders, four loaders, four backhoes, and six tractor trailers. 
According to McCloud, it takes a year to train a new operator, but employees continue to learn new skills and aspects of the trade every day. This year McCloud gets that there will be no increase in pay for his drivers, no new equipment. He is grateful the department got two new trucks last year. 
Superintendent McCloud gets emotional talking about his employees, "Yes, police, fire fighters, sheriffs, ambulances are vital, but without us they can't get where they need to go. We need to be ahead of them so they can do their jobs."  Drivers in Afton and Thayne begin work at 2:00 AM when it's snowing, and the southern routes near Kemmerer begin at 4:00 AM. If it keeps snowing, the operators keep driving––sometimes sixteen hours a day. As a safety measure, due to the danger and lots of dead spots for radios, no one goes home until every driver is back and accounted for. 
We are the department of all trades.
Another intriguing aspect of the Road and Bridge crew is the wide variety of tasks they are asked to do. 
McCloud is proud that Road and Bridge are able to do so many different things. "We're the go-to guys. If it can be done, we probably do it here." 
Besides being on call November through April 24/7 during snow storms, the crew accomplishes many other tasks during non-snow times. Over the past three weeks operators welded a "grizzly trap," or a rock and gravel sifter the size of a small shack––made of large metal bars to pour sand and gravel through to keep out the large chunks which clog the sanders on the snowplows. 
When not plowing, operators weld, do construction work, run water lines, install culverts––some large enough to drive a truck through, drill holes (in the glass control tower in the county jail), haul furniture, maintain their own buildings, do their own tire work, paint their trucks and beds, change oil, do mechanic work, shovel out cattle guards by hand, maintain roads and bridges, clear snow for fishing derbies, dog sled races, hill climbs, and cutter races, and lend a hand to the highway department cleaning semi spills from the highway–-to name just a few of the things they do. Their work is incredibly varied.  
Recently they set up a rodeo arena in LaBarge. Road and Bridge employees completely donated their time to that project to support their community. The old stereotype of government employees leaning on shovels all day instead of working isn't the case here. If not plowing, operators are working on projects. During snow storms, they have already worked a full day by noon.
Driver tips for county roads: 
Sometimes drivers are unsure of safety around snowplows, so operator Darren Mayer shared a few thoughts on how to stay safe and keep snowplow drivers safer in the process. 
Mayer encouraged cars to stay back from a snowplow, at least two road markers (delineators). When cars come too close to the plow or pass it, the plow driver has to turn off his sander. If a vehicle follows a plow too closely for very long, the driver will likely have to go back and re-sand that stretch. 
Mayer asked that drivers not pass snowplows, particularly county plow drivers. The longest routes they drive are 15-20 miles. His question: "Are you willing to drive 15-20 miles at 30 miles an hour instead of 50 or 60 to help keep yourself and the driver safe? As soon as the driver can, he'll pull over and let you pass.
Snowplow drivers tend to watch their right-side mirror intensely as they push snow, and sometimes don't see vehicles coming up in the rather large blind spot they have on the left side of their snowplows. 
He implored county residents to not cross the road when pushing snow from driveways. The large chunks can freeze and be dangerous if a plow driver hits them. They sometimes can literally throw a plow off the road. 
Mayer also explained, "The driver is sometimes driving by braille in a whiteout. He literally has to feel his way sometimes. Because we have big, strong flashing lights, doesn't mean we have good visibility." His overall request: get up earlier, go slower, and please be patient.
War Stories
Lincoln County borders Uinta, Sweetwater and Sublette Counties, so Road and Bridge operators clear approximately 300 miles of county roads during snow weather and are tasked with maintaining nearly 400 miles during better weather. Some of the roads have grades of up to 10%. Plowing these roads in top-heavy sand-loaded snowplows is exhilarating at times, but often dangerous. 
Superintendent McCloud shared just two "war" stories he has experienced while plowing. (There are many more.) He explained  moose and other animals like to walk on the roads when they can. It's much easier than cutting through big snowdrifts and deep snow. On at least one occasion, in a whiteout, he was plowing one of the county roads and "plowed a moose." Unknown to him, the animal came in under the top of his blade (blades are curved on top and angled) and was propelled out with a big rooster tail of snow, shaken up but none the worse for wear. The moose survived. 
On another occasion, a snowmobile rider had broken down and left his machine by the side of the road. A big snowstorm came up and buried the machine. Mccloud plowed the snowmobile and smashed it. It's fair to say the moose came out much better than the snowmobile, but the owner was good-natured about it and held no grudges about the destruction of his machine.
And while neither Mccloud nor Mayer referred to it, they have to know their work saves lives, whether it's rescuing stranded motorists or preventing accidents. That has to feel good. And while it's probably not too much to call the men at Road and Bridge local heroes, sometimes their goals are modest and mundane too. Darren Mayer said of the rancher who lives at the top of one of his routes, "I just try not to run over Trudy's dogs."