Rotary honors Altobell, Jirak and Fry in October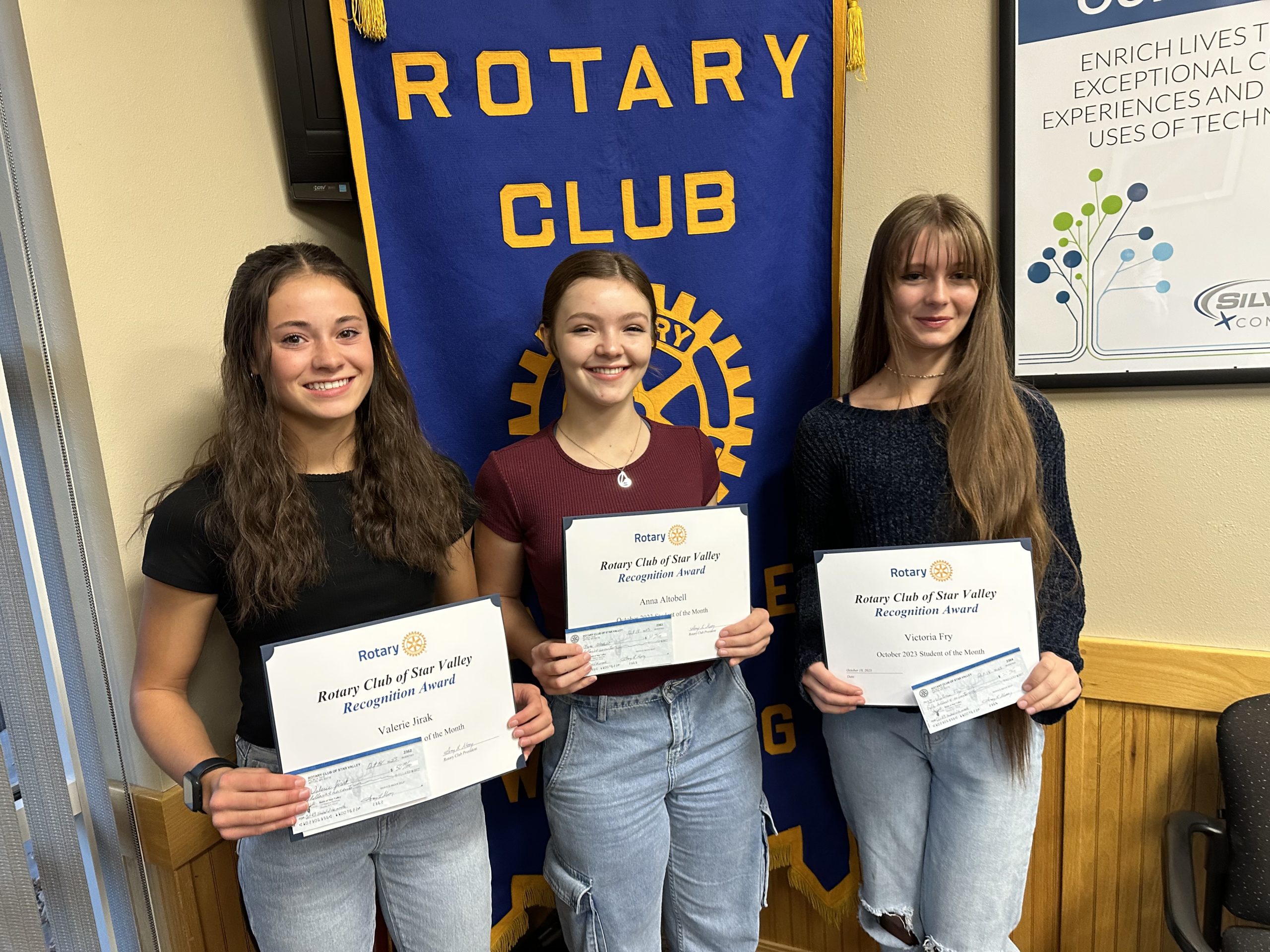 • Students sign books that will be distributed to libraries.
Anna Altobell, parents John and Dash Altobell
She is involved in speech and debate which she enjoys because with debate you are forced to think about topics from opposing points of view. It's also a great way to meet students from other areas. Her pastimes include playing the violin and ballet dancing which she hopes to continue after graduating high school. She is hoping to go to college in the Boston area, as she has family in that area and really likes it. Currently she hopes to pursue a degree in medicine.
From her parents: She rocks. She has a lot of kindness and compassion. She has always worked hard to get what she wants to achieve.
Valerie Jirak, parents Jeremy and Angie Jirak
She is originally from Kansas, her family having moved to Star Valley about 8 years ago. She loves track and field and in her drive to challenge herself has taking on multiple events. She enjoys track and field so much that her favorite time in high school is track practice. She loves being outdoors including hiking, fishing, hunting and dirt bike riding. She is looking to get into sports medicine after high school and is looking at several different colleges.
From her parents: She is super-smart. And is very studious. She is a good sibling to her sister and four brothers and is always willing to help out.
Victoria Fry, parents Klint and  April Belnap
She has been in Star Valley for about a year, having lived in Utah and Georgia before. She really enjoys lots of different subjects from English to Math. She is hoping to go into hotel management after high school. She was a captain of the color guard team this year where they recently received a Superior rating at State. She is also a member of the high school wrestling team where she was part of last season's state team title. Outside of school she loves ballroom dancing which she has been doing for years.
From her parents: She is very graceful. She is a voracious reader and can finish a book in no time.
Let us know what you think!
Tagged:
Ana Altobell
Star Valley Rotary Club
Valerie Jirak
Victoria Fry