Rustic Rose Hosted Networking Event for Star Valley Women in Business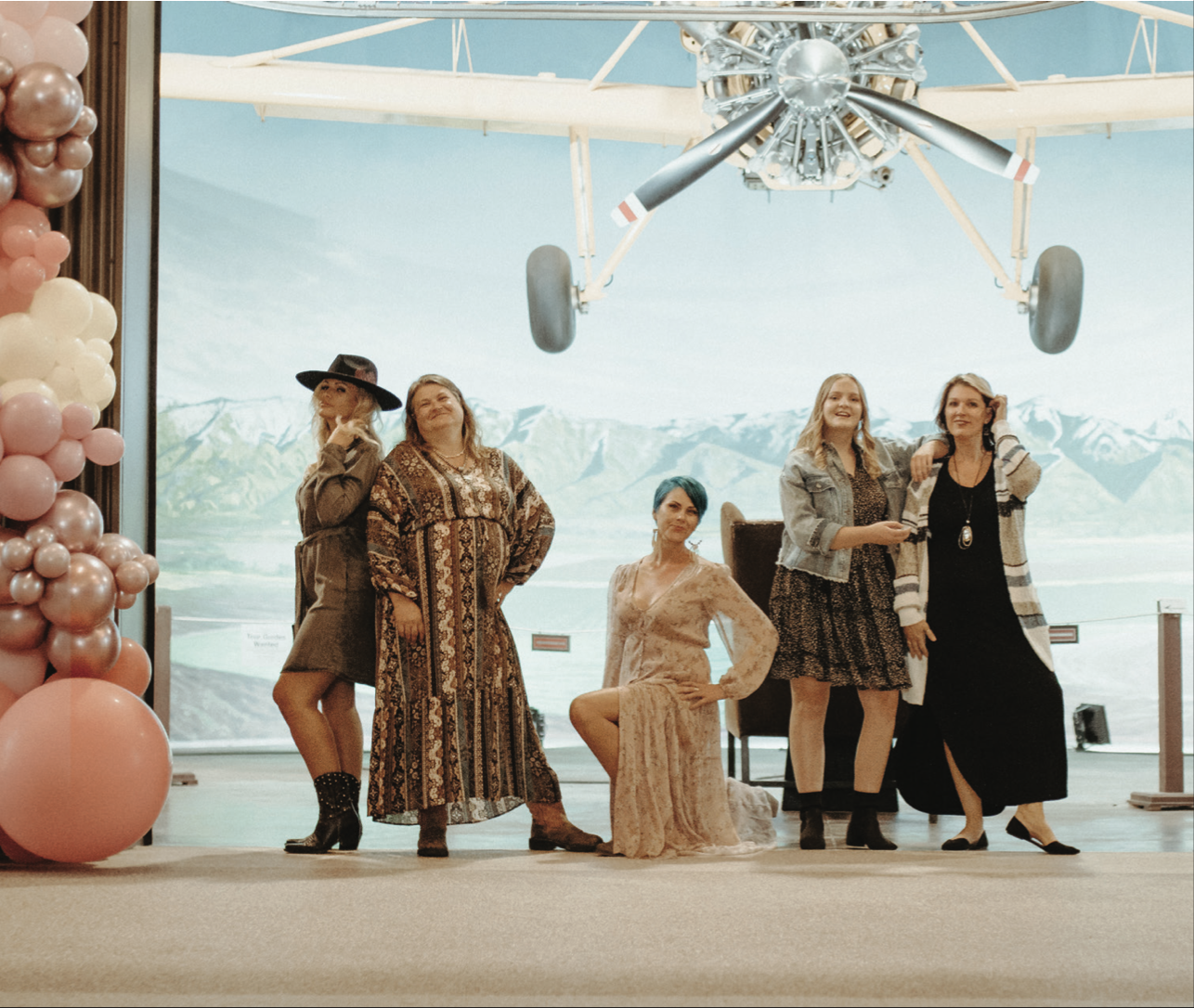 ◆ At the Rustic Rose Fashion Show and Pop-Up Shopping Fundraiser, local businesswomen came together to support one another.
By Breanna Call
SVI Media
On September 8, women from all over Star Valley gathered together to celebrate and support local women in business by attending the Rustic Rose Fashion Show and Pop-Up Shopping Fundraiser. The event was hosted by Rustic Rose Chic Boutique and held at the Afton Civic Center. Many women set up booths and sold items from their stores. And while women shopped, they also networked and discussed topics such as marketing and business strategies. Kenzie Nield of Kinsey Lynn Photography documented the event by taking photos.
The night wrapped up with a fashion show exhibiting new styles from Rustic Rose. Julie Adams, owner of Rustic Rose, emceed the event, and Joanie Braunberger of Upstream Entertainment was her co-emcee and DJ. The models were local women: Mandy Veda, Amber Bills, Elly Rainey, Aubree Person, and Tina McGarvey. Interspersed throughout the fashion show, giveaways—all donated by local women in business—were raffled off. A portion of the proceeds were donated to the Turning Point, a shelter and crisis intervention center for women and children experiencing domestic violence.
Adams states the event "had a successful turnout," raising over $1300 for Turning Point. Adams explains, "Rustic Rose Boutique & Infrared Sauna Spa is a 'Purchase with Purpose' boutique that donates a portion of our profit to a non-profit organization each quarter. The Turning Point was our non-profit to donate to this quarter, and we are looking forward to providing more support to them in the future. We enjoy serving and helping others, and this is one way for us to use our resources to do so."
Others in attendance share positive remarks about the event as well: Vanessa Merritt, who intricately designs baked goods, states, "It was so fun meeting so many people and local women in their businesses. . . I've already gotten several people that have contacted me for orders that I haven't had before, and I sold most of my cookies at the event, so that was super exciting too."
Stephanie Williams from Simply Golden Bookkeeping adds, "It was uplifting and motivating to see the businesswomen of the valley come together and support each other. . . As a new business owner and woman in business, I really needed this and hope we do more!"
Paige Alise, a real estate advisor with Engel & Völkers, says, "It was awesome to see the seats filled along the runway supporting our local women-owned businesses. . . . I took several business cards and went home with my hands full of goodies. I love to see women supporting women, and I hope to participate in this event again next year."
Adams is passionate about women in business for myriad reasons. She states, "I believe in community over competition, and the more successful we each are, the more successful we all are. Women have many skills, and it's wonderful to highlight and support women personally and professionally whether helping them select clothing in our boutique, supporting their mental and physical health with our infra- red saunas and quality supplements, or planning events so we can build relationship and share our business services."
Adams is also an entrepreneur herself. Although Rustic Rose is her first brick-and-mortar store, she and her husband have no shortage of business experience. In fact, they have been business owners for over 20 years and currently own six businesses.
Adams "plan[s] to have another fundraiser again next year. Hopefully the event will grow, and we can honor even more wonderful women-owned businesses as they provide pop-ups and raffle items that highlight their expertise and products." To learn more about Rustic Rose and the positive impact it is having in our community, follow them on Facebook or Instagram @ RusticRoseWY.

Let us know what you think!
Tagged:
Afton Civic Center
Kinsey Lynn Photography
Pop-Up Shopping Fundraiser
Rustic Rose Fashion Show