Saddles from Star Valley Sent Coast to Coast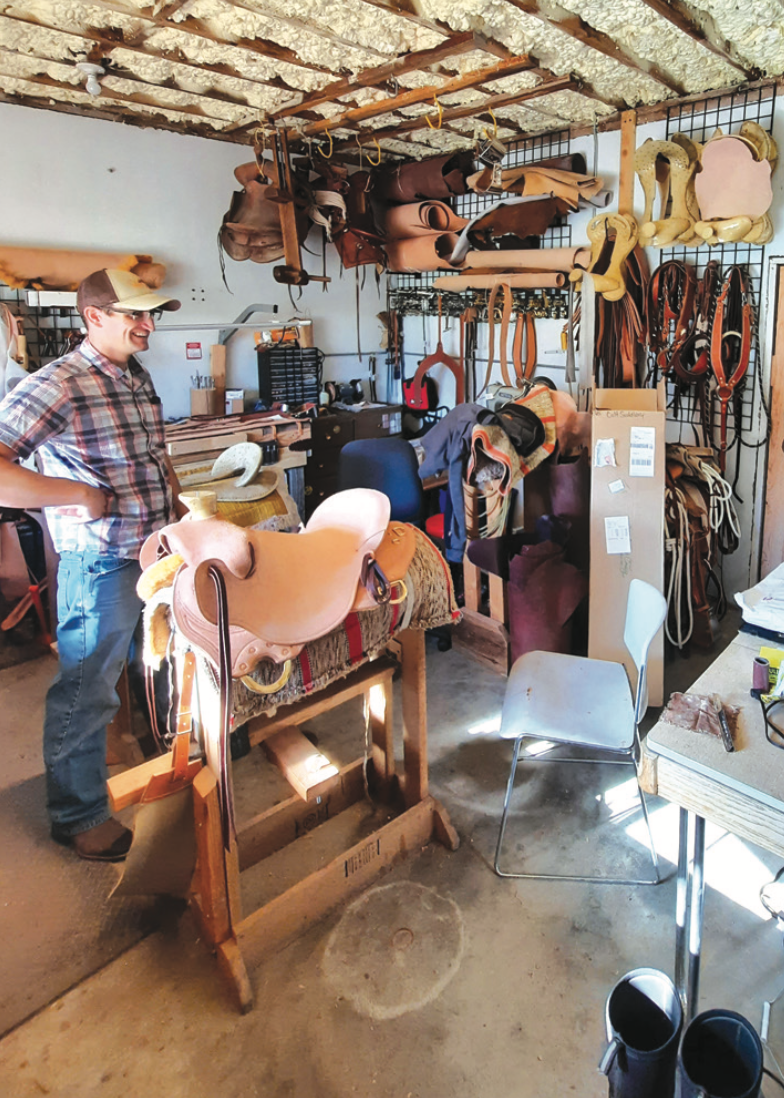 ◆ Colt Nehring of Colt Saddlery handcrafts high-quality, custom mule saddles.
By Breanna Call
SVI Media
Just off Highway 241 behind a modest home sits an old milking barn converted into a shop. And you would never guess that out of that building come high-quality, custom-made leather saddles. But that is exactly where Colt Nehring puts his skills to work and produces one-of-a-kind mule saddles.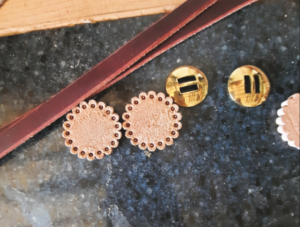 And why mule saddles? Nehring explains, "We've had mules since I was a little kid, and my family grew up with mules. We just did a lot of mountain riding, and our mules have been really good in the mountains." Nehring currently owns two mules and is training a third. With mules being incorporated in his daily life, it was easy for him to bring that influence into the shop. "It was just a kind of natural fit," says Nehring. "It just came pretty easily for us. . . . It kind of sets us apart." Though there are several leatherworkers in the region, Nehring is one of the few that focuses on mules.
Nehring's knack for leatherwork dated back to high school. He states, "We had a project that we were supposed to do, something that we wanted to do in our future or something we wanted to learn how to do, and so I chose to build a saddle." No small feat for an untrained teenager. Luckily, a friend of the family showed Nehring the ropes. From there, Nehring practiced leatherwork on his family's saddles.
Eventually, he had the opportunity to learn from a man in Idaho. "I went and lived with him for a week was all," says Nehring. "We built one saddle together." And though this internship was brief, that was all Nehring needed to jumpstart his career. "The people I worked with definitely helped give me a good start and a good foundation," says Nehring. And he didn't stop there. He continues to read books and watch media on the trade. Even on family vacations, if the opportunity presents itself, Nehring will check out other saddle shops. "You learn a lot just talking to somebody and seeing their work, seeing different things," says Nehring.

Nehring has been producing saddles in the valley for roughly two years. His wife, Nicole, grew up in the valley, and the couple were able to purchase her grandparents' home. Nehring says, "We've always loved Star Valley, and so when we got the chance to come back, we came back."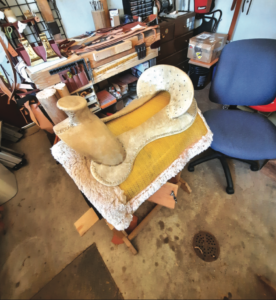 Each saddle that Nehring produces takes roughly 60 hours to complete. That means that he aims to produce two to three a month. Now, you may wonder why each saddle takes so long to make. Well, that's because Nehring is involved in the details. Many saddles are mass produced by machines, but not Nehring's. His saddles are cut, sewn, rubbed, shaped, and stamped by hand. Nehring says, "It takes a lot of hard work. It takes being able to know how to use the tools, to cut it out, and having the right tools and the quality tools, so there's a lot involved in that. But, to me, it's worth it. . . It's important to me that it's just me. If I put my name on it, then I want to make sure that everything is done by me."
And that's exactly what attracts clients to Nehring's work.
Most of Nehring's clients are trail riders or working cowgirls and cowboys, so his saddles are being used heavily every day. But Nehring's saddles are built to last. "A good saddle should be passed down from generation to generation. That's always my goal. A good saddle should outlast a lot of mules." Nehring has shipped saddles from coast to coast, including Utah, Oregon, and South Carolina. And his first saddle to be shipped internationally is on the docket.
Word of mouth is spreading fast, and Nehring is booked through the end of the year. To learn more about his custom saddles, you can contact him via his Facebook page: Colt Saddlery. Nehring says "it is a dream come true" to be able to create saddles here in Star Valley. And he looks forward to selling his first saddle to a Wyoming native.
Let us know what you think!
Tagged:
Colt Nehring
Colt Saddlery
hand-made mule saddles
quality leatherwork