Scherbel named Wyoming High School Forensic Ambassador at state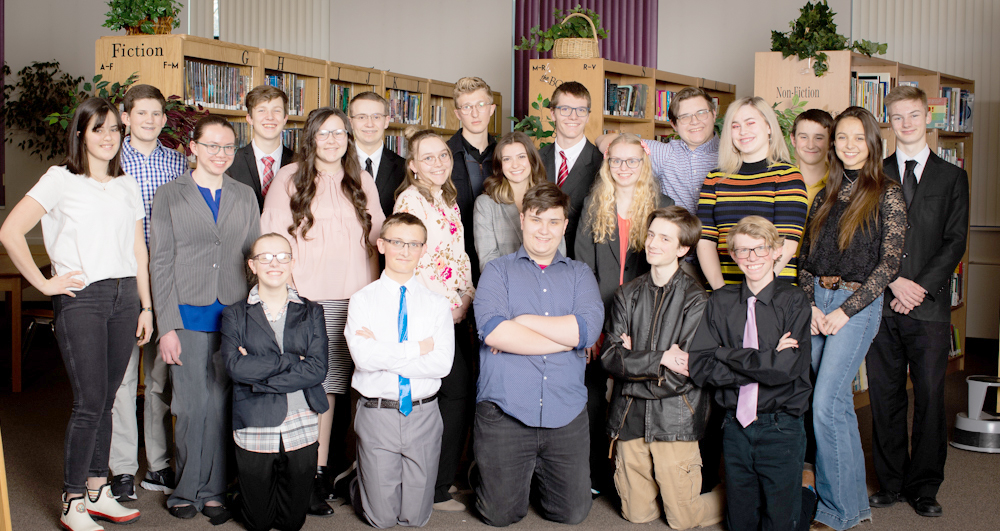 ◆ The skilled senior is one of only six debaters selected state-wide.
Star Valley High School Senior Speech and Debate Team Captain Josef Scherbel, son of Karl and Holli Scherbel, of Etna, has been appointed by the Wyoming High School Forensic Association as one of six students state-wide to represent the forensic community as a 2021 Wyoming High School Forensic Ambassador.
News of Scherbel's appointment was announced at the state Speech and Debate Tournament that was held virtually March 11-14, which SVHS team members attended from the school media center.
"Six students from the state are selected by a committee of Wyoming Speech and Debate coaches from a pool of exemplary seniors," explained Katie Roberts, SVHS Speech and Debate Coach. "They are nominated by their team coaches.  The criteria include how well they represent the speech and debate/forensics community by their performance record, their longevity in the program, their leadership skills, their recruitment efforts, and their above and beyond excellence as a member of the team."
Surprised by the honor, Jo told SVI Media that he was "speechless. I wasn't expecting it. I am really very honored to be chosen."
Jo has been active in Speech and Debate since he was a freshman. He has served as a team captain for the last two years and has been central to team building, recruitment and mentoring of team members. He has placed in every event at every meet in his high school forensics experience and has served on the state team all four years of his high school speech and debate involvement.
Speech and Debate participation has served Jo as well. "When I was a freshman, I was a really shy kid. Speech and debate helped me find my voice. I am more outspoken and confident now."

Jo's event participation has included Humorous Interpretation, Duet Interpretation and Impromptu events. He enjoys the camaraderie that he has found in the forensics community and has built many quality friendships with other debaters from throughout the state.
When asked about her choice to nominate Jo, Coach Roberts spoke of his outstanding commitment and leadership qualities.
"This senior has fully participated in speech and debate since his freshman year. He has gone from a shy freshman, who had a hard time looking the judges in the eye, to a very powerful, connected performer.  As our interpretive events captain, he has worked so well with all the competitors to help them develop voices, characters, and blocking.  Jo has a lot of leadership qualities that manifest in a quiet and behind-the-scenes way.  Jo doesn't need praise for all that he helps the team with, in fact he seems to shy away from praise and public recognition, but that is part of what makes him great.  He is true to himself and his values, whether or not others notice.  Josef has actively recruited amazing team members, and when they have come aboard, has mentored and helped them through the first tournament in dealing with judge's feedback, and more."
The SVHS team, as a whole, represented Star Valley well with several members placing in 3A and Overall competition.
Priscilla Greenwell placed third in Informative for 3A. Gabe Daniel earned second in the 3A Humor category and third in overall competition with 4A school as well. Nick Jardine and Caleb Thygerson took second in 3A Policy Debate. Gabe Daniel and Jo Scherbel third in 3A Duo. Amalie Scherbel was chosen for Best Legislation. Semi-finalists included Ashley Helm partnered with Parker Thompson and Amalie Scherbel partnered with Zoey Scherbel in Duo as well.
"Our captains kept the troops rallied," commented Roberts. "Ashley Helm serves as Head Captain, Jo Scherbel as Interpretive Captain, Aidan Shervin as Archduke of Traditions and Nick Jardine as Debate Captain.  [During the state tournament], the student competitors watched, supported, and celebrated with each other through wins, and commiserated through heart breaking defeats.  This team is really unified and wonderful with each other.  It is a joy to be around them for days at a time."
The team has one more tournament at which they hope to have some members qualify for national competition this summer. Roberts and her team are very appreciative of the support and extra effort from the SVHS administration, teachers and custodial staff as well as parents and community members.
Let us know what you think!