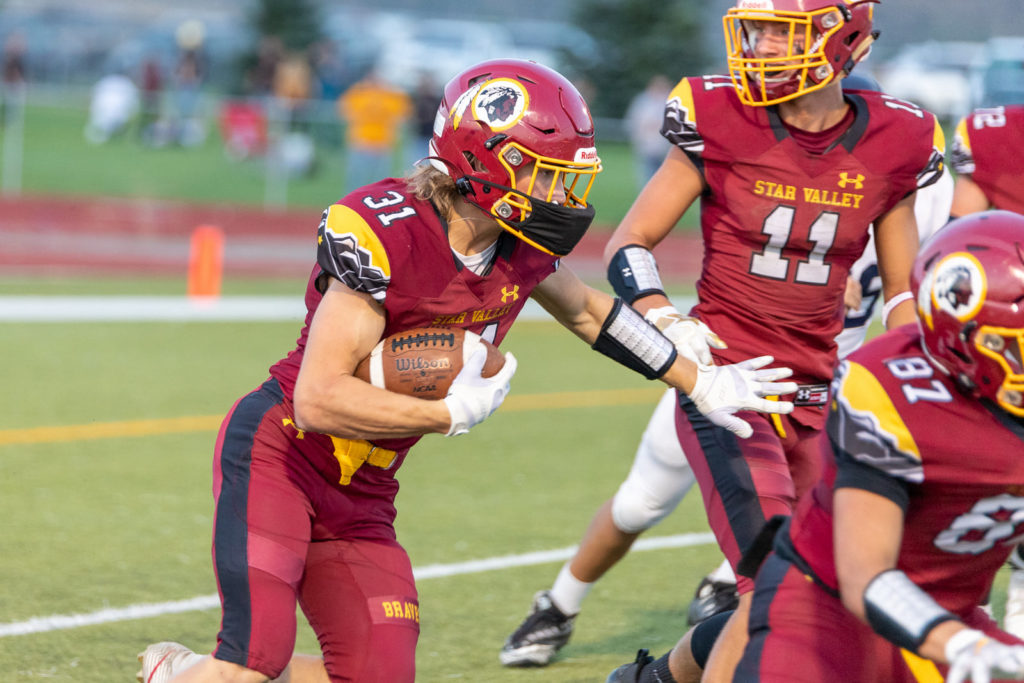 ◆ SVHS hosts Preston (0-1) this Friday evening.
The Braves asked a lot of their defensive unit on Friday as the high-powered Summit Academy Bears invaded Afton averaging 45 points per game. Not only were the visitors looking to avenge a 36-7 drubbing by the Braves a year ago, but they were also on week three of their regular season in addition to two weeks of practice as Utah was the first state in the country to resume prep football.
There was plenty to admire about Star Valley's effort in this regard but battling the field position game all night long in addition to committing multiple turnovers was too much to continue a 21-game winning streak which came to an end amid a cheering Summit team.
"I was super-impressed with our effort," stated head coach McKay Young. "I liked how physical we played; how hard we played. We just made too many mistakes to beat a team like that. The nice thing is that they are all very fixable mistakes so we're excited about the group we have a ton of bright spots in that game."
Star Valley led for the majority of the first half after a first quarter touchdown run from Layne Oesch and Kort Hilton PAT. The second quarter was indeed a challenge to keep the Bears off the board though as they started multiple possessions inside Star Valley territory before finally breaking through with 11 seconds left in the second quarter on a touchdown pass from Joe Garlick to Russ Oliver.
"I thought defensively we played really well," Young continued. "We gave them real good field position particularly in the second quarter. I felt like time and time again our defense kept holding and that speaks to their character. There are good things to come."
Summit used the momentum to their advantage as they came out determined to run the ball with Jaxon Case who picked up more than 40 yards in a 90-second possession to start the third quarter that put the Bears up 14-7.
The Braves put together a quality drive as they answered the touchdown with a score of their own capped off by a touchdown pass to Winston Green and a 14-14 score.
Down the stretch the Braves battled the Bears' superior field position which came about on a lost fumble, an interception and a blocked punt. Star Valley forced Summit into a 23-yard field goal which banked in off the right upright and a 17-14 lead
The dagger came in the fourth quarter as Garlick dropped a dime to Titan Kilgore who outran the defense for a 73-yard touchdown.
In the end, Young praised the effort of his team while acknowledging the items to address before next week's contest.
"I'm proud of my guys," he said. "The effort was there. There was no quit in them even down the stretch when things were going the wrong way. There's a mountain of things to look at mentally but we came out of this week without any injuries so that's a good thing and it's a chance for us to get better."
Garlick did finish with 208 yards passing but needed 32 attempts to do it. Jaxon Case carried the ball 32 times for 137 yards. Brant Nelson passed for 112 yards and a score while Oesch led the team with 78 rushing yards.
Young thinks the streak made more news outside of Star Valley than it did inside the valley.
"I think the streak is something [those] outside the program talked about a lot more than we did," he added. "It's just not something that is a goal. Going undefeated was a really cool thing but that wasn't our goal. Our goal is to be there at the end. They don't give out any trophies in August. We schedule the way we do to see good teams and be exposed in our weaknesses. Sometimes that means you're not going to come out on top."
Up next for the Braves will be a somewhat traditional opponent as they take on the Preston Indians (0-1) who lost their opening week contest to the Shelley Russets, 33-19.
"They graduated a couple of key pieces but they bring back a receiver who had a big season," Young concluded.  "They are a big school so they'll have a lot of talent on their roster. I know that they are a young team but as far as the talent level it will be among the best we see this year. Just big athletic kids."

• The Coronavirus Effect
The bleachers had every other row taped off, spectators were encouraged to bring lawn chairs and everyone through the gate had a mask as the Braves pushed the limit of the 1,000 person cap set forth by the Wyoming Department of Health for outdoor gatherings. Despite the precautions and distancing, the venue felt very much like a normal home contest.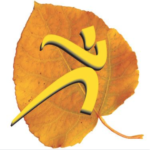 • Coverage
The Aspen Physical Therapy Countdown to Kickoff will once again begin at 6:25 p.m. this Friday night as Star Valley hosts the Preston Indians. The streaming broadcast will be available at svinews.com, on the SVI News App and also promoted at the Star Valley Independent Facebook page.
Recapping the Rivalry
Preston Indians
First Game: 1951
Overall Series: S.V. leads 10-3
In Afton: S.V. leads 6-2
Trends: Braves have won the last three meetings. Indians last won in Afton in 2014.
Summit Academy: 24
Star Valley: 14
Passing
Brant Nelson 13/23 for 112 yards
TD/Int
Rushing
Lane Oesch 14 for 78 yds TD
Brant Nelson 9 for 30 yds
Lucas Chappell 8 for 46 yds
Tony Mickelson 3 for 1 yd
Winston Green 1 for 18 yds
Chase Stewart 1 for -5 yds
Receiving
Winston Green 7 for 62 yds TD
Lucas Chappell 3 for 27 yds
Tristan Kleeman 1 for 16 yds
Chase Stewart 2 for 7 yds
Total Yards
Star Valley 168 Rush, 112 Pass, 280 Total
Summit Academy 143 Rush, 208 Pass, 350 Total
Tagged:
Preston Indians
Star Valley Football
Summit Academy Football