Semi falls off I-80 bridge onto train tracks near Rawlins
A semi-truck and trailer drove off a bridge on I-80 Friday morning, landing on and blocking two sets of Union Pacific Railroad tracks.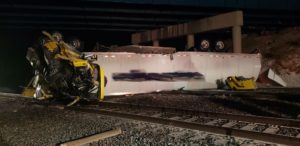 The Rawlins Police Department said calls about the incident were received at the Rawlins PD Communications Center at 5:39 AM.  Rawlins PD Officers responded to the scene as the initial emergency response and ensured scene safety.
Union Pacific Railroad Dispatch was notified to have all oncoming train traffic stopped before entering the crash scene.  According to Rawlins PD, an eastbound train was in the vicinity upon officer arrival.
EMS transported two patients from the semi-truck to Memorial Hospital of Carbon County in Rawlins.
The crash is being investigated by the Wyoming Highway Patrol.