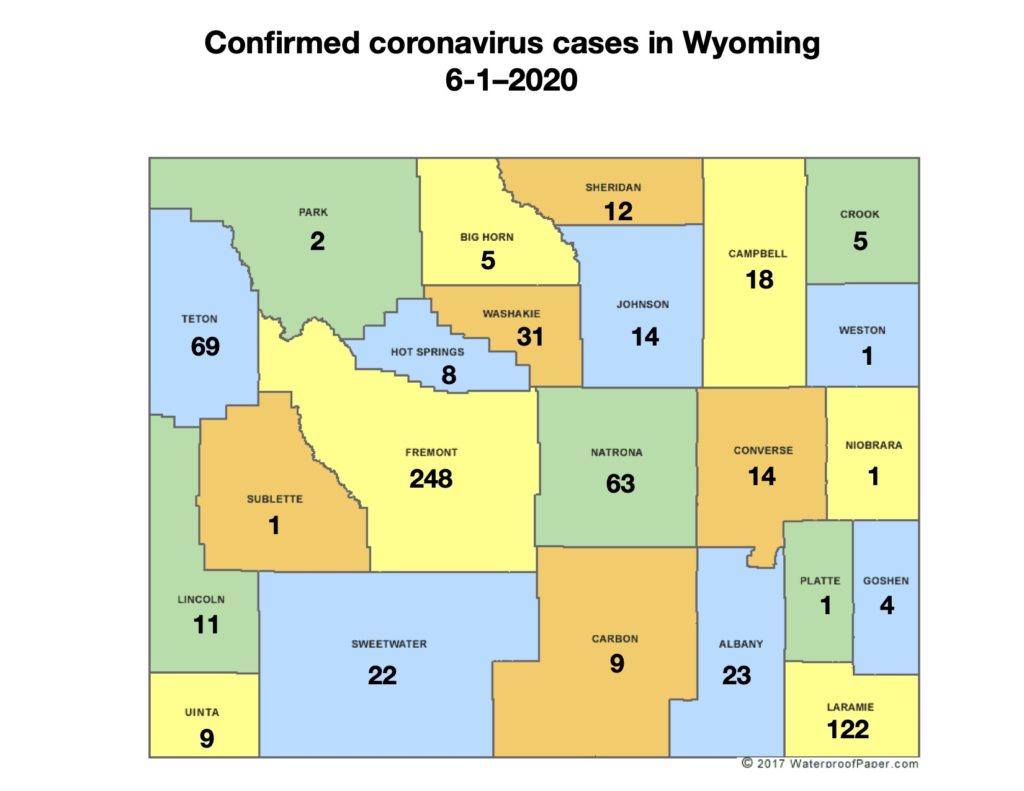 By The Wyoming News Exchange
A Fremont County woman has become the 17th Wyoming resident to die as a result of the coronavirus, according to the Wyoming Department of Health.
The department, in a news release Sunday, reported that the woman had been hospitalized for treatment of the illness, but did not have any known conditions that would have put her at a high risk for complications from the virus.
The number of coronavirus cases diagnosed in the state since the virus was first detected in mid-March was set at 693 on Monday morning, an increase of 11 over the weekend.
The department said new cases were detected over the weekend in Big Horn, Fremont, Natrona, Sweetwater and Washakie counties.
As of Sunday afternoon, Fremont County had 248 cases; Laramie County had 122; Teton County had 69; Natrona had 63; Washakie had 31; Albany had 23; Sweetwater had 22; Campbell had 18; Converse and Johnson had 14; Sheridan had 12; Lincoln had 11; Carbon and Uinta had nine; Hot Springs had eight, Big Horn and Crook had five; Goshen had four, and Park had two. Niobrara, Platte, Sublette and Weston counties had one case each.
The number of people to have recovered from COVID-19 stood at 658 on Sunday, a gain of 16 over the weekend. The number included recoveries among 502 people with laboratory confirmed cases of coronavirus and 156 people with probable cases.

A probable case is defined as one where the patient has coronavirus symptoms and has been in contact with someone with a confirmed case, but has not been tested for the illness.
The department said the state has seen 210 probable cases since the pandemic began.
The number of active cases on Sunday was 230, including 176 with laboratory confirmed cases of coronavirus and 54 with probable cases.
Let us know what you think!