Sheriff's Office gives statement regarding two Alpine girls reported missing
During a live interview on SVI Radio Tuesday, April 11, Lincoln County Sheriff Shane Johnson covered a number of topics including a case involving two girls from Alpine that have been reported missing by their father.
Tamzen Walsh, 8, and Lilyana Walsh, 12, are believed to be with their mother, Stephanie Walsh. However, the girl's father, Jace Walsh, has not heard from or seen them since February. According to Jace, the last verified contact showing the children are still with Setphanie was March 12th.
"They are with there mother but they have not been contacted for some period of time," stated Johnson. "We've worked with the dad and we've worked with the National Center for Missing Children to get some posters out in some areas we think they might be so we can get them back in contact with their dad and let them figure out from there what the future holds."
Johnson said Stephanie is the legal mother and has not committed any crimes. "At some point it turns into a welfare type thing. Dad has a right to those children, too."
Jace has obtained an emergency temporary custody order for the children, pending a hearing that would afford the opportunity for both the mother and father to be heard on temporary custody. Sheriff Johnson clarified that Stephanie has not yet been served the temporary order.
Sheriff Johnson stated that the department is following up on leads and hopes to bring the case to a close soon.
Anyone with information is asked to contact the Lincoln County Sheriff's Office at (307) 885-5231.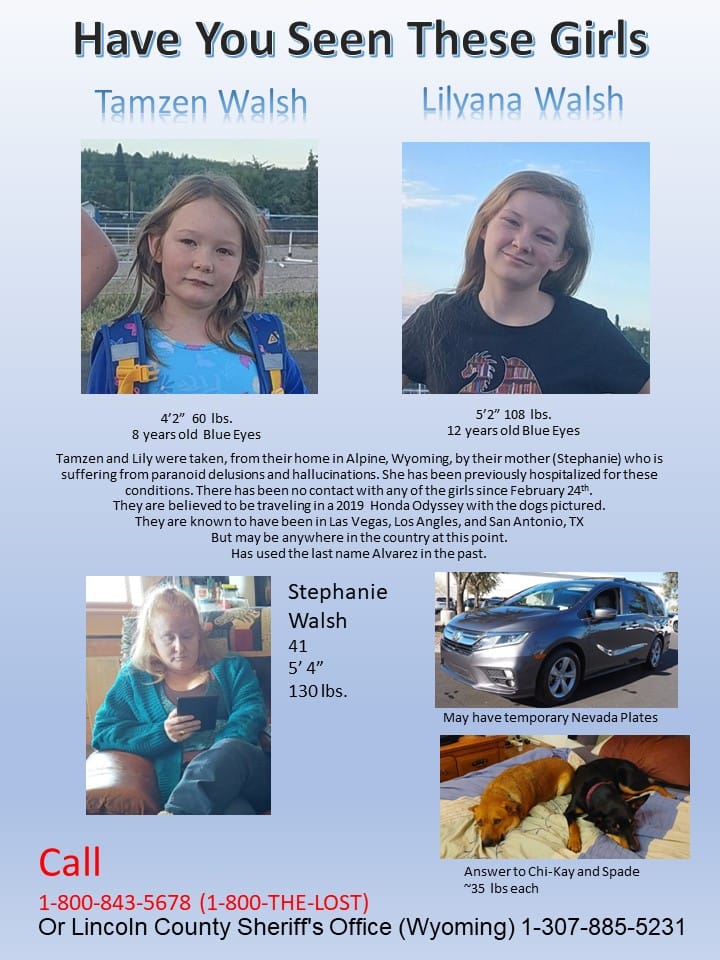 Let us know what you think!
Tagged:
Jace Walsh
Lilyana Walsh
Stephanie Walsh
Tamzen Walsh