Skimmers target gas station in Idaho Falls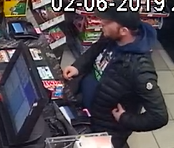 Thursday, February 7, the Bonneville County Sheriff's Office responded to the Chevron gas station on 65th S. and Overland Drive, near the 113 Exit of I-15, where a credit card skimmer was found.   
A credit card skimmer is a device placed over top of an existing credit card swiping or chip insert machine that gathers the data stored on cards that are run through it, while at the same time allowing the machine to function normally transaction to transaction without notice to the business or user.
Typically the suspects who place the device either return to retrieve it or download the stolen information some other way.
According to the Bonneville County Sheriff's Office, in this instance the "device had been placed over top of the existing credit card machine near the cash register and appeared very similar to the model used by the store."
"Deputies and store personnel were able to retrieve video of two suspects, one that placed the skimmer while the other distracted the clerk," said Sgt. Bryan Lovell, public information officer for the Bonneville County Sheriff's Office. "This took place at approximately 8:30 p.m. on Wednesday, February 6  and was discovered [Thursday] at around 12:30 p.m.  Deputies are still working to determine whether any data stored on the skimmer device was transferred outside the store and exactly how much data may have been unlawfully collected."
The Bonneville County Sheriff's Office is seeking the public's help in "identifying the two suspects shown in the attached pictures, both male adults with a foreign accent"
"At the time the device was placed, both suspects had walked separately from a nearby business to the Chevron presumably from an unknown vehicle," Sgt. Lovell said. "Anyone with information about these suspects is asked to contact our dispatch at 208-529-1200 and request to speak to a Deputy as soon as possible.  We would also advise anyone who may have used a credit card at that Chevron location between 8:30 p.m. [Wednesday] and 12:30 p.m. [Thursday] to check their accounts and information as well as advise your financial institution of potential fraud that may come to light using your information."
Tagged:
Idaho Falls
skimmer
theft