Slide offs and rollovers have Sheriff's Office asking people to slow down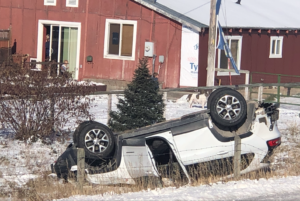 A sudden cold snap, coupled with a mix of rain and snow last week and this week created a perfect storm for slick roads.
According to the Lincoln County Sheriff's Office, a number of vehicles slid off the road or suffered other mishaps as a result of drivers not making the adjustment to winter traveling conditions.
"It seems like every year with the first snow we have people that forget how to drive on the roads," said Captain Brian Andrews. "Slow down. Give yourself plenty of time to get your windshield clear so that you have a full view of what is around you when you are driving. Buckle up. We are coming into winter and the roads are slick."
Captain Andrews also suggested that area residents have their tires checked to make sure they have good tread or to get a set of snow tires for the winter.
"As far as being prepared, its a good idea to make sure that your propane tanks are full and when its cold to leave a little water running in your house," Captain Andrews said. "Make sure you have some extra food on hand so that if the roads are bad or if you get snowed in you have what you need for 72 hours or so. It's common sense things, simple things, that really make a difference when it comes to your safety."
The National Weather Service has issued a warning about falling temperatures and freezing conditions in the Star Valley area for the next few days.

Tagged:
Captain Brian Andrews
Lincoln County Sheriff's Office
winter driving