Stage-Stop Sled Dog Race starts with Stage One in Alpine on February 1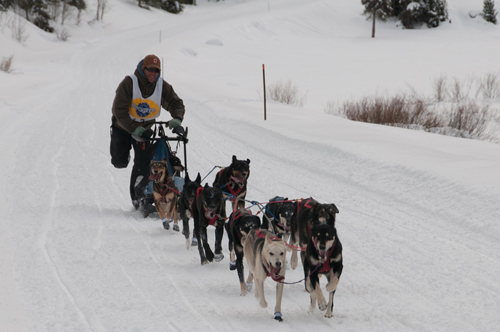 Pedigree® Stage Stop Sled Dog Race organizers are pleased to announce the 2020 race schedule and total possible payout of $165,000 in prize money. The "Wyoming Stage Stop" enters its 25th year January 31, 2020 in Jackson, Wyoming. To kick-off the event, teams race down the snow-packed downtown streets of Jackson as they have every year since the inaugural running in 1996. This year's festivities include prize giveaways, food truck, and laser light show creating the largest and one of the most festive gatherings of the year on Jackson's historic Town Square.
Race Format & Course: Up to 25 competitors compete in "stage" format racing for day money, overall payout, and the title of Stage Stop Champion. Hosted by eight western Wyoming communities with race courses spanning seven USFS Ranger Districts, the race routes traverse remote terrain encompassing nearly 250 miles of trails within six major mountain ranges.
Documentary Film Project: To highlight the 25 year milestone, the event has contracted with Angelos Media out of Park City, Utah to produce a documentary film showcasing this unique event, the dedication of the competitors, and the inspirational relationship they share with their dogs. Dan Carter, Race Director, notes that "This film project gives us the opportunity to present the story of the Stage Stop Race like never before. The sublime backdrop of the western Wyoming wilderness will, no doubt, be visually stunning and provide the viewer with an up-close, in-depth look into what it takes to put on and run in the Stage Stop Race".

2020 Race Dates and Schedule (All stages are 30 to 35 miles)
January 31 – Ceremonial Start – Jackson, Wyoming.
February 1 – Stage One – Alpine, Wyoming.
February 2 – Stage Two – Pinedale, Wyoming.
February 3 – Stage Three – Kemmerer, Wyoming.
February 4 – Stage Four – Big Piney / Marbleton, Wyoming.
February 5 – Stage Five – Lander, Wyoming.
February 6 – (travel day).
February 7 – Stage Six – Driggs, Idaho.
February 8 – Stage Seven – Teton County, Wyoming.
CONFIRMED 2020 PEDIGREE STAGE STOP RACE COMPETITORS
1 — Lina Streeper from Fort Nelson, British Columbia, Canada.
2 — Austin Forney from Leadville, Colorado.
3 — Chris Adkins from Sand Coulee, Montana.
4— Tim Thiessen from Leadville, Colorado.
5 — Jeff Conn from Ester, Alaska.
6 — Anny Malo from Quebec, Canada.
7— Fernando Ramirez from Peoa, Utah.
8— Alix Crittenden Bondurant, Wyoming.
9 — Allan Berge from Glenrock, Wyoming.
10 — Linda Pierce from Okanogen, Washington.
11 — Rachel Courtney from Caliento, Manitoba, Canada.
12 — JR Anderson from Buyck, Minnesota.
13 — Maria Torgerson from Red Lodge, Montana.
14 — Elliot Rivest from St-Zénon, Québec, Canada.
15 — Grant Beck, Yellowknife, Northwest Territories, Canada.
16 — Doug Butler from Middlebury, Vermont.
17 — Bruce Magnusson from Newberry, Michigan.
18 — Ben Barrett from Middlebury, Vermont.
19 — Aaron Caldwell from Winthrop, Washington.
Tagged:
Pedigree® Stage Stop Sled Dog Race