Star Valley Historical Society mourns the passing of "The mother of Prosperity, the milk cow"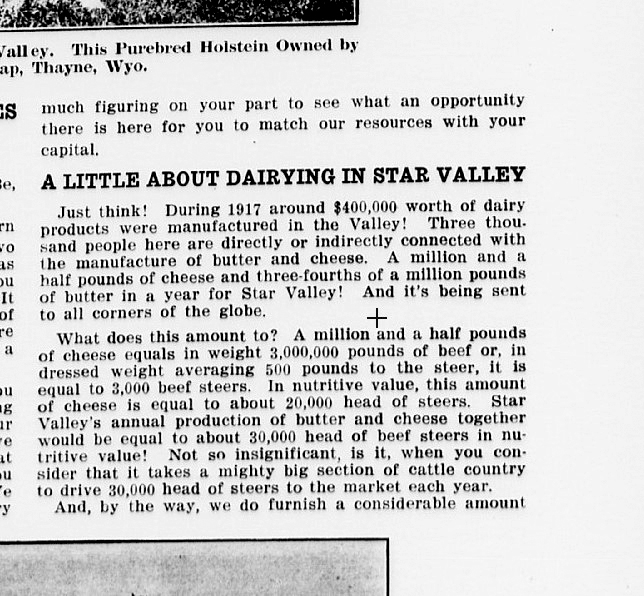 Provided by the Star Valley Historical Society –

Most families who entered Star Valley as settlers brought a milk cow to produce milk for their family use.
Surplus butter and cheese made from the "morning and evening milking" was used for trade. Butter was used as means to buy needed clothing and supplies at Burton Mercantile and Kingston-Hurd Store in Afton. As production of milk increased, opportunity for export to outside markets became the prosperity of the "Star of all Valleys"
The insight and efforts of individuals like Tom Wilson, A R Moffitt, Henry Harmon, Alonzo Baker, Jane Parker Nield, Mary Turner, George Nichols, Orville Child, George Alleman as well as "best a momma" Thomsen prove successful. All of the above and more, before men like Burton, Thatcher, Osmond, Roberts, Cranney, Linford and Brog manufactured cheese and butter for export to all the west.
December 2021 marks the end of milk exports from Star Valley after 140 years of a lot of hard work that contributed to the success of the families and communities of western Wyoming.

The Star Valley Historical Society will hold a monthly gathering @ 7 PM January 20, 2022 at the Salt River Senior Center South Washington, Afton, WY.
From the archives of the Star Valley Historical Society, information will be shared by Ron Anderson. Fred Brog, son of Ernest Brog, will tell the story of "Star Valley Swiss Cheese". Shumway Farms of Osmond has been invited to express their hope for continued success with the "mother of prosperity".

2022 Star Valley Historical Society Meeting Schedule:
January –Dairy Industry- Fred Brog and Ron Anderson
February—Brands-Ron Anderson
March – Convict Road over Salt Creek pass- Lane Allred & Ron Anderson
April -Introduction of swans to the valley- Dave Lockman
May – Afton -RaDawn Ruud, Shaire Call and Betty Davis
Summer -June- picnic for members
July – Rock Church summer Theatre
Let us know what you think!
Tagged:
Star Valley dairy production
Star Valley HIstorical Society