Star Valley sports recap: December 6-8
The Winter season arrived with a vengeance this weekend with tournaments for both the basketball and wrestling teams.
• Wrestling: The Braves have now won 62 duels in a row dating back more than two years after going undefeated in the 2018 Braves Brawl at Star Valley High School. The team romped through the tournament in dominating fashion with their closest contest being a 47-27 win over the Sugar-Salem Diggers in the final round of the weekend. Tristian Hicks was named the Outstanding Wrestler for the tournament for the Lower Weights at 126 pounds. Kenneth Copley of Sugar-Salem was named the Outstanding Wrestler of the Upper Weights going undefeated at 285 pounds.
The Braves had a number of undefeated wrestlers for the weekend. Winston Green (113), Brayden Andrews (120), Tristian Hicks (126), Ren King (145) and Tyson Hoopes (152).
The depth of the program was on display for the weekend with a second Star Valley varsity team nearly knocking off the highly-touted Diggers in a 39-39 duel score, losing only on criteria.
For full team results, visit trackwrestling by clicking here.
Star Valley will host the Rock Springs Tigers on Tuesday, December 11. The matches will be broadcast here on SVI.
• Girls Basketball: The Lady Braves rolled to a (3-0) start to the season with a trio of victories over Wyoming 4A opponents. On Thursday the team held on to win at Kelly Walsh High School, 42-38 on the KW court. On Friday the team switched venues to Natrona County High School where they faced off against the Riverton Wolverines and routed the Fremont County squad with a final of 52-32.  Finally, the ladies picked up another one-sided victory over Cheyenne South on Saturday afternoon, 56-33.
• Boys Basketball: The Braves saw several outcomes over the weekend as they played in Riverton and finished with a (2-1) record. On Thursday, a cold-shooting night combined with a salty Kelly Walsh squad produced a big Trojan victory, 63-43.  Star Valley bounced back on Friday with a true road win on the Wolverine court, 61-43.  Finally, it was a high-scoring shootout against Cheyenne South at high noon on Saturday. Dean Shaw hit a late bucket in regulation to force overtime where the Braves were able to fend off the Cheyenne South Bison, 80-75.
The basketball teams have a sizeable gap of time before their next outings as they host Lyman High School on December 20. The Star Valley Shootout takes place December 27-29 at SVHS.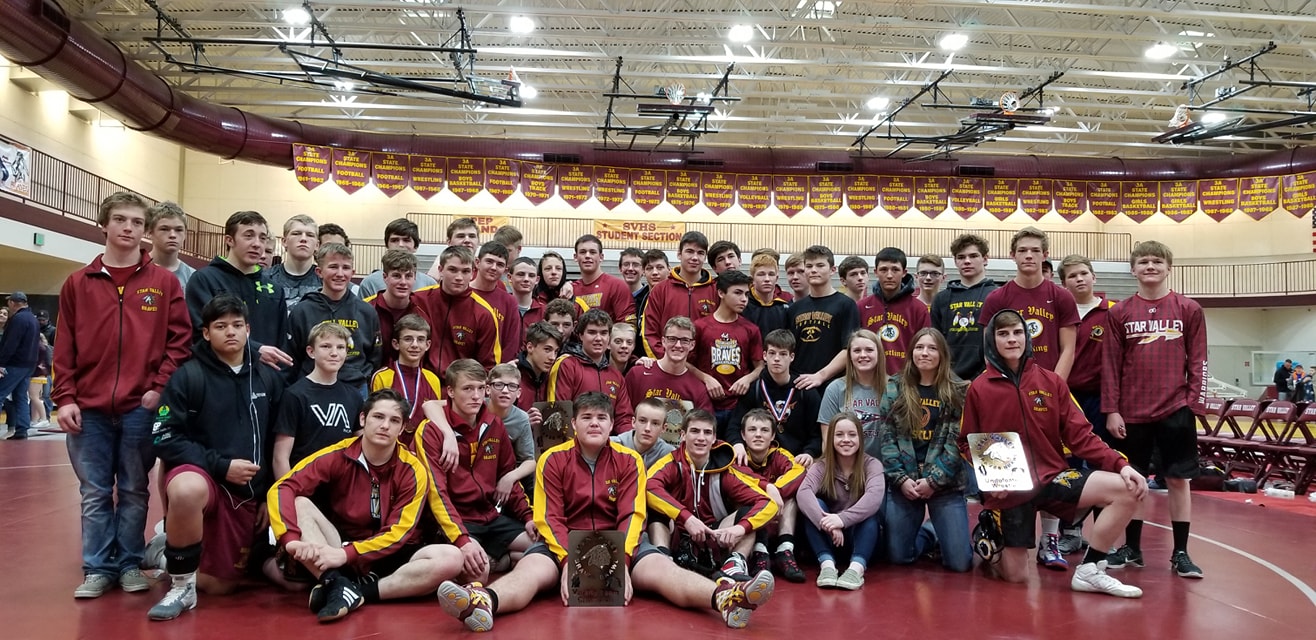 Let us know what you think!
Tagged:
Braves Brawl
Cheyenne South
Kelly Walsh
Riverton Wolverines
Star Valley Basketball
Star Valley Wrestling