State approves funding for Alpine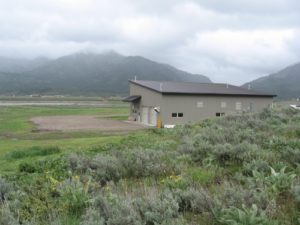 The Town of Alpine has been approved for grant funding. The town requested $2.3 million for a modular wastewater pretreatment system and sludge handling facility at its wastewater treatment plant.
The State Loan and Investment Board met October 3 in Cheyenne to consider the Business Ready Community grant request.
According to information provided by the Wyoming Business Council, the pretreatment system will "have the ability to accommodate the current and future organic waste from the Melvin Brewery as well as future commercial and industrial developments."
SLIB recommended full funding for the project.
"This is going to be a de-watering facility that allows us to turn sludge into a cake-like product that is easier to move and easier to store and can be used as a ground cover or fertilizer," said Alpine Mayor Kennis Lutz. "It provides a solution to our sludge problem and allows us to be self sufficient as far as not having to rely on other communities being willing to take our sludge."
"This is something that we have been working on for quite a while." Lutz continued.

According to Lutz, the Town of Alpine is working to complete a USDA grant application to help with construction costs of the proposed facility.
If the USDA grant funding is secured, plans are to begin construction on the pre-treatment system in the spring.
Let us know what you think!
Tagged:
Business Ready Community grant
Melvin Brewery
State Loan and Investment Board
Town of Alpine