Student arrested after threats and gun theft that led to lockout at Natrona County schools
By Seth Klamann
Casper Star Tribune
Via Wyoming News Exchange
CASPER —Police arrested a Natrona County student after a stolen handgun and threats touched off lockouts at schools throughout the Casper area on Wednesday morning.
Three students were taken into custody and interviewed as part of the investigation, police said. The Casper Police Department determined that only one student made the threat.
The suspect was also implicated in the theft of a handgun Tuesday night, Detective John Hatcher said. The suspect had previously made general threats against the school district, and when police learned of the gun theft, they informed district officials, who initiated a lockout.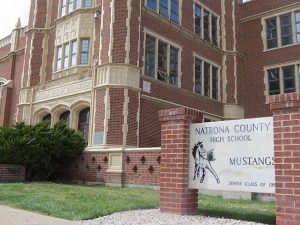 All three students interviewed by police "were implicated with (Tuesday) night's stolen gun incident," a department press release said.
Hatcher declined to say how old the arrested student was. The threats made in the past were not directed at any particular school or person, he said, and were not associated with Wednesday's national walkout that advocated gun control and solidarity with the victims of last month's Florida high school shooting.
The lockout was lifted shortly after 9:30 a.m. according to a Casper Police Department press release.
Hatcher previously said that the students were not arrested on a school campus.
District spokeswoman Tanya Southerland said Wednesday afternoon that school doors had been unlocked and students, staff and parents were being allowed to enter district buildings. Initially, all outdoor activities were canceled across the district. But officials later lifted the ban and after-school activities were scheduled to proceed as originally planned.
The cancellation included any walkouts related to national demonstrations in the wake of the Feb. 14 Florida shooting. Southerland said she hadn't heard of any additional demonstrations in the district. Kelly Walsh High held an indoor moment of silence, she said, as was previously planned.
"With safety in mind all activities that were planned for today's 'National Walkout' have been canceled," the police department said in a press release Wednesday morning.
Natrona County High students walked out last week, but Southerland said the school has no actions planned for Wednesday.
Casper Police Sgt. Joey Wilhem said that no students were in danger.
The lockout was announced just as school started across the district. At Manor Heights Elementary, additional staff were seen helping students get inside the school.
In a lockout, the doors to buildings are locked, and students and staff are directed inside. Activities continue as normal inside the buildings. Lockouts are different from a lockdown, in which there is an imminent threat to a school.
The Natrona County threat is at least the third to schools made here in recent weeks. Last month, the district placed Journey Elementary on a lockout after an apparent prank call claiming a shooter was at the vacant Grant Elementary campus. Later in February, Poison Spider was placed on a lockout after an "unspecified threat" was made.
A threat was also made to Jackson Hole Middle School in Teton County, according to a district statement. District administrators there received the threat late Tuesday and delayed the start of the school until nearly 11 a.m.
The district said in its release that the Teton County bomb squad and a "K-9 bomb dog" swept the school and found no devices. The Jackson Police, Teton County Sheriff's Office and Lander Police Department were also involved.
Students across the country walked out of class today as a demonstration against gun violence and solidarity with the victims of a Feb. 14 shooting at a Florida high school, which left 17 dead.
Crime reporter Shane Sanderson contributed to this report.