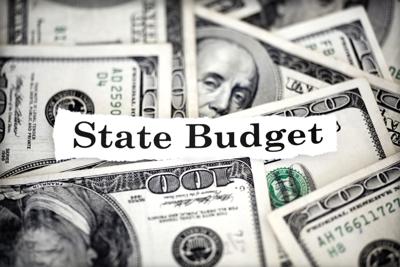 By Jasmine Hall
Wyoming Tribune Eagle
Via- Wyoming News Exchange
CHEYENNE — An unprecedented $1.4 billion will be placed into savings by the Wyoming Legislature upon the governor's final approval of the supplemental budget bill. The 2023-24 supplemental budget was carefully assembled by the Joint Appropriations Committee throughout the interim, and final hearings for state agencies were in December. Both chambers then had the opportunity to add their own changes in the first week of February, leading up to the Joint Conference Committee meeting this week.
Members of the committee negotiated the final amendments to the budget bill and brought them before the House and the Senate. Lawmakers established a compromise and approved $383 million in general fund spending, as well as the $1.4 billion placed into separate savings and reserve accounts that will gain interest.
State representatives voted 37-25, and senators voted 20-10 in support of House Bill 1 — sending the general appropriations bill to Gov. Mark Gordon's desk for a final stamp of approval.
"This bill is a record-setter for the amount of money we are putting away," said Senate President Ogden Driskill, R-Devils Tower, in a statement. "This budget was built with our children, grandchildren and Wyoming's future generations at the center of our work. Bottom line: this bill means a stronger Wyoming."
Members of the Joint Appropriations Committee reflected on their path to success and said the two chambers worked well together to responsibly appropriate the excess revenue the state has. Not only was it drafted faster than ever before, allowing for greater transparency and input before the general session started, but there were similar goals in mind that helped ease the negotiations.
"I'm proud of the end result, and I think that both chambers of the Joint Appropriations Committee had very thoughtful and measured discussions that were really pretty similar overall," said Sen. Tara Nethercott, R-Cheyenne. "Obviously, there's always disagreements — but we knew big picture that we had similar priorities, which included taking a lot of the revenue that we had received and saving."
She said any disputes on the Senate side revolved around whether to place the savings into permanent funds, as opposed to the reserve accounts they could access later. She said this is why there was a split between certain accounts, and it was the right approach to take.
Members of the Senate also were dissatisfied with the amount of general fund spending in the bill, but Nethercott said she attributed this to the ideology that any government spending is too much. Beyond this rhetoric, she said she wasn't aware of any particular item that caused intense debate among the House and Senate.
Other lawmakers who sit on the Joint Appropriations Committee agreed how to save the excess revenue required the greatest amount of compromise but applauded the work of the two chambers.
Rep. Trey Sherwood, D-Laramie, is one of the newest members of the committee, and she said the process was very functional.
"Everyone worked hard to find a compromise at the beginning of the process, instead of waiting for those negotiations at the end," she said. "Which, then you saw it resulted in a much smoother process in terms of the time it took for us to have that joint conference meeting and concur. I don't know that there were any big surprises."
House Speaker Pro Tempore Clark Stith, R-Rock Springs, told the Wyoming Tribune Eagle he believed it was the earliest in a session that a supplemental budget has been adopted in at least two decades.
Stith beamed with pride as he discussed the $1.4 billion placed into savings, which was a record in Wyoming history for one budget. He was also pleased more than half of the funding went into the Common School Permanent Land Fund and Common School Reserve Account for K-12 education.
This investment into education was only a small part, as a large portion of the $383 million general fund spending went to fully finance Wyoming school construction and maintenance and the external cost adjustment to address inflation. Stith said it was important to have a steady stream of income for K-12 education funding moving forward.
"For every dollar that we spent, we saved $3.50, which is a truly stunning number," he said, based on an observation made by House Appropriations Chairman Bob Nicholas, R-Cheyenne. "I don't think that's ever happened either."
However, he noted the unusual fact that the budget bill has less money appropriated than all the other bills that are working through the legislative process in both chambers. He said it is difficult to know exactly what the Legislature's total spending will be, but he believes they are way ahead in savings.
Nethercott explained the importance of the division of those savings into essentially thirds.
Close to $300 million was placed into the Permanent Mineral Trust Fund, which she said was the state's largest corpus of revenue and interest. She said it was an appropriate use of savings to place in the account to increase the state's returns for future generations and helps fund a "broad swatch of government on a regular basis."
But lawmakers are constitutionally barred from pulling from the corpus funds, which is why the remainder of the $1.4 billion went into savings reserve accounts. She said they are not permanent funds, but it still earns interest at a lower rate of return beneficial to the people of Wyoming and can be accessed in the event of need.
"We know, in Wyoming, we're in a volatile economy, and revenues can change drastically based on those commodity markets," she said. "And so, those investment savings are very, very important."

Sen. Mike Gierau, D-Jackson, a member of the Senate Appropriations Committee, told the WTE that one out of every $4 in the state's general budget derives from investment income, and he hopes to make it one in every $3 before he retires from the Legislature.
He agreed with the Senate's position to place more funding in the permanent savings accounts, due to his doubts the state would increase or expand taxes. He said lawmakers should work to save every dollar they can and invest it, because it will work for the state's residents.
Stith supported the notion that investments from the permanent and reserves accounts were fueling the state's spending and said it's the only reason there is no income tax in Wyoming.
While Gierau was content with the amount of money placed into savings, he was also happy with the way funding was appropriated for the betterment of the state.
"I feel good about the external cost adjustment for teachers getting put at $70 million. When we hit this place in December, the Senate Appropriations Committee was at $14 million, and, in the end, we got to 70, which, I think, is where we should have been," he said. "That's what the Education Committee asked for. That's what the governor requested. And thirdly, it was the right answer."
Other areas he was glad to see receive attention were infrastructure and water. He said there was between $80 million and $120 million for water and irrigation systems for all sizes of municipalities, depending on how the water project bills were finalized and went with the supplemental budget.
Stith was equally happy with the $129 million for school construction and maintenance, as well as the external cost adjustment, but pointed to other efforts in the House to support children. He said state representatives were insistent on spending in the Wyoming Department of Health to provide better Medicaid reimbursement rates in order for dentists to take on children in the federal program as patients.
He noted there was an additional $7 million for disabled adults and other individuals who need help with their health issues, $5 million for tax relief and $12 million for carbon engineering research at the University of Wyoming. These were important appropriations to him, especially efforts to protect the coal industry and find alternative uses for coal.
As a Democrat, Sherwood said she had her own values to address the needs of constituents, and she felt there could be more appropriations put toward direct services. However, she said it's all in balance. She was excited to see another round of compensation increases for state employees, investments into the Wyoming Tomorrow Scholarship and funding for property relief.
She hoped the supplemental budget bill wouldn't just be known for the savings, but how taxpayer money was used to get resources on the ground to take care of community members.
Let us know what you think!
Tagged:
Governor Mark Gordon
Senate President Ogden Driskill
Wyoming Concealed Carry Permit
Wyoming Legislature
Wyoming state investments