SVHS Speech & Debate Tournament is this weekend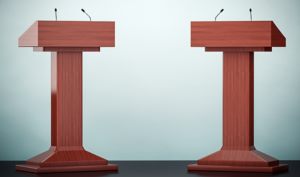 The Star Valley Speech and Debate Team will host a tournament January 17 and January 18 at Star Valley High School.
"We have seven high schools coming to attend, which is our highest ever, and our need for community judges higher than before," said Coach Katie Roberts. "Our students do not compete at the home meet, but rather help it operate."
Those interested in helping as judges during the tournament can sign up online at www.signupgenius.com/go/9040f44ada72da4f49-svhs.
"For every volunteer, there is a hospitality room with meals and snacks put together from the amazing high school culinary class," said Roberts. "If you have specific events you'd like to judge, go ahead and note that on the sign up sheet."

"If you are nervous about being qualified enough, don't be," Roberts added. "All you really need is an opinion. The competitors love to get feedback from judges about how they can better their speeches or arguments. Our valley is so awesome about helping our tournament be an awesome success."
Tagged:
Katie Roberts
Star Valley High School Speech & Debate