SVMS Robotics earn state awards and a National Qualification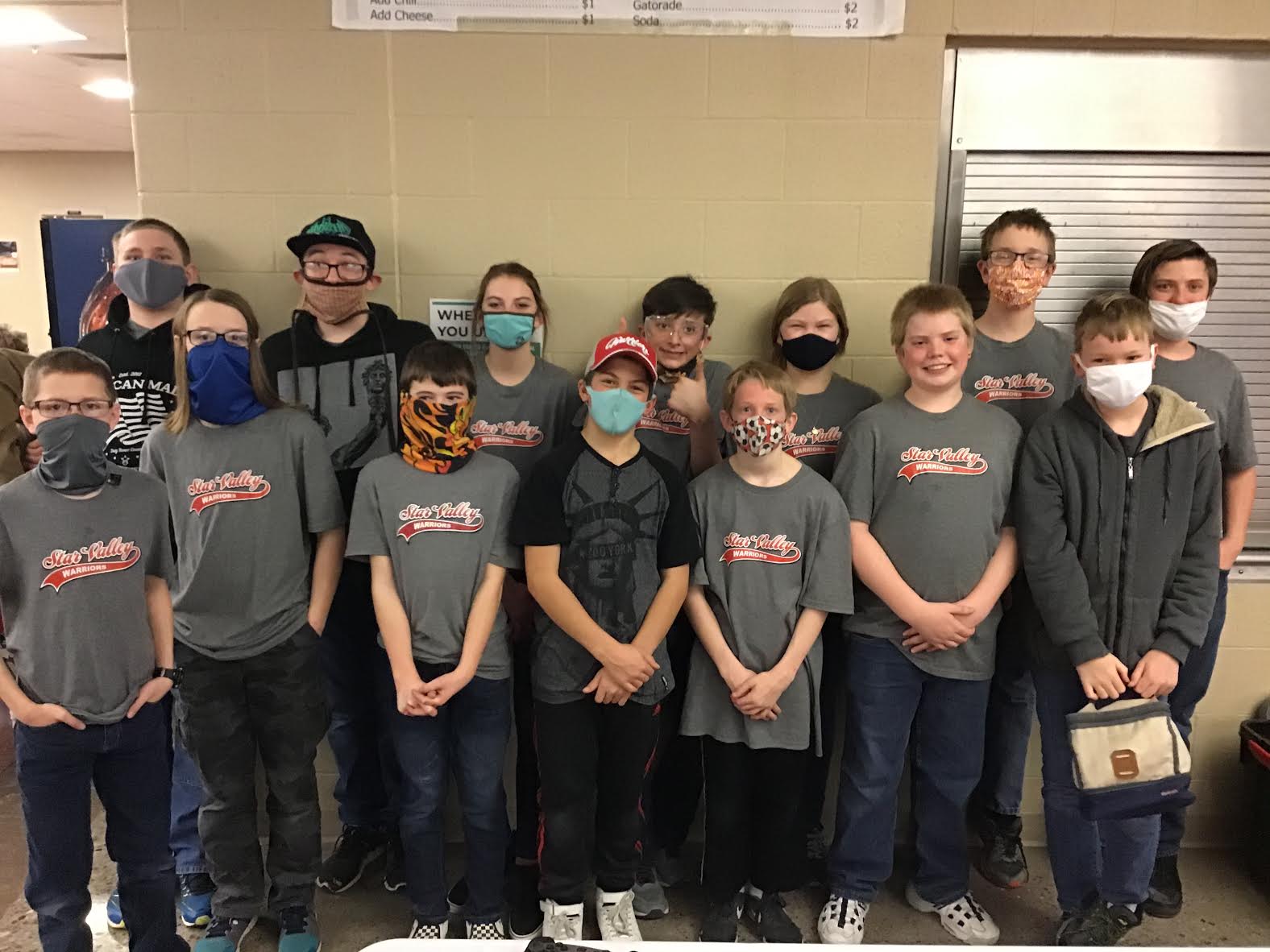 ◆ The club consists of 5 students who meet weekly after school.
Teams from the Star Valley Middle School Robotics Club competed in the Wyoming State Vex Robotics Competition in Kemmerer on Saturday, February 27, placing 2nd , 3rd and 5 th in their respective events.
Ten teams competed in this state event with four teams being middle school teams and six teams being high school teams. Teams Gear Bots and Undecided finished 2nd in the championship rounds with team Gear Bots winning the Middle School Excellence Award and qualifying for the National Competition. This award is based on their overall performance during the qualifying and championship rounds, judge's interview, driver and programming skills and their engineering notebook.
The club consists of 15 students who meet weekly after school.
"Students were able to see last year's robots and drive them, then we tore them down so they could build their own," said Shirley Johns, who advises the club. "Some students focused on the build, others on the code to make the robots run, and some worked on engineering journals. Once the robots were built, they loaded the code and began testing them out by driving and trying to complete the tasks needed. They learned how to build and rebuild their robots, troubleshoot their bots, code their bots, and how to work as teams, supporting each other. The driver has a key role in a competition, but he/she needs to know how the bot is constructed and what it can do. The assistant drivers stand by the driver in a competition and help guide them with strategy to accomplish the tasks in 1:45 time-period."
In January and February, the teams attended scrimmages and preliminary competitions to prepare for the state competition.

"Since we don't have a field and all the game components at SVMS, scrimmages give the kids real experience without the pressure of a competition. The Kaysville event, with 25 teams competing, is a big competition for us and gave our kids a great opportunity to see what really takes place," said Johns. "Team Tanks II placed 10 th in the qualifying rounds but was eliminated in the quarter finals of the competition."
"At the state competition, our teams placed 2nd, 3rd and 5th during the 20 qualifying rounds," explained Johns. "Team Tanks II was eliminated in the Semifinals round. That was tough. They were in an alliance with a team from Gillette High School and competing against our two 7th grade teams: Gear Bots and Undecided from SVMS, who were working in an alliance. That meant either one or two of our teams would be eliminated. Gear Bots and Undecided dominated and advanced to the Finals to compete against two high school teams from Gillette. It was the 7th graders versus the seniors. Our teams lost and placed second."
The majority of teams the SVMS competes against are high school teams that take a class in school each day to build and program their robots. With SVMS only able to invest one hour each week in building and preparation, the kids have to work very hard to compete and achieve at such a high level. Fortunately, the SVHS program is supportive of the middle school program. Our time is limited but the kids work hard and provide competition each year.
"Mr. Balls at the high school is a great resource for us and lets us come to the high school to practice in their field," said Johns. "After the robots are built and constructed, we go to the high school a couple of club meetings a month to practice in a field with the game pieces. We appreciate his willingness to help us with our questions and to share his resources with us."
Gear Bots team members include: Madison White, Hailee Myers, Trinady Beatty, Michael Tree, Colten Occhi, and Caleb Erickson.
Undecided team members include: Landon Walker, Marshell Beatty, Jeremiah Simmons, and Bronson Cottam.
Tanks II team members include: Andrew Palmer, Zacheria Belnap, Aaron Mavy, Isaac Kemp, and Anthony Hubbard.
Josh Winder also advises SVMS Robotics.