Swift Idol Judges: Meet E.J. Pauni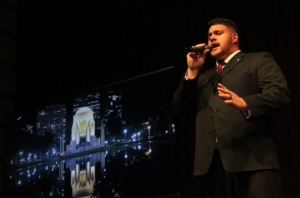 E.J. Pauni's pure and clear tenor tone garnered him the Swift Idol title in 2018. He has loved and excelled at singing since he was a young child. Influence from family members gave him motivation and opportunities to grow and perform. As a teen, he qualified for the Syracuse Idol competition, in Syracuse, Utah, but withdrew from the competition because of conflicts with his high school football commitments.
Pauni says his grandfather was his greatest fan and inspiration. "He would make me sing all the time. It was always hard to get started, but once I got going it was hard to stop. It's important to me because it made me love all different types of music and made me want others to feel what I feel about music. I love it!"
"Give it your all! Just be you," Pauni advises performers. "Competition really gives you a great opportunity to show what you have. Winning the Swift Idol competition was a pretty big accomplishment for me.  I think it was worth the time I put in to hear all those people cheering for me! It was an indescribable feeling!"
Pauni admits that his greatest weakness is that he doesn't read music, but he didn't let that stop him from doing what brings him joy. "Winning Swift Idol and everything that has come with it has been my greatest experience in my career so far! Swift idol Live made me go out of my comfort zone and try new things. It's really helped me push myself to be a better singer and performer. I've met and worked with some really great people! They have made it really fun!"
Pauni admits that judging with someone as renowned as Alex Boye will be a little unnerving, but he is excited to see what the 2019 Swift Idol contestants bring to the stage. "I expect great things this year! There are a lot of really great singers and I'm excited to hear what they've got!"

Let us know what you think!
Tagged:
E.J. Pauni
Swift Idol 2019