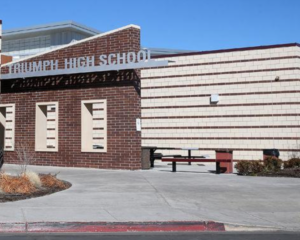 CHEYENNE (WNE) —  A 15-year-old boy accused of making a bomb threat at Cheyenne schools had his preliminary hearing Friday afternoon in Laramie County Circuit Court.
Charles Reese Karn is being charged as an adult for allegedly making terroristic threats against several schools. The crime carries up to three years in prison and/or a $10,000 fine. Karn is being held in custody on a $5,000 cash only bond.
Circuit Judge Denise Nau bound the case over to Laramie County District Court after finding there was probable cause for the charge.
During Friday's preliminary hearing, Triumph High School Resource Officer Joseph Johnson testified he got a text message from a Triumph administrator at 8:41 a.m. Nov. 12 saying Karn had cut off his ankle monitor and left the school.
Later, a secretary at Triumph stated Karn called police after allegedly receiving a call from Karn in which he said he had bombs at Triumph, South High and Johnson Junior High.
During the phone call, he said he would be the next "Columbine shooter," started to count down like he had a bomb detonator and said he would kill himself.
Officers responded to Johnson Junior High, where Karn was allegedly vandalizing faculty and staff vehicles in the school's parking lot.

Johnson said Karn had admitted to officers that he had called in the bomb threat, and said he was "joking," wanted to kill people and then said he just wanted to scare people.
Let us know what you think!
Tagged:
Charles Reese Karn
Judge Denise Nau
Laramie County District Court
Triumph High School