Teton Board of Realtors give $10,000 check to LCSD#2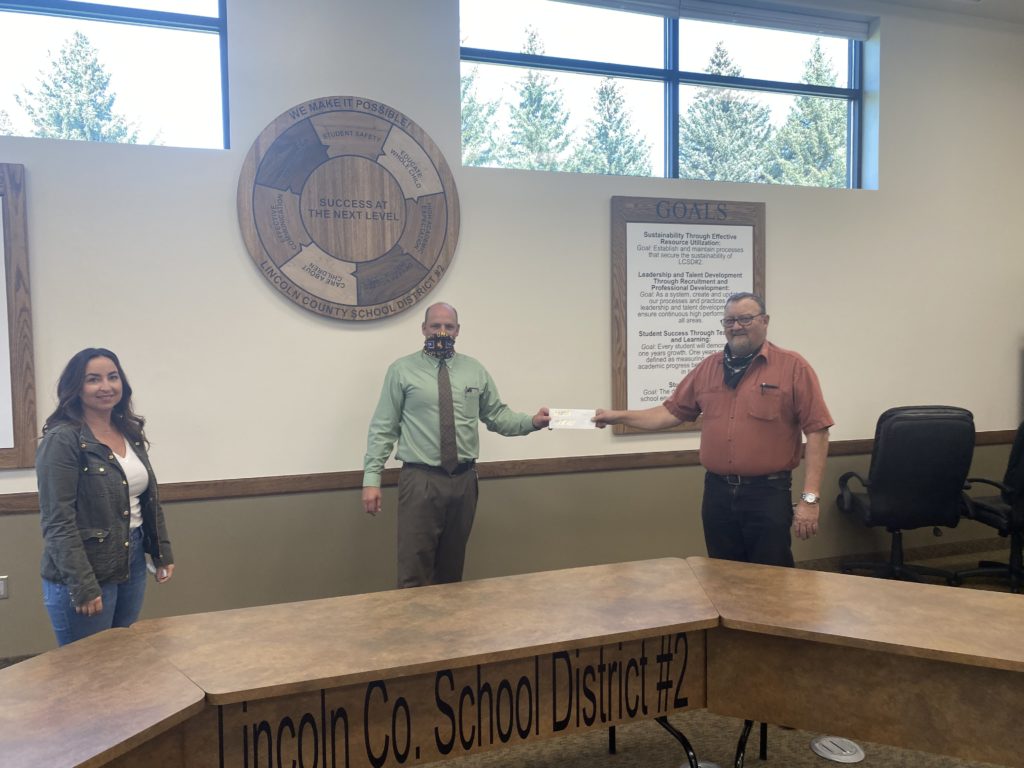 ◆ Funds used to help with COVID expenses.
The Teton Board of Realtors has presented a $10,000 check to Lincoln County School District No. 2 to help with expenses related to COVID 19.
Board representatives Oly Olson and Shea DeMello made the presentation to LCSD2 Supt. Matt Erickson during a social distancing visit to the school district offices in Afton.
"This is from the Teton Board of Realty," Olson said. "We're giving this money to help the schools with anything they really need to alleviate the pressure with COVID."
He continued, "Shea has come here to help us give the check because this county is one of main counties in Wyoming that we are working with and selling homes in."
Olson continued, "We are giving a $10,000 check to the school district to use however they need, to help with their expenses."

DeMello added, "Some of the specifics they were looking for were thermometers for eight schools, [air] monitors, extra spray bottles and cleaning supplies, a few things like that."
Olson concluded, "We Just wanted to show support for the community. We know all the realtor's here do as much as they can to support the community. That's what we are all about."
The Teton Board of Realtors has representation in Teton, Lincoln and Sublette counties, in addition to Teton County Idaho.
(The interview with Oly Olson and Shea DeMellow was also carried on the SVI Media Weekday Wake-up program, heard from 7-9 am., Monday through Friday, on Swift 98.7 FM and the The Spur 107.5 and 106.7 FM.)
Tagged:
LCSD #2
Oly Olson
Shea DeMello
Teton Board of Realtors
Teton Board of Realty