Teton Park goat culling operation postponed
JACKSON (WNE) — Persistent snow and low visibility have put the kibosh on Grand Teton National Park's efforts to shoot and kill non-native mountain goats in the Tetons this week.
The inaugural period of aerial gunning targeting the 100-plus goats that call the Teton Range home was scheduled for this week. Dozens of square miles of the mountains were closed off as a precaution for public safety.
But in the end nothing happened, and on Wednesday the park made the call to delay the operation and reopen the Tetons.
"The weather conditions did not allow us to fly," Grand Teton spokeswoman Denise Germann said. "There were no activities."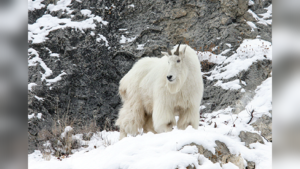 The exact dates are not yet set, but tentatively the park is planning a second take at the aerial gunning effort late this month or early February.
The park's purpose in eradicating its exotic mountain goats, migrants from the introduced Palisades herd, is to help out its small, isolated and struggling native bighorn sheep population.
Grand Teton officials opted to use a combination of aerial gunning and ground-based volunteer hunting to kill off the mountain-dwelling goats. The gunning operation has been contracted to Oregon-based Baker Aircraft and will use non-lead rounds from a shotgun or rifle, with the weapon type depending on the conditions. Baker was unable to make it to the area this week because of the weather, Germann said.
Tagged:
Baker Aircraft
Grand Teton National Park
Mountain Goats