TEXT-IN TOPIC RESPONSES: Should Homecoming Parades be on Thursday or Friday?
Few things are more nostalgic than Homecoming parades and football games in your local, small town.  But as school sizes have increased and lights have been added to high school football fields, some of the traditions have slightly changed in some small town homecoming celebrations.  For example, the day and time of homecoming parades.
Kemmerer High School celebrated their Homecoming last week, with a fantastic parade at 2:00 ahead of the football game that evening.  Tradition.  Homecoming day featured the community parade and the football game.  Some Ranger fans however took to social media calling for the parade to be moved to an evening time slot to allow for working families that ability to attend.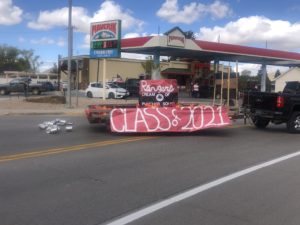 Star Valley High School is celebrating their Homecoming this week, but with a change.  The Braves have returned to tradition in some aspects by moving the football game back to the afternoon. Kickoff against Powell is scheduled for this Friday at 3:00.  However, for the first time, the parade will not be held on Friday.  Thursday at 6:00 p.m. instead.  SVHS Activities Director Rob Erickson told SVI News that "We have always struggled with trying to get our football and other sports teams involved during the parade.  Usually, they have a practice going on during that time.  Moving the parade to Thursday evening will allow every school organization to be a part of the homecoming parade."  (See the Oct. 2, 2019 edition of the Star Valley Independent, page 2B, for the complete story.)
Wednesday morning during the Weekday Wake-up on SVI Radio (Swift 98.7 FM and The Spur), Duke & Dahl asked listeners what they prefer.  Should local schools stick with tradition and hold Homecoming parades on Friday, Homecoming day?  Or would it be better for athletes, fans and families to hold the parade on a Thursday evening?
Below are the listener's responses. Feel free to leave your opinion in the comments.
Keep the Parade on Friday
"Same day, that way it helps keep the school spirit and excitement and then more people tend to support the games."
"Traditional Friday!!!"
"Some people work out of town and if it's on a Thursday they have to take time off work both days."
"Tradition reigns. Friday is much better."
"Star Valley is all about tradition…….keep it on Friday!!!"

"Definitely on Friday!!!! Get the whole districts kids involved! Build school spirit and make it lead up to the big game! Go Braves!"
"Keep tradition. Friday is much better for everyone. Closer to the game."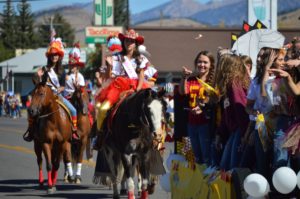 "Homecoming parade on Thursday? Bad decision people!"
"Friday is by far the best day for parade. The parade is more about the kids and school pride than a parents convenience."
"On the day of the homecoming game because it just feels better with the whole spirit of homecoming."
"Day of the game."
"The parade should be on Friday afternoon just like always."
"Cokeville has other activities like the tailgate party – dinner and the students paint the street and then the bonfire, on Thursday so the parade wouldn't fit there. The parade on Friday is probably good because the games start at 1 pm anyway."
Move the Parade to Thursday Evening
"I think it's a wise choice to give Thursday evening a trail go for the parade. When it's on Friday we have to realize the logistics of turning 800 high school students loose on Afton with little to no supervision."
"If the purpose of the parade is to get the community excited for homecoming then Friday doesn't work since it's during school and the workday. Thursday is the better choice."
"Absolutely love the Thursday evening idea. Thanks to our school administrators for seeing the vision to allow families great opportunities to embrace the various activities."
"My high school had community events throughout homecoming week. The homecoming parade was huge and it was Thursday evening so the entire community could come AND Athens football had a float!! Keep It on Thursday evening! There a tailgate party on Friday before the game."
"I think Thursday evening is good. Those kids have so much to do on that Friday. Also parents can attend instead of taking time off of work."
"I love that it is Thursday! More families can go!"
"The whole week, at school, has homecoming over tones. Having the parade on Thursday is a good idea."
"Great idea. Now everyone can go. And not just the ones that can make it."
"Like the change to Thursday. Since elementary schools no longer bus kids there it allows every elementary kid a chance to attend."
"Love it on Thursday at 6:00."