Thayne Senior Center leadership seeks support for an expanded Lower Valley Center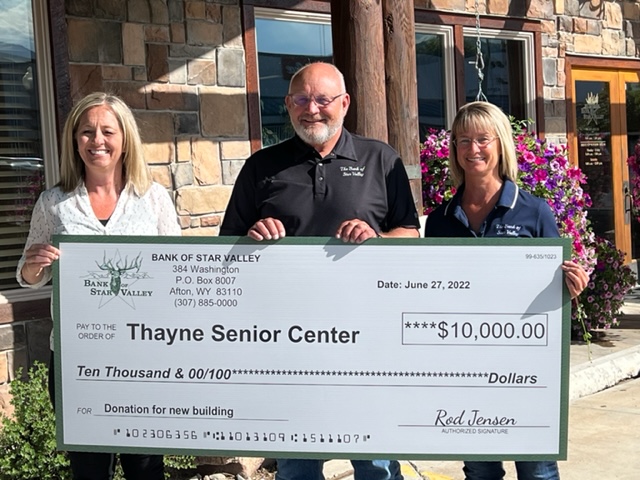 Leadership for the Thayne Senior Center is asking the community to vote yes to create a new special tax district that will be on the ballot for the primaries on August 16.
On the ballot it will be a proposition called Formation of the Lower Valley Senior Citizen Service District. Mike Wellman from the Thayne Senior Center Board of Directors says the meals cost about twice of what they charge.
"We have to make up the difference through different funds," Wellman said. "Many of those funds are funded by government agencies."
He says funding comes by the number of meals you serve. So, what is served this year impacts the budget two years later.
"That two-year lag is a little difficult to project," Wellman said. "You think back two years ago, do you remember what we were doing? Well, we were in the middle of COVID-19."
He also says gas prices affect the organization too since they put about 2,000 miles each month on their vehicles to deliver the food. Then the center must also consider the rise of food prices.
Director of the Thayne Senior Center Melinda Pebbles says the funding from the tax district would help them with their general expenses.
"To help us be a little bit more stable financially," Pebbles said. "To help the seniors in our community."
She also says the budget is increasing because of the growth of senior citizens within the Cowboy State. She says all the money they get right now comes from grants and donations.
She says to give an idea of tax rates if you have a million-dollar home you would pay about $95 per year. That comes out to about $7.92 per month.
Wellman says since this is helping with general expenses it will help with the unknown costs.
"Eventually we will have to replace our vehicles," Wellman said. "Eventually an oven, a stove, a freezer, something will fail, and we have to pay for that out of funds."
This would apply to everyone in the Lower Valley from Alpine to Thayne. They both say there will be an oversight function for the funds by creating a board of directors. Those members will be voted on in the general election.
Pebbles says they also offer lots of other services and activities at the Thayne Senior Center along with serving a lot of food.
"We serve over 21,000 meals every year," Pebbles said. "Which is crazy."
She says anyone is welcome to come and see what they offer as well.

Let us know what you think!
Tagged:
Bank of Star Valley Rod Jensen
Lower Valley Regional Human Services Facility
Melinda Pebbles
Sharon Walker
Thayne Senior Center