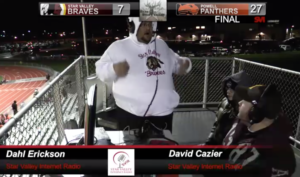 Believe it or not, this is the sixth season of SVI Media endeavoring to bring sports events and other happenings to your home and personal devices.
I often make jokes about that first season while we are making our way across this great state of ours.
With space limited we initially went up on top of the old SVHS crows nest which was considered sketchy even on it's best day. (Side-note: it was a death trap waiting to happen. You have no idea.)
In those early days, we didn't have the reels to roll up video cable (they hadn't arrived in time) and we were hauling cords around in cardboard boxes. This made for some maddening moments of knotted cords much like the ball of lights in the movie "Christmas Vacation".
In Powell, we broadcast a game on a bitter late October evening with images of our faces peeking out from drawstring hoodies in the post-game on top of their (sturdy) press box.
We've learned a lot since then and we've become a part of the sports culture in Star Valley.
So as your friend I need to tell you this one thing.
We need your butts at the game on Friday night at 6 p.m. when the Braves take on the Jackson Broncs.
Don't get me wrong, if you're physically unable to get there, real-life circumstances won't really allow or it's an enormous inconvenience I understand.
But if you're not planning on being there in person because it's going to be cold? Sorry. Not valid.
One of the early obstacles in those days of establishing the video stream was an idea that if SVI provided a video alternative, then nobody would come to the game. This was obviously not the case as the Braves and Lady Braves have some of the best attended events in the state every season.
But this week? I'm asking a favor. If you can come to the game. Please do. It's gonna be a big one.
Did you know that in 76 previous meetings between Star Valley and Jackson, only one of them was in the post-season. That one was in 1990.
There's NEVER been a game between the two that literally produced a trip to the state championship game. But this Friday's will.
Kick-off is at 6 p.m. and Century 21 of Star Valley will be putting on a tailgate complete with hot drinks and donuts to keep your blood pumping.
And you can still watch the stream from the stands if you want or just catch it afterwards.
But as a guy who lives and dies with the result of games, I'm being selfish. I need you at this game. Fans build electricity and energy and the team feeds off of it. This is a special group having a special year and this is a special opportunity.
Make sure you see it in person.
Prescient Prognostications from the Dahl E. Llama –
Wyoming @ #21 Boise State
I'm not going to lie, I'm really bummed that Sean Chambers is out for the rest of the season. The guy is a winner and a gamer. That being said, he's not coming through that door in Boise this weekend as Tyler Vander Waal takes the starting QB reins for a venue where the Cowboys have never won. That being said, this Boise team seems more beatable than some of their previous incarnations, giving up a whopping 42 to San Jose State last weekend and losing in Provo. Can the Cowboys' offense keep up? That will be the question. The Wyoming offensive line will need to have a terrific day and the Pokes will need to run the ball very well to win. Their defense will need to force a couple turnovers in my opinion as well. Can they do it? We'll see. Who am I picking? What a foolish question. Llama says- COWBOYS 28-27.
Utah State @ Fresno State
Folks are jumping off the Aggie bandwagon like it was headed for a cliff, but this team can still win the conference and have a lot of talent. That being said Utah State has given up an incredible 669 yards RUSHING in the last two games. Not surprisingly. Both ugly losses. If they can't figure this out, they will be picking up another loss to a Fresno State team that can put some points on the board, averaging over 34 per game. Llama says – Bulldogs 31-21.
Liberty @ BYU
The Cougar faithful have been bragging about their tough schedule to this point in the season. As well they should. It's been pretty brutal with both big wins and disappointing losses. The next three weeks? Enjoy your Cougar Tail and get that casserole recipe from your neighbor because Liberty, Idaho State and UMass are on the slate. Llama says – Cougars 45-10.

Let us know what you think!
Tagged:
Jackson Broncs
Star Valley Braves football
SVI Media broadcasts