Three Generations of Airplane Enthusiasts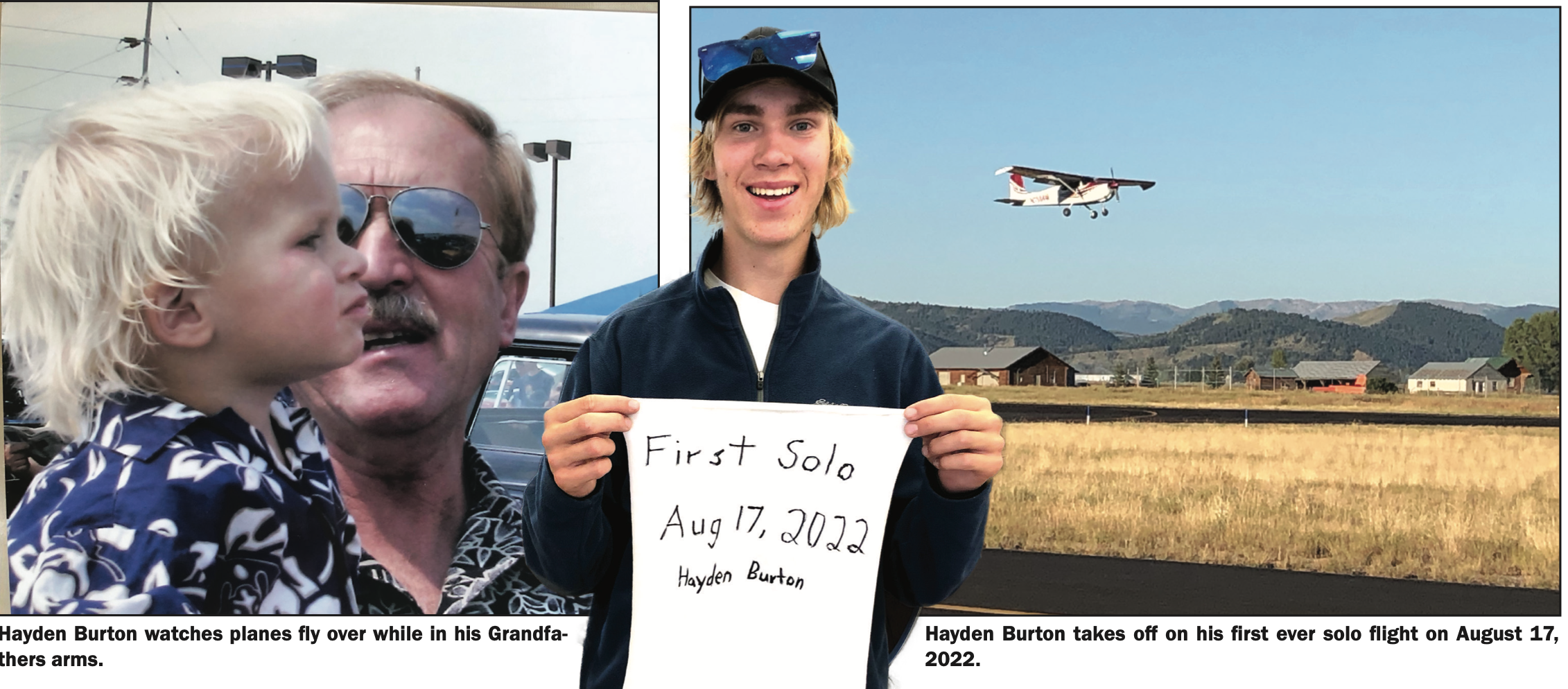 ◆ Hayden Burton's wasn't sure if he would earn a pilot's license, but now he's on track to earn it this fall.
By Breanna Call
SVI Media
To some, flying an airplane seem daunting; to others, it comes naturally. And for Hayden Burton, the latter was the case. Flying had been in his blood for generations. So when he took his first solo flight on August 17, he was focused and concentrating on the moment. His parents, Bryce and Nicki, on the other hand, were experiencing a mix of emotions. Bryce had lost his father, Chad Burton, to a plane crash in 2017, so he says watching his son fly alone for the first time "was an emotional roller coaster for us." The couple felt anxious and nervous with a lot of memories flooding back from the day of the crash. But they also had pride in their son for accomplishing his goals and joy in seeing another generation learn to fly—something Chad would have been thrilled to see happen.
When Chad was a boy, he would throw model airplanes out of an upper window of his childhood home in Auburn. "Just to see them fly a little longer," says Bryce. It was like he was born with a passion for all
things aviation. So it was no wonder that Chad eventually earned his pilot's license. Chad flew in his spare
time and made his living as a concrete contractor. Bryce recalls, "He'd always tell us at work that he was going to do bills, and we'd always laugh and joke about it because we'd see the airplane fly over."
Chad passed his love of flying on to his children and grandchildren. Bryce recalls a time he took them to see the Blue Angels in Idaho Falls and when he flew just the two of them to Billings so Bryce could buy a car. Hayden says, "One time, we went to an air show. . . . And it was it was cool back then, but it's even cooler now, because I can't imagine how stressful it would be to land at an airport where there's an air show about to happen and all these planes all going into the same place, just the turbulence alone is enough to say, 'I don't think I would do that yet.'" But the fond memory of his grandfather's challenging landing is a skill Hayden looks forward to developing himself with practice.
But Chad's family weren't the only people that benefited from his enthusiasm for aviation. In fact, the community also knew they could count on Chad to take them up flying too. Bryce says, "He'd get a lot of phone calls from hunters that wanted to go look for game like a week before hunting season, and he would take them in his plane. They'd just fly over the mountains and look for elk or deer. He'd go help people find lost cows, sheep. And that was the thing about my dad, he just loved it so much that if he ever had the chance to go, he jumped at it. If someone called and said, 'Hey, I got a lost cow.' He'd say, 'Well, let's go up in the plane and see if we can find it.'"
Chad passed away while sharing his love of flying with the community. Bryce says, "He was dropping candy over at a church function. They [Chad and Bard Lefevre] did a candy drop, so he was flying kind of low over the shelter, where the Auburn church used to be. And there's just tons of kids out there, and they just dump candy out. It would fall from the plane, and they would all run around and pick it up. They did the candy drop and then turned. And my dad always flew over his friend's house, which is Vaughn Hood, and he lives maybe two blocks away from the church. . . . The plane just kind of fell out of the sky and crashed. We don't know what happened. They came in to do a crash evaluation . . . and most of the time, the report comes back as pilot error. But my dad had flown for 30 years, and I've seen him pull up and out of a lot of situations, so we don't know if there was an issue with the plane or if something happened."
Chad and Lefevre both passed away at the scene.
At Chad's funeral, Bryce recalls one of the speakers asking those who had been flying with Chad to raise their hands. "Almost everybody in the room raised their hands," says Bryce. "And it was full to the back."
Bryce, having a father who took him flying often didn't end up getting a pilot's license of his own, so when Chad suddenly passed away, the family was left without a pilot and could no longer fly themselves. Hayden says, "Not being able to fly and having it taken away for a few years—he [Chad] was supposed to be the one to teach me—I thought, 'Well, what am I supposed to do now?'"
Fortunately, a co-owner of the plane that the Burton family owns gave Hayden the small push he needed to continue on with his goals and to keep up the family tradition. Hayden continues, "But then I went up with Ryan Lyman in the plane, and he said, 'Oh, you should definitely do it. You got the plane. It would be really easy actually.' I said, 'You're right' and called the instructor."
Soon afterward, Hayden was back in the air, accumulating hours of flying to earn his pilot's license. He hopes to have it by the end of fall. With Hayden back in the clouds, Chad's love of flying will continue on with another Burton generation. Hayden says, "I can feel him in the air, and so that makes it almost better flying now that he's gone because he's always with me."
Let us know what you think!
Tagged:
Bryce and Nicki Burton
Chad Burton
Hayden Burton
Star Valley Aviation