Thursday second day in a row with more than 100 new coronavirus cases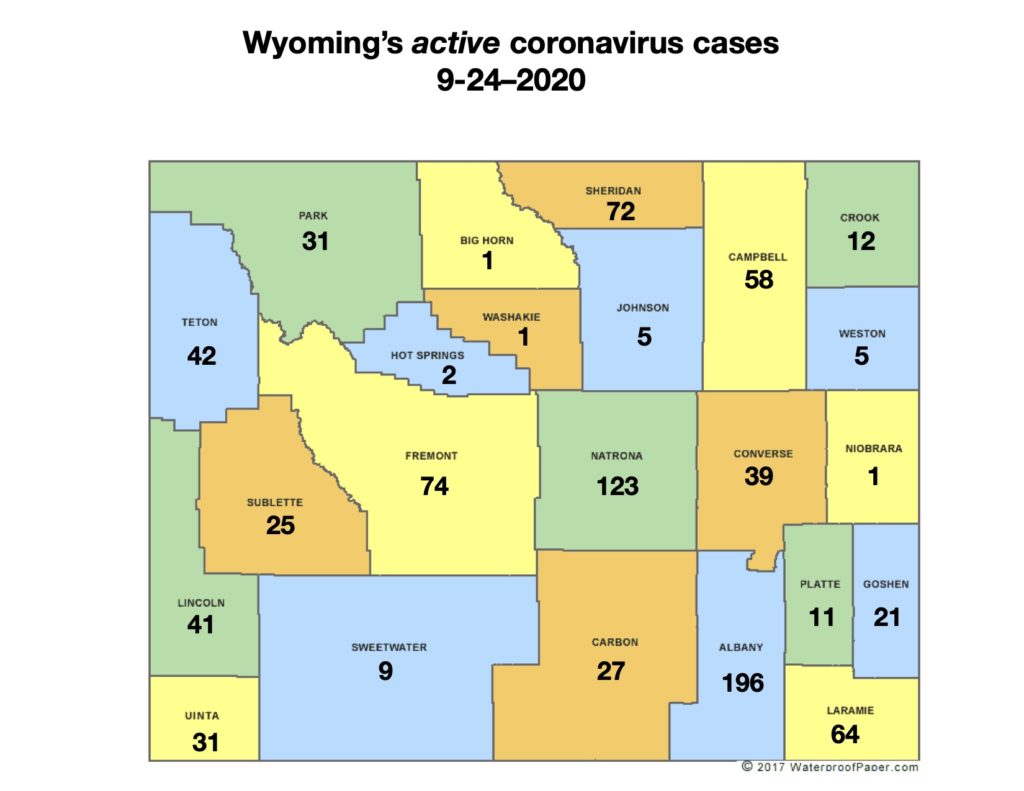 By The Wyoming News Exchange
A second day of increases of more than 100 in new confirmed coronavirus cases around Wyoming pushed the state's number of active cases to new highs Thursday.
The Wyoming Department of Health, in its daily coronavirus update, said 120 laboratory-confirmed cases were reported in 18 counties. On Wednesday, 137 new cases were reported.
The new cases contributed to an increase of 49 in the number of active cases in the state, which totaled 891 as of Thursday, with every county in the state now reporting at least one active case.
Lincoln County Emergency Management released a breakdown of location of the active cases within the county which currently stands at 41.  40 of those cases are in Star Valley, one is in Cokeville and zero active cases are currently in Kemmerer, Diamondville and LaBarge.

Albany County had 196 active cases; Natrona had 123; Fremont had 74; Sheridan had 72; Laramie had 64; Campbell had 58; Teton had 42; Lincoln had 41; Converse had 39; Park and Uinta had 31; Carbon had 27; Sublette had 25; Goshen had 21; Crook had 12; Platte had 11; Sweetwater had nine; Johnson and Weston had five; Hot Springs had two, and Big Horn, Niobrara and Washakie counties had one.
Until Thursday, Niobrara County had gone several weeks without an active case.
The active cases included 741 people with laboratory-confirmed cases and 150 with probable cases.
Active cases are determined by adding the total confirmed and probable coronavirus cases diagnosed since the illness first surfaced in Wyoming on March 12, subtracting the number of recoveries during the same period among patients with both confirmed and probable cases and taking into account the number of deaths attributed to the illness.
The number of laboratory-confirmed cases went up by double digits in Albany County (31), Natrona County (22) and Teton County (12). Other counties with increases were Campbell, Carbon, Converse, Fremont, Goshen, Laramie, Lincoln, Niobrara, Park, Platte, Sheridan, Sublette, Sweetwater, Uinta and Weston.
The increase brought the total number of confirmed cases seen since the illness was first detected in Wyoming in mid-March to 4,488.
The number of probable cases increased by 16 Thursday to total 817 seen since the pandemic began. A probable case is defined as one where a patient has coronavirus symptoms and has been in contact with someone with a confirmed case, but has not been tested for the illness.
Recoveries have been recorded in 4,364 of the 5,305 people diagnosed with confirmed or probable cases, the Health Department said, an increase of 87 recoveries over Wednesday's numbers.
The recoveries were seen among 3,697 people with confirmed cases and 667 with probable cases.