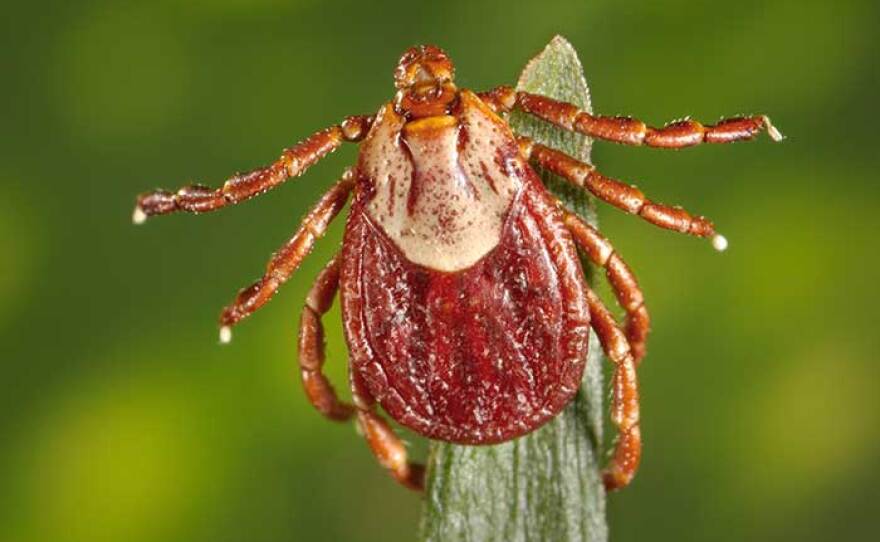 By Jeannette Boner
Jackson Hole News&Guide
Via- Wyoming News Exchange
JACKSON — Nothing bugs Mikenna Smith these days more than a tick.
"They are disgusting and everyone hates them," said Smith, an entomologist for Teton County Weed and Pest. "But they are highly adaptable, and what they are capable of is fascinating to me."
Smith has teamed up with fellow Weed and Pest biologist Kelsey Mitchell to track data that could prove critical to better understanding current and future public health impacts of ticks. They're an often overlooked insect in the West, second fiddle to the more discussed pest, the mosquito.
"Locally, there's a black hole of information that I am really interested in looking at," Smith said. "There is a scientific opportunity here to fill knowledge gaps, and that's a big reason why I'm personally interested in collecting this kind of data. This is an overlooked public health threat and that's why I'm really, really into ticks."
The Centers for Disease Control and Prevention reports that tick-borne diseases have increased 25% since 2011. What that means for Teton County and the surrounding region is unknown, for now — although anecdotal reports indicate the wet winter brought a bumper crop this year.
"Tick-borne diseases are under-reported because many of the illnesses don't get diagnosed," Smith said. "Unless you saw a tick on you and 24 hours later you got sick, it's unlikely you will be tested."
By collecting ticks and freezing them this summer, Smith and Mitchell will test the insects' viral RNA this winter to determine which diseases ticks could be carrying. While the Wyoming Department of Health tracks reported cases of tick-borne diseases such as Rocky Mountain spotted tick fever and Colorado tick fever, the Teton County scientists are producing a first-of-its-kind data set in Wyoming.
Their efforts are in line with a national call for tick data collection in the interest of public health. In 2018, the Centers for Disease Control established a nationwide program that guides local agencies on tick surveillance and pathogen testing and gathers all that data in one place.
"The more we look for ticks and tick-borne pathogens, the more we find — and the more information we have to help protect people from the diseases ticks spread," said Erik Foster, a medical entomologist in the Centers for Disease Control and Prevention's Division of Vector-Borne Diseases, after the launch of the national program.
The CDC and federal government have focused on black-legged ticks that carry Lyme disease. The black-legged tick is not found in Wyoming thus far, but Smith said the study mirrors the national standards for tick surveillance and pathogen testing.
"If we are successful and able to get a tick program in place, we would model the guide published by the CDC," Smith said.
According to the Wyoming Department of Health, diseases sometimes passed on by infected ticks in Wyoming include tularemia, Rocky Mountain spotted fever and Colorado tick fever. Lyme and Powassan diseases can be a concern during travel to other states, but are not known to be spread by Wyoming ticks. And Teton County has seen at least one case of tick paralysis, in 2020.
"We do have tick-borne illnesses," said Dr. Jim Little Jr., St. John's Health's chief of staff and a longtime urgent care provider. "Most tick bites don't result in tick illness. A lot of people will come in [to the clinic] when they have seen a tick on themselves. If the tick wasn't embedded, you are not going to have a transmission."
Little said it was important to note that tick-borne illnesses cannot be passed from human to human or animal to human. Transmission occurs solely through a tick bite.
"Ticks are seasonal, with the biggest peak being in the spring," Little said. "That's when we see the highest incidence of ticks."
A 2022 peer-reviewed study sought to document the potential risk of Colorado tick fever in Grand Teton National Park and the Bridger-Teton National Forest. In the study, ticks tested from participating Park Service and Forest Service employees found that 21% of the ticks were positive for the Colorado tick fever virus.
The study found: "Approximately one-third of participating park employees found a tick on themselves during the three-month study duration."
These numbers drive Smith and Mitchell to find out more.
"We're very interested in knowing the pathogens that these ticks have," said Smith. "What are the infection rates, are the infection rates the same in all areas, are there hot spots? I have a lot of questions that are relevant to public health."
A tick uptick
Smith said this has been a big year for the tick.
"Yes, there are more ticks this year," Smith said. "But this is the first year we have collected data, so there is nothing to compare the numbers with. From what I'm seeing, not only in Teton County, but also in Sublette County, this is a big tick year and that's from anecdotal evidence. Everyone is finding ticks on themselves."
Daniel resident James "JB" Bond has been collecting ticks for more than a decade. He said this spring was unlike any year he's seen for ticks.
A professional horseshoer who has cowboyed and guided the area mountain ranges since the late 1970s, Bond started collecting ticks shortly after he became ill with what he said was Colorado tick fever.
"I'm not a tick aficionado," he said. "I got sick once. The sickness was pretty severe and makes you feel horrible. That year that I was sick, there were cases of tick fever in the [Pinedale] clinic."
At the same time Bond said he was sick in 2009, Sublette County was conducting enhanced diagnosis and surveillance of Colorado tick fever. According to a peer-reviewed study, Wyoming has had the most cases of Colorado tick fever among residents, followed by Montana and Utah.
"For many years I would tell people, I get ticks on me a lot, but I thought, 'Maybe I am exaggerating?' about all those ticks," Bond said.
After his fever, Bond started saving the ticks he would find on himself. When he would do a "tick check" and find one on his clothes, he would tape or glue the insect to a white card. At the end of the summer, he would burn the card, and the ticks.
He said that he averaged about 10 to 12 ticks each year. One year he had a low of three ticks, but this year he had 22 ticks on his card and he was still finding them on himself this month — weeks after the ticks' spring hatching cycle had ended.
So he took a square piece of cloth and dragged it in his field.
"This year seemed unusually high," he said. "Every time I went out, I had them on me. It was kind of freaking me out a little bit. So, I started dragging for them, and I was blown away by how many were out there."
Bond has shared his findings with Smith, who acknowledged that she, too, found more ticks this spring.

Tick talk
Smith attributed the big tick season to a wet June and hypothesized that widespread mule deer and pronghorn die-offs last winter could be sending ticks elsewhere to find their next "blood meal."
Ticks tend to dry out easily, so when the weather is warm and wet, ticks are out and about, hanging low in fields and brush, pinchers outstretched like little ice axes looking to cling to a host.
The Rocky Mountain wood tick is most prevalent in Teton County and Grand Teton and Yellowstone national parks. This variety is followed by the winter tick that is commonly found on big game animals. The winter tick does not carry illness that is transmittable to humans.
"One thing we are trying to do is to get our hands on ticks," Smith said. "If people are seeing ticks, we would like them to let us know where they are seeing them. Where we are looking for ticks is where people are seeing them. If people are getting ticks on them, we will accept your ticks. Donate them to science!"
Next spring, Smith and Mitchell are planning a "tick blitz" in Teton County. Stay tuned for details as they plan to use citizen scientists to help them collect ticks.
Let us know what you think!
Tagged:
Centers for Disease Control and Prevention
Erik Foster
Kelsey Mitchell
McKenna Smith
Rocky Mountain spotted tick
Teton County Weed and Pest
tick-borne diseases
Wyoming Department of Health