Time crunch hits home on Mid Valley Fire District proposal
◆ Petition signatures needed to move the measure forward.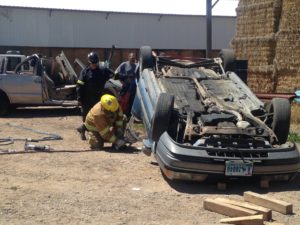 The question of creating the proposed Mid Valley Fire District is looming large this month.
The next few weeks will see continued efforts by the Town of Thayne, Thayne Fire Department, Town of Star Valley Ranch and area volunteers to gather petition signatures.
"We need [a total of] 1,700 signatures and $7 million in accessed property value," said Thayne Fire Chief Toby Merritt. "So we need people to go to either the Town of Thayne Office or the Town of Star Valley Ranch Office to sign the petition. They can also call me at (307) 880-3473 and I will meet them somewhere to get them to sign."
The petition deadline is November 1, 2019. If the necessary signatures are gathered prior to the deadline, then the question of a fire district will be posed through a ballot.
According to Merritt, there are several reasons the Thayne Volunteer Fire Department is supportive of the creation of a Mid Valley Fire District.
"Being a fire district will help us to secure department funding since the county and state budgets are going down," Merritt said. "Becoming a district helps us get grants and loans much easier than the way we are having to go through the town or county now."
"Also it will help us upgrade our fleet of trucks," he continued. "Our trucks are still serving good now but they need to be upgraded."

According to Merritt, the Thayne Volunteer Fire Department has an operating budget of approximately $80,000 a year, including community donations.
"To you and I $80,000 is a lot of money," he said. "To put that into perspective, it costs about $20,000 to equip one fireman. We're doing pretty good with recruiting and firemen. We get one or two a year. You can figure $20,000 for each one by the time you do bunker gear, radios, pagers, workman's comp and all that kind of stuff. It doesn't take long for that $80,000 to disappear."
According to Merritt, a basic fire truck with no equipment costs just under $300,000. When the necessary fire equipment for the vehicle is added in, the total cost increases significantly.
The proposed Mid Valley Fire District would encompass Star Valley from the narrows just north of Thayne to Etna.
"We've always served that area," said Merritt. "So our service area is not going to change. We will stay all volunteer no paid fireman, and we will continue to give the same service and response that we have in the past just with better funding. This is the petition to get the fire district on the ballot. So if this petition passes the next step is to vote for the Mid Valley Fire District."
The Town of Star Valley Ranch is holding a petition signing day on Saturday, October 12 from 10 a.m. to 4 p.m. at the town's mail center.
For more information on the proposed Mid Valley Fire District, contact the Town of Thayne at 883-2668 or the Town of Star Valley Ranch at 883-8696.
Let us know what you think!
Tagged:
Mid Valley Fire District
Thayne Fire Department
Town of Star Valley Ranch
Town of Thayne