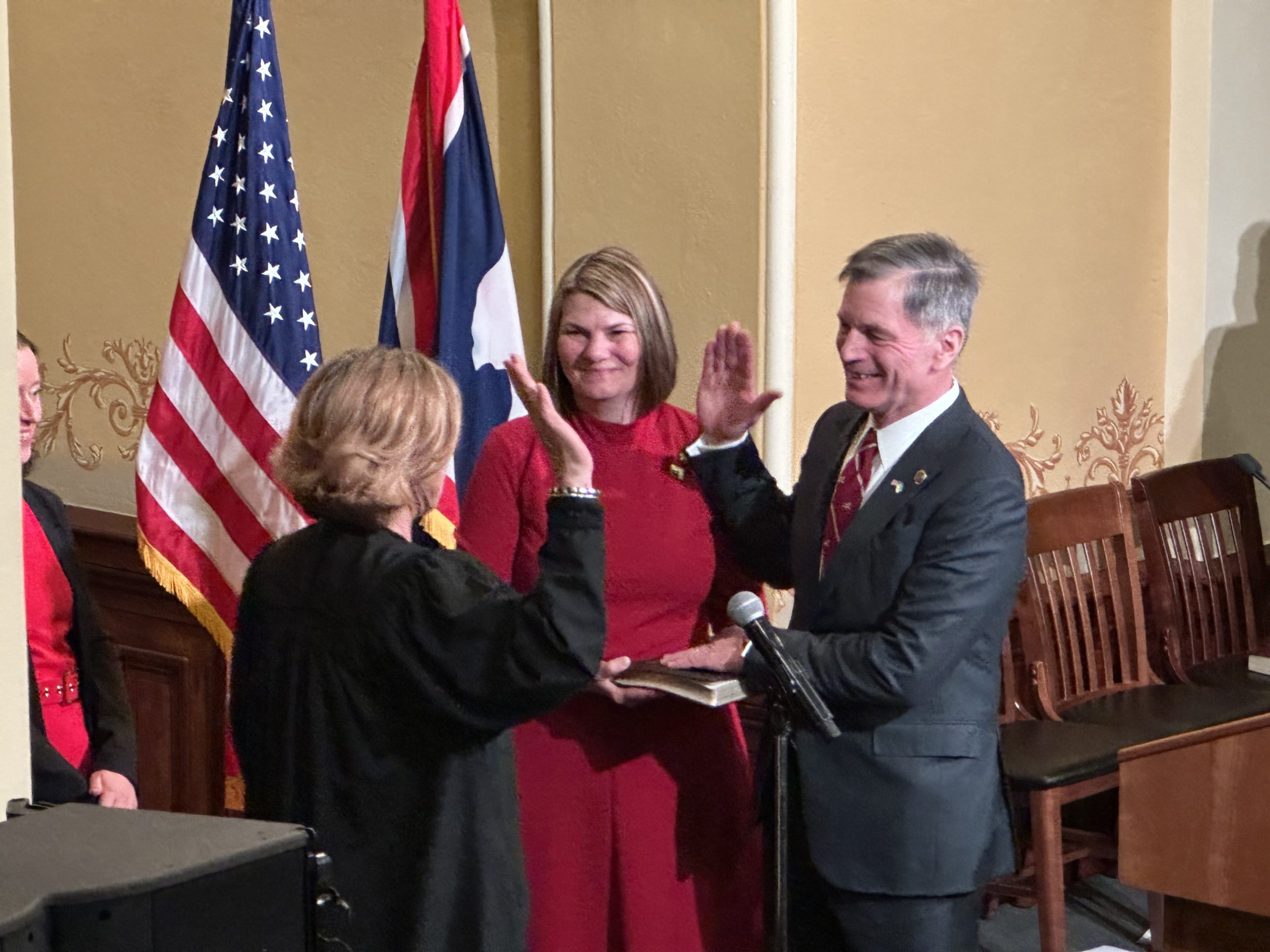 By Jasmine Hall
Wyoming Tribune Eagle
Via- Wyoming News Exchange
CHEYENNE — In the heart of the Wyoming Capitol, Gov. Mark Gordon was joined by the four top state executives as they were sworn into office Tuesday morning.
The inauguration ceremony was one of the many events hosted in celebration of the newly-elected leaders. From family and friends gathering for a prayer service in St. Mark's Episcopal Church at the start of the morning, to the inauguration gala held in the evening—it was a bustling day.
Gov. Gordon took the oath of office for his second term with Auditor Kristi Racines and Treasurer Curt Meier, while Secretary of State Chuck Gray and Superintendent of Public Instruction Megan Degenfelder took their steps into the offices for the first time.
They were all met by an enthusiastic crowd made up of state lawmakers, military officials and members of the public in the Capitol rotunda, who were well prepared to welcome the executives into their roles.
"Guide us as one people in the state of Wyoming. Instill in us that we are one people in your spirit of compassion and integrity, to do our part in the betterment of Wyoming, to seek the common good for all people in our towns, cities, counties and our nation," said Reverend Carole Buckingham in the benediction. "Bless our leaders to faithful service."
After standing before Chief Justice of Wyoming Kate Fox and swearing to uphold the office with fidelity, Gordon delivered his second inaugural address.
He pledged to continue to fight for Wyoming values such as truth, justice, courage and hope and to protect Wyoming's interests and potential. Gordon also called for the state to unite at this moment in history, and reminded citizens of the words of the Apostle Matthew, "a house divided against itself cannot stand."
"The undeniable fact is that our founders did not leave us a fire-and-forget, plug-and-play government," he said in his speech. "Our government requires participation and effort and compromise. We must work together as we begin this next chapter."
He said citizenship is not aligning with one ideology or another, but rather a willingness to engage and respect each other. The governor encouraged citizens to reacquaint themselves with the ability to "disagree without being disagreeable. To listen as much as to advocate."
This was a theme that moved throughout his address, because he said there are many outside influences seeking to tear them apart.
"Wyoming is a conservative state with an ingrained sense of independence and freedom," he said. "Her people have always had an abiding respect for one another. Our aim should always be for Wyoming to chart her path independent of political fashion, or popular trend."
His vision for the next four years was founded on these principles, as well what he considered the four fundamental pillars. He said the government must be responsive, responsible and accountable.
"As a Republican, I believe in limited government that is closest to the people. Staying on that trail while emphasizing economic opportunity, free enterprise and personal responsibility has always been a recipe for success," he said. "But, that success must never come at the expense of our most vulnerable. In Wyoming, we take care of our own."
Gordon emphasized prioritizing the diversification of the economy, advocating for and protecting Wyoming values, and seizing the day.
"Wyoming's time is now," he said. "Wyoming energy powers the nation. Science and engineering are poised for trailblazing advances that will transform technology, natural resource management, outdoor recreation and agriculture. Wyoming is the tip of the spear. While others fiddle for answers, Wyoming is ready to solve the challenges of our time—not with talk but with action."
While the governor spoke to growing the workforce, investing in education and setting Wyoming's children and grandchildren up for success, he also reflected on his own family. He said without the love and support of them, he could have never accepted the responsibility. He put the spotlight on his wife, Jennie Gordon, who has been committed to end food insecurity in the state.
She came up and presented her husband as governor for his second term and said there have been many trials and tribulations in the past four years. Often he would come home with the phone in his ear and stay there all night, she said. He would wake up in the morning and ask what he can do to make things better, and go to bed every night wondering if he had done enough.
"For all us here today, we know what we do now and in the next several years matters for our children and grandchildren that follow," concluded Gov. Gordon. "Because after all, Wyoming too, is a family. We have been given a great state, a great nation, and a great gift, and we know it is our responsibility to leave this world a little for our time in it."
Let us know what you think!
Tagged:
Auditor Kristi Racines
Gov. Mark Gordon
Secretary of State Chuck Gray
Superintendent of Public Instruction Megan Degenfelder
Treasurer Curt Meier
Wyoming Capitol