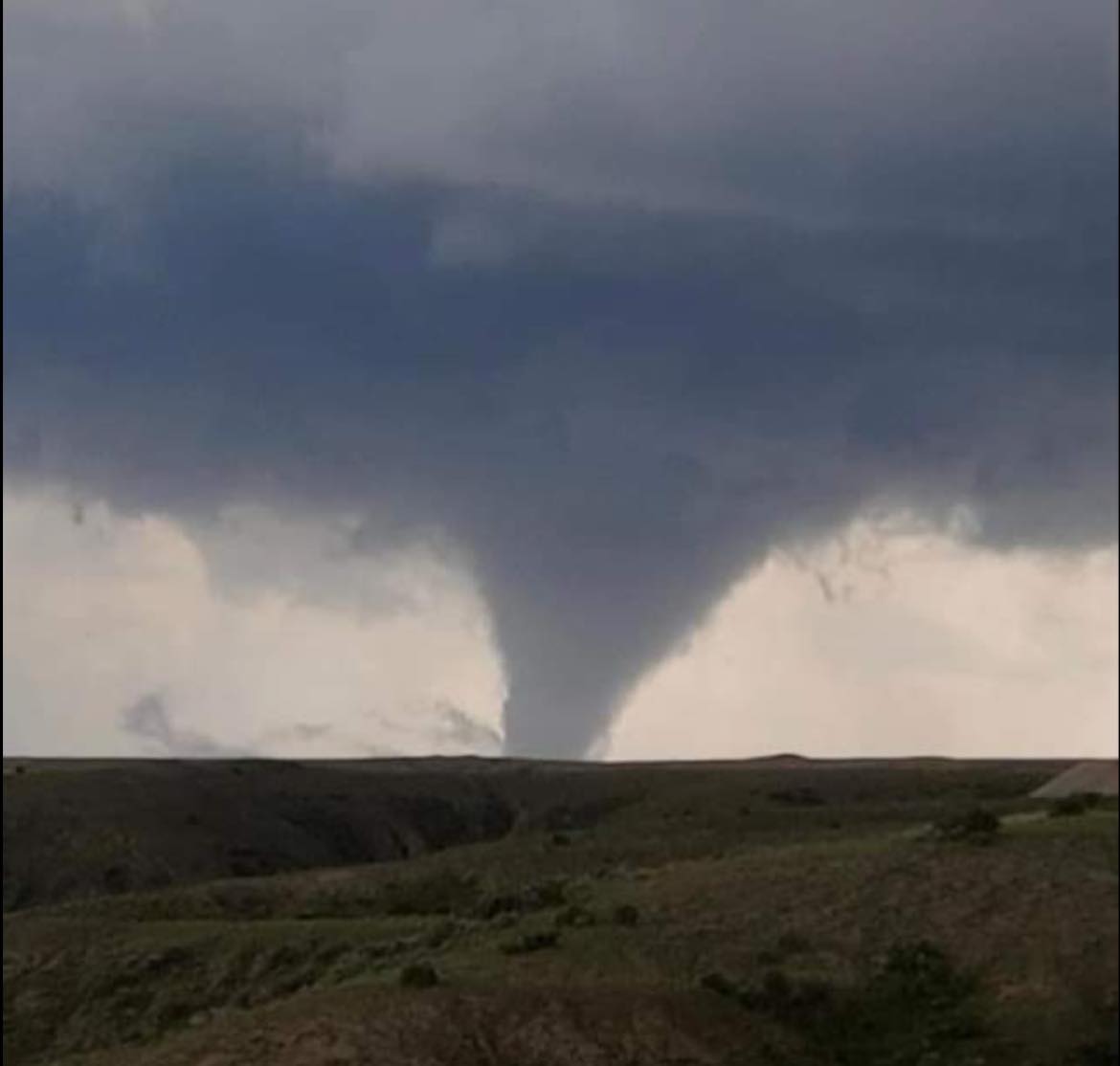 • Six were hospitalized for injuries, and a 'massive' cleanup job remains at Peabody Energy's North Antelope Rochelle mine.
By Dustin Bleizeffer, WyoFile.com
Hundreds of workers escaped serious injury, though six required hospital treatment, when a tornado ripped through the North Antelope Rochelle coal mine in northeast Wyoming during a shift change Friday evening. The mine — the largest in the nation — was not as fortunate, suffering serious damage that temporarily halted production operations.
As crews continue to clean up and repair facilities, mine operator Peabody Energy says it will likely resume loading trains by Tuesday. But it's unclear how long it may take to return to full production capacity.
"Initially, focus will be on restoring the train loading dock and the NARM North facility, where some power has been restored," Peabody said in a statement Sunday. "Other parts of the mine will require power line restoration before they can return to operation. Rail cars that were blown over and derailed in the storm will need to be recovered."
Any persistent supply disruption from the Powder River Basin coal district could threaten scores of coal-fired power plants across the nation. NARM, located in the southern portion of the basin, accounts for approximately 25% of Wyoming Powder River Basin coal production. The mine shipped 63 million tons of coal in 2021, about 13% of U.S. coal consumed for electrical generation that same year, according to the U.S. Energy Information Administration.
Texas is the largest consumer of Powder River Basin coal, according to the EIA, relying on the Wyoming product for approximately 16% of its electrical generation capacity in 2022. The Lone Star State is currently experiencing an intense heat wave, driving near-record demand for electrical power, according to reports.
Some experts say a temporary slow-down in NARM deliveries won't likely seriously impact customers in Texas, however. 
Coal-fired power plants typically maintain a stockpile of coal onsite to buffer against potential supply disruptions. Power plants burning sub-bituminous coal — the type mined in the Powder River Basin — kept an average stockpile of "126 days of burn" in March, according to the EIA.
Coal plants also typically increase their stockpiles ahead of the high-electrical-demand summer and winter seasons, University of Wyoming energy economist Rob Godby said. "Normally, this would not pose a huge issue unless [a supply disruption is] sustained for quite a while."
The disruption, so far, should not have an impact for coal customers in Texas, according to Steve Piper, Director of Energy Research at S&P Global Commodity Insights. "This isn't a sufficient disruption to cause a concern about coal supplies at Texas power plants," Piper said.
Peabody hasn't commented on the full extent of the damage or the scale of coal-delivery disruptions for its customers, which span several states.
'Massive job to clean up'
The tornado measured as a 2 on the Enhanced Fujita Scale, given estimated wind speeds of 120 to 130 miles per hour, according to Rapid City National Weather Service meteorologist Susan Sanders who was onsite to assess the storm event Saturday. 
A tornado warning was sent to cell phone users in the area about 10 minutes before the tornado struck the mine, Sanders estimated.
The tornado — along with damaging hail and torrents of rain — apparently struck the main operations center of the mine at about 6 p.m. Friday, according to Campbell County Emergency Services Agency Coordinator David King. Though the mine's operations span many square miles — larger than most Wyoming towns — there's a cluster of buildings and operational facilities at its main entrance. This area took the brunt of damage, King said over the phone while assessing the damage on location.
"I'm sitting here looking at aluminum and tin off of buildings wrapped around poles and things," King said. "It's just a massive destruction."
Eight people were injured and six of them were transported from the remote location to nearby hospitals for non-life threatening injuries, according to King. The drive north to Gillette takes more than one hour, and it takes nearly an hour to drive south to Douglas. All six of the injured had been released from the hospital by Sunday morning, Peabody stated.
A roof was ripped off the mine's "change house" — a locker room-type of facility where crews prepare before each shift and meet to discuss operational plans. Bay doors were torn from the mine's fire and emergency station building, which may be "totalled," King said. Tin siding was peeled away from atop a set of cement silos that are used to load coal into trains. More than a dozen coal cars were blown over on a railroad line in the vicinity. One "coach" bus that transports miners was flipped onto its side while several other vehicles were scattered into one another, according to reports.
"It's going to be a massive job to clean up," King said. "It looks like a typical tornado, especially when it hits a whole lot of steel buildings."
The timing of the tornado strike couldn't have been more precarious, King said. Between 150-200 workers are typically on location to ensure 24/7 operations, he estimated. But that number was nearly double when the tornado struck due to a shift-change that occurs between 6 p.m. and 7 p.m.
Given the number of people in the vicinity and the severity of initial reports, emergency responders from multiple agencies in Campbell and Carbon counties prepared for the worst.
"Everybody responded as if it was a mass casualty incident," King said.
WyoFile is an independent nonprofit news organization focused on Wyoming people, places and policy.
Let us know what you think!