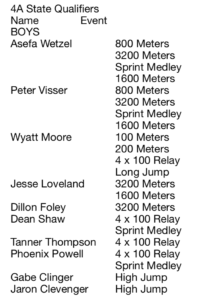 The SVHS track & field team were in Evanston this past weekend as they competed in the 4A West Regionals. But the weekend was more about qualifying for the Wyoming State Track and Field Championships this weekend in Casper.
"We feel like it went about as well as it could," said head coach Ty Draney. "Sometimes, Regionals is just about avoiding major catastrophes. I think our first round of 4A back in 2008 we only took 13. This year we have 26 so we'll see how we are going forward."
The top individual finishes went to Wyatt Moore who claimed the 100 and 200 meter events. Peter Visser was second in the 800 meter and the quartet of Wetzel, Visser, Moore and Dean Shaw won the Sprint Medley event. The coaches did not run the terrific trio of Wetzel, Visser and Moore in all of their events that they will have this week in Casper.
"We'll have a full slate of events for Asefa and Peter and Wyatt which are a bunch of potential points for us," Draney added. "On the boys side we'll see if it's enough. Kelly Walsh is incredibly deep, Natrona is deep and Sheridan is deep. We're hoping that some of our high marks and those teams canceling out each other is enough. We're fit and seem to be healthy and we're ready to go and compete and see if we can make it happen."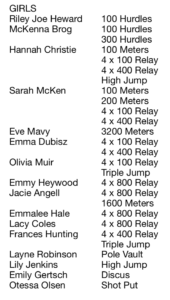 The Braves are coming off three consecutive Wyoming 3A titles.
The Lady Braves top finishes came from junior Hannah Christie who was third in the 100 meter and combined with freshman Sarah McKen, Emma Dubisz and Olivia Muir to finish third in the 4 x 100 and 4 x 400 meter relays. It was an impressive showing for McKen who qualified in four events in her first high school season.
Draney said there weren't any real surprises in the performances but there were some odd happenings which included an injury to sophomore Jacie Angell during the 1600 meter event.
"In the girl's mile the high jump bar hit Jacie right in the neck so that was pretty bazaar," He said. "In 20 years I've never seen anything like that."
Draney said the story fit in with the East regional in which stories told of a team tent smashing into runners as it made its way across the track in a wind gust.
Draney chalks it up to springtime in Wyoming and that conditions are rarely ideal in Casper.
"We took a few risks and changed some relays and tried to boost our point potential so we'll go at it and see if it's enough."

Tagged:
Asefa Wetzel
Peter Visser
Star Valley track & field
Ty Draney
Wyatt Moore
Wyoming 4A State Track