Tragedy and triumph: Running life's race takes both endurance and courage.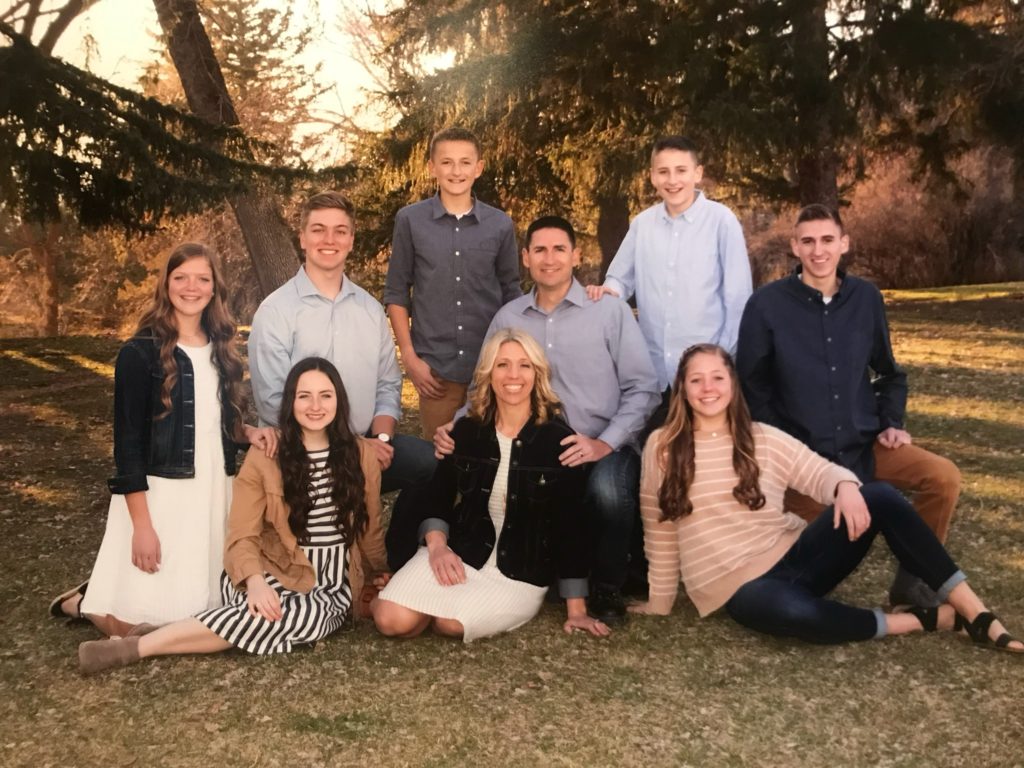 Star Valley native Vera Lyn Bradshaw-Wright competes in triathlons and runs marathons. Though she never imagined as a youth that she would ever run such lengthy distances, her experiences have become a metaphor of her life – a journey filled with digging deep to overcome pain and heartbreak, sprinkled with the exhilaration and joy of triumph in the face of constant obstacles.
Vera Lyn is the eleventh child of Blair and Alice Erickson of Bedford. "Growing up on a dairy farm in Star Valley has taught me so much about myself and especially how to dig down deep when times are tough," said Vera Lyn.
After graduation from Star Valley High School, Vera Lyn attended Utah State University, where she met and married Brian Bradshaw of Lyman, Wyoming in 1998. Before Brian met Vera Lyn, he had a prior connection to Star Valley through a companion he served with in the Ontario, Canada Mission for the Church of Jesus Christ of Latter-day Saints. Young Jeremy Kunz was that companion, and the two had shared a love for athletics.
In the early years of their marriage, Brian and Vera Lyn participated in a few 5K runs with his family, and Brian successfully finished the St. George Marathon in spite of a knee injury that he suffered during the competition. He always wanted to have an opportunity to improve his time, but they could never have guessed the they were about to run the marathon of their lives.

"In September 2004, Brian was diagnosed with Lymphoblastic Leukemia," said Vera Lyn.  "It shook our world.  We had just had our third child in March and were really enjoying our little family.  Our world changed to endless doctor visits and learning about a disease we knew nothing about.  At that time, our children were four years, two years and six-months-old. They learned to be incredibly resilient."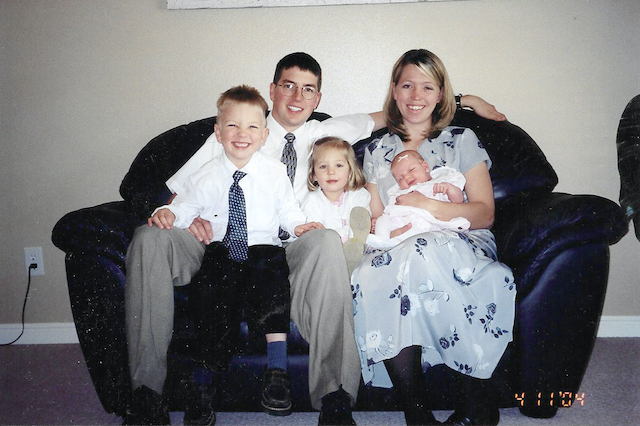 Brian's treatments involved cycles of chemotherapy and an eventual bone marrow transplant. For Vera Lyn, this regimen was particularly difficult as she worked through the challenge of balancing time as a caregiver to her husband with time as a mother of three young children. Brian's condition began to improve, and they felt hopeful.
"In 2005, a friend invited me to run with her group," said Vera Lyn. "I got to know the people in the group and loved running with them. It was my way to get out and have some time for me.  While running with them, I decided to run the Top of Utah Marathon.  As I saw Brian with the kids cheering me on along the course, my heart filled with love.  We had gone through so much."
Tragically, less than a year later, Brian's cancer returned, and he passed away on January 31, 2006.  Vera Lyn found herself a widow at age 28 raising a five-year-old, four-year-old, and 18-month-old. Numbness set in as she tried to keep life as normal as possible for her children, working to fill the rolls of both parents.
"I remember many tender experiences when I felt Brian there with me and the kids," said Vera Lyn. "I missed him so much and prayed so much to know how to handle each situation, each phase of life and even my own emotions.  The help that I received through others and the comfort I felt as I prayed, attended the temple, and worked to comfort my kids was truly incredible.  I know that the Lord has a hand in our lives, especially in those times when we feel like we are doing it all on our own."
"At this point, working out was not a top priority," Vera Lyn continued "I was just trying to survive.  I remember a time when I woke up and the thought kept going through my mind, 'Do I want to just survive in life or THRIVE in life?'  I didn't know what that meant, but as I thought about it, journaled and prayed, I knew I needed to do something different."
Vera Lyn determined that she needed to return to running. She began attending a gym and running with a new group of women that she still runs with today. In 2014, she met and married Scott Wright, a widower who had recently lost his wife to breast cancer. With his four children and her three children, their union created a family of nine busy people who had to learn to adjust to new ways of thinking and doing things.
Amidst the demanding schedule and responsibilities of running a large family, Vera Lyn decided to train and run marathons. The St. George Marathon had been Brian's last race and he had wanted to run it again, so in 2012, she ran that for him. In 2015, she determined to run the Boston Marathon, but her time did not qualify. So, in 2017, she ran the qualifier again, and her time was fast enough to participate in the 2019 Boston Marathon. Again, however, she faced a challenge.
As she carefully continued to train for Boston while healing from a high hamstring injury, she awoke one morning to extreme pain. Doctors informed her that she had a herniated disk and two bulging disks in her lower back. Even with medications, standing or sitting were excruciating. She opted out of surgery, instead choosing chiropractic care and specialized exercises to relieve pain.
"I really thought there was no chance of running this marathon," said Vera Lyn.  "But I had worked so hard to be able to qualify and had such a desire to do it that I did not want to give it up."

As she began to improve, she and Scott counseled together. With her doctors and chiropractor, she decided to proceed with training for the marathon. They determined that she could alternate walking with running, listening to her body. Cautiously, she worked up to running a mile and then to running distances that were on her training schedule.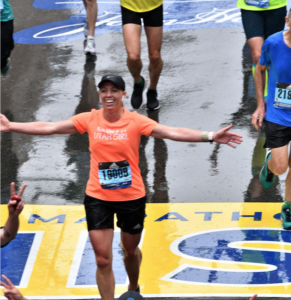 At that same time, the two oldest Bradshaw-Wright children had received mission calls. Scott's oldest daughter left March 26, 2019 and Vera Lyn's son was to leave on April 17, 2019.  The Boston Marathon was April 15.  Feeling overwhelmed and at times questioning the value of holding onto her dream, Vera Lyn pressed forward and decided to run Boston. She and Scott took their son with them to Boston so that they could spend his last few days together.
"I was excited but so nervous," said Vera Lyn. "It seemed surreal.  I was actually going to run THE Boston Marathon! I almost couldn't believe it.  It was an incredible feeling. The morning of the marathon, it was pouring sheets of rain.  In Boston when it rains, the temperature drops, and it is so cold.  We met the busses and took that long, daunting ride. If you have ever run a race, you know that this ride makes you realize how long 26.2 miles really are."
"I wondered if I would be able to finish," said Vera Lyn.  "I had done the training, but I questioned myself because of my back.  At the start line, there were runners as far as you could see ahead of you and as far as you could see behind you.  It was like a sea of people rolling over the hills.  I remember saying out loud, 'I am actually running the Boston Marathon!'"
A few friends ran with her, and the girls in her group wore shirts that read "Run like a Utah girl!" Spectators cheered as the runners passed, "Go Utah Girl!" She thrilled at the opportunity to represent her state, knowing that her running was taking on a purpose bigger than her own dream.
Vera Lyn soon advised her teammates to go ahead without her. She needed to pace herself appropriately for her back. "I wanted to make sure I could finish," she said. "I wanted to take in the whole experience and be a Boston Finisher."
"Coming around the last corner to the finish line was exhilarating," said Vera Lyn.  "There were so many people cheering for us.  I pushed through the finish line and lifted my arms in the air knowing that I made it!  I had run THE BOSTON MARATHON. I did it!  What a journey!
Through her very personalized life-marathon, Vera Lyn has had a team of important people supporting her and cheering her on – hard-working parents and siblings, her dear sweetheart Brian, her Bradshaw in-laws, her beautiful children (Kenyan, Tailyn and Lauren), her good and devoted husband Scott and his children (Kaylie, Cameron, Dallin and Kyler), her running friends and her team of medical professionals.
She knows, however, that the team member who played the greatest role was her Savior, Jesus Christ. Without Him, she would never have had the strength to endure the journey and His presence made all the difference.
Tagged:
Blair and Alice Erickson
Boston Marathon
Brian Bradshaw
Vera Lyn Bradshaw-Wright