Train derailment, explosion still under investigation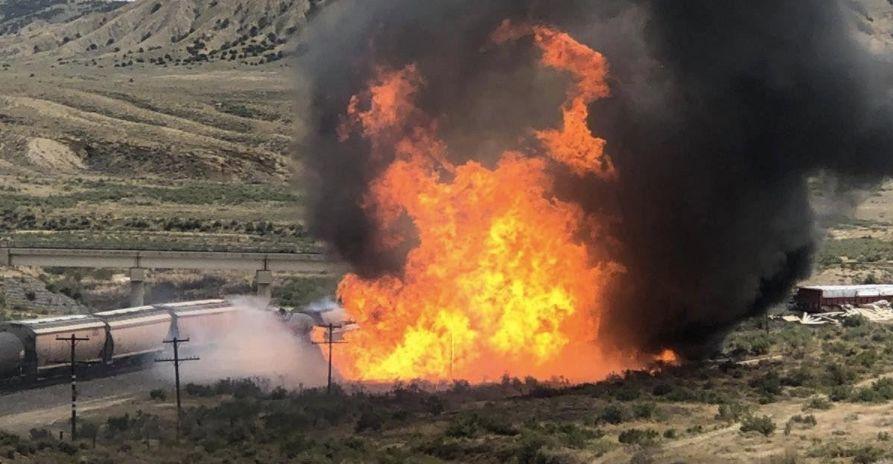 ————–
ROCK SPRINGS (WNE) — Smoke and flames filled the skies outside Rock Springs after a freight train derailed on Saturday afternoon. Multiple agencies responded, and though two deputies were injured in an explosion, no fatalities were reported. The cause of the derailment is under investigation.
A Union Pacific train derailed about 4 miles east of Rock Springs around 2:54 p.m., according to Tim McMahan with Union Pacific.
Sweetwater County Fire District No. 1 Fire Chief Scot Kitchner said, "We had around 30 rail cars that were actually derailed, not the initial 50 that we thought. Of those 30, 10 were involved in the fire."
The train was hauling mixed freight, including ethanol and alcohol. Kitchner added "a couple of cars had a plastics-type material, hence the dark black smoke that could be seen for so long."
Union Pacific brought in hazmat teams and experts from Denver and Salt Lake City late Saturday night to work with local resources to mitigate the incident.
"The fire was controlled and extinguished around 3:30 a.m. this morning by fire crews and the Union Pacific resources," Kitchner said Sunday. "Those resources remain on scene as well as local resources to monitor the work that the railroad has ongoing and to monitor the wildland."

Approximately 20 to 25 acres of Bureau of Land Management land burned.
An accident investigation team from the Department of Transportation Federal Railroad Administration/Accident Investigations is on the ground and already investigating the cause of the incident, according to Kitchner.