Uranium industry execs say preparations for mining nearly complete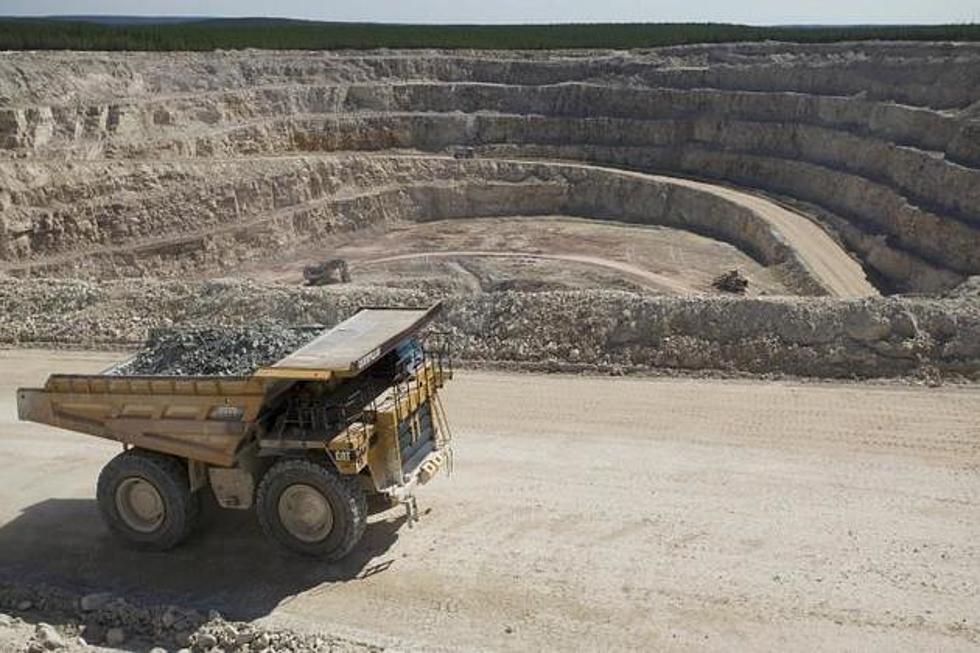 By Peder Schaefer
Buffalo Bulletin
Via- Wyoming News Exchange
BUFFALO — Checking roads. Running tests. Fixing pipes. But most important? Watching prices.
That's how life goes for Donna Wichers, the vice president of Wyoming operations for Uranium Energy Corp., which has mining and processing facilities in Johnson County that are primed for launch – when the price is right.
"The date we start up will be dependent on reaching and sustaining that $60 market price," she said, speaking from her office in Casper. "We've been shut down since 2018. We need to get back there and make sure everything is operational and in a good place."
At peak capacity in 2013, Wichers said, the facilities in Johnson County had nearly 65 employees and contractors, meaning that resuming mining operations would be a major economic boon. Uranium mining could also generate ad valorem mineral taxes.
The price that UEC is looking for to jumpstart its operations again is $60 per pound of triuranium octoxide, the most popular form of unenriched yellowcake uranium. On July 10, the spot price per pound for triuranium octoxide was $55.40, according to UXC, which tracks uranium prices. That's up nearly $8 per pound since the beginning of the year.
Once the price is consistently above $60 per pound, the company will begin to hire mine staff and start mining at the Christensen Ranch property, located 20 miles east of Kaycee. The company also operates the Irigaray Processing Plant near Kaycee, which processes uranium resin mined at its facilities throughout the Powder River Basin and beyond.
On July 12, UEC announced in a press release that it had completed major restart preparations to get the Christensen Ranch mine up and running, meaning that a start date for uranium production in Johnson County is getting closer and closer.
"The fundamental drivers of supply and demand, including pending legislation to ban Russian uranium imports to the United States, are translating into rising uranium prices that have accelerated UEC's production readiness program," said President and CEO of UEC Amir Aadnani in a press release.
"We would love to see a vibrant uranium industry in southern Johnson County," Johnson County Commission Chairman Bill Novonty said. "It creates a lot of revenue and also a lot of good-paying jobs."
Wichers said the hiring process will take up to six months.
Preparations underway at Johnson County facilities
For the past few months, Wichers said, UEC has been focused on "production readiness activities in the wellfields and satellite plant," referring to the Christensen Ranch mine and the Irigaray production plant.
Some of those preparation activities have included testing electrical equipment, leak detection systems and repairing lines and piping in the production plant.
UEC has also worked to establish a new wellfield on Christensen Ranch and has conducted operational tests on existing wellfields, according to a press release.
UEC acquired the two facilities in December 2010, after buying Uranium One Americas. Uranium One Americas was part of Russia's State Atomic Energy Corporation, Rosatom. UEC bought the Russian corporation for over $112 million in cash and other assets. With the purchase, UEC became the largest uranium mining company in the United States.
But because of low prices, the mining facilities operated by UEC in Wyoming have been dormant since 2018, when a combination of low prices and an influx of uranium produced overseas made operations financially unsustainable. The Irigaray processing plant has been open, processing uranium resin sent from another company.
According to the U.S. Energy Information Administration, 35% of uranium used in America in 2021 came from Kazakhstan. Only 5% of uranium used in the country in 2021 was mined in the United States.
Since 2019, American uranium mines have produced less than 500,000 pounds of uranium concentrate, a sliver of the nearly 5 million pounds of uranium concentrate the country produced in 2014.
The facilities owned by UEC extended from the Great Divide Basin south of Riverton, all the way to the Irigaray facility near Kaycee in northeastern Wyoming. The total measured resources across UEC's Wyoming mines are 66.2 million pounds, more uranium than has been produced in the U.S. in the past 15 years.
UEC carefully watching legislation
Wichers said that UEC is carefully watching legislation moving through Congress that could have big impacts on uranium prices.
In particular, Wichers pointed to the support of U.S. Sen. John Barrasso, R-Wyo, who is a strong supporter of the nuclear industry. He has sponsored three different pieces of legislation to support the domestic nuclear energy industry in the U.S.
The most important piece of legislation to watch, according to Wichers, is a bill to block imports of Russian uranium into the U.S. The bill was cosponsored by Democratic Sen. Joe Manchin, D-W.Va., and would prohibit the importation of "low-enriched uranium that is produced in the Russian Federation or by a Russian entity."
Wichers pointed out that the domestic U.S. nuclear power reactor fleet is dependent primarily on uranium mined in Russia, Uzbekistan and Kazakhstan.
"Because of the cheap uranium from these sources, domestic uranium production has been totally pushed out of the market," she said.
That bill, refashioned into the Nuclear Fuel Security Act of 2023, S.452, was approved by the Committee on Energy and Natural Resources at the end of May. If passed by Congress, the bill will prohibit importations of Russian uranium 90 days after passage, with certain exceptions.
"We must sever our reliance on Russian nuclear fuel," Manchin said in a press release once the committee approved the bill. "Russia dominates the global uranium enrichment market as they are willing to sell uranium below market value to achieve their geopolitical objectives."
Another piece of legislation that Barrasso has been pushing would expand the U.S. Uranium Reserve. The reserve was established in 2021 with $1.5 billion, according to Wichers, but Barrasso's proposed legislation would codify the continuance of the reserve for the long term, increasing price stability for uranium producers in the U.S.
"All of this legislation is passing out of their respective committees, and it's all passing with bipartisan support," said Scott Melbye, the executive vice president of UEC and the president of the Uranium Producers of America, a lobbying organization for the uranium industry. "Something they do agree on is nuclear power."
Melbye said that he thinks there is enough bipartisan support for the legislation to go to a full floor vote in Congress but that nothing is ever for sure on Capitol Hill.
"What's important here is that we have conditions for the U.S. uranium industry to rebound from nothing to something that could be meaningful again," Melbye said. "Under supportive conditions, the U.S. could produce 25 million pounds from licensed facilities."
Finally, Barrasso has also worked to place uranium on the federal critical minerals list. This would streamline permitting times for new and existing uranium projects in the U.S., making it easier for mines to open and begin producing uranium.
"He's always been so good," Melbye said of Barrasso. "He's in the Congress trying to balance a lot of interests with climate change and green energy policies and everything else, and he's fighting for Wyoming energy."
"We're really watching the long-term ban on Russian uranium imports," Wichers said. "There are many utilities in the U.S. who depend on Russian supply of uranium. Once those sources go away, there is going to be a viable market in the U.S."
Complex in situ recovery mining process
The mines operated by UEC in Wyoming use an in situ recovery mining process.
To take the uranium out of the sandstone where it lies deep underground, teams of mine technicians drill a diamond pattern of holes into the ground. Next, groundwater fortified with oxygen is pumped into the wells. The water and oxygen solution dissolves the uranium away from the sandstone, and the water is pumped back up to the surface.
The water is then turned into resin beads, which are brought to the Irigaray processing plant. There the uranium is concentrated and then dried through a press into yellowcake uranium. At that point, the raw uranium is put in drums and shipped to a conversion facility, where it is enriched to the level needed for nuclear reactors.
One aspect of the uranium mining process that Wichers mentioned that's on the horizon for Wyoming is HALEU, or high-assay low-enriched uranium. HALEU is the type of fuel that the new, state-of-the art Natrium reactor plant being built in Kemmerer by a company affiliated with Bill Gates will use.
HALEU fuel has to be enriched to 19% to 20% uranium content, according to Wichers, and no facilities in the U.S. are currently capable of turning the uranium being mined in Wyoming into the fuel needed for that plant.
"Right now, the only place operators can get HALEU is from Russia," she said.
Congress and the Department of Energy are considering ways to stimulate HALEU enrichment companies to open in the U.S., but for the time being, the new nuclear reactor being built in Kemmerer will have to rely on Russian sources.
But if the prices go up a little, Wichers hopes that Wyoming can be part of the solution to America's reliance on Russia.
"With Russia's invasion of Ukraine, our dependence upon Russian uranium must end," she said. "We must have a viable domestic uranium industry."
Let us know what you think!
Tagged:
HALEU
Johnson County Wyoming
Kemmerer Wyoming
Natrium reactor
Uranium Energy Corp.
Wyoming uranium