UW begins nuclear energy research project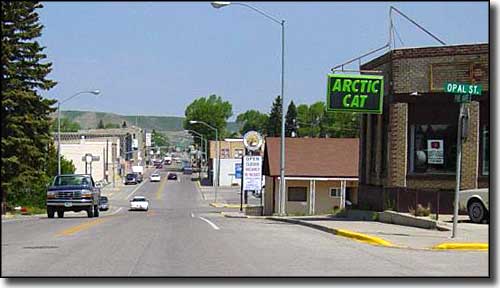 By Abby Vander Graaff
Laramie Boomerang
Via- Wyoming News Exchange
LARAMIE — As nuclear energy makes its way into Wyoming, local scientists will join a nationwide effort to learn more about emerging nuclear technologies and potential impacts on communities.
University of Wyoming has been awarded an $800,000 grant from the U.S. Department of Energy as part of a nationwide program to expand nuclear research.
DOE awarded $61 million to support projects at universities in 29 states.
The UW research will focus on impacts of the advanced nuclear demonstration project meant to replace Rocky Mountain Power's Naughton power plant in Kemmerer. The coal-fired plant is expected to retire in 2025 and quickly be replaced with a modular Natrium plant, a sodium-cooled reactor that will generate 345 megawatts of electricity.
TerraPower's Natrium reactor is a partnership with Rocky Mountain Power, PacifiCorp and DOE.
Unlike traditional nuclear facilities, Natrium will be smaller, modular and designed to replace existing coal plants when they retire. Many view the plant as a hopeful step toward creating new, sustainable revenue streams for Wyoming as it begins to move away from depending on the coal industry.
The team at UW plans to assess this transition in the context of environmental justice and community engagement, with hopes of impacting the future of nuclear energy siting in the state and beyond.
"This advanced nuclear energy facility is framed as reducing carbon emissions and responding to the economic crisis and energy transition – both of which, in turn, present their own environmental justice challenges – facing Wyoming's coal-dependent communities," said Rachael Budowle, a UW cultural anthropologist in charge of the research.
She explained that nuclear energy has a history of presenting social, environmental and ethical challenges, including when it comes to public trust and institutional responsibility when accidents happen.

While technological nuclear research can happen from afar, the proximity of UW to Kemmerer will bring advantages for more site-based research, said UW energy economist Robert Godby.
"Social science and public policy is really a place where the university is the best objective source of analysis," Godby said. "You have both that depth of expertise and also the fact that there's a real commitment to scientific integrity and objective analysis."
The research team is made up of five faculty members from UW and two others from University of Michigan. Doctoral, graduate and undergraduate students will be involved in the work as well, along with local community leaders and stakeholders.
Starting in October, the team plans to work over the course of three years with the Kemmerer community to assess the decision-making process surrounding the nuclear project and potential impacts it will have, Budowle said.
Historical background and legal analysis will play a role in this work.
Concerns about the impact of nuclear energy production on local communities is something professionals across the state are talking about.
During a panel discussion at the Mountain West Innovation Summit hosted by UW on last Wednesday, attorney and former Wyoming Gov. David Freudenthal said one of the largest challenges in the state's economic energy transition is inconsistency in policy that comes with changing political leaders.
"The transition will be much slower than the advocates want and faster than the opponents desire," Freudenthal said. "We've got both here in Wyoming."
He said that to be effective in the transition, governments should make a sustained financial commitment to the cause – and consumers should be prepared to pay a bit more for power.
"Trying new projects will be expensive, and it may or may not work," Freudenthal said. "We have to have a different perception about the outcome of those investments."
Sharon Fain, the vice president of Rocky Mountain Power Wyoming, said helping employees transition to new jobs is part of the company's strategy to move toward greener energy production. "We're not closing our gates and texting our employees not to show up," she said. "There's an obligation and a responsibility."
Let us know what you think!
Tagged:
Kemmerer Wyoming
Natrium nuclear power plant
Naughton Power Plant
Rocky Mountain Power
TerraPower
U.S. Department of Energy
University of Wyoming