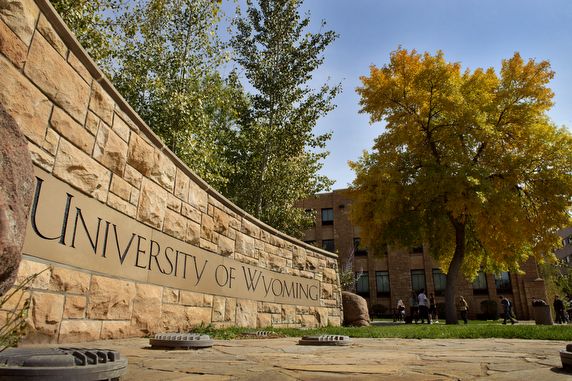 By Abby Vander Graaff
Laramie Boomerang
Via- Wyoming News Exchange
LARAMIE — Heading into the 2023 legislative session, University of Wyoming will focus on gaining funding to build its programs and support the employees running them, UW President Ed Seidel told the Wyoming Legislature's Joint Appropriations Committee on Friday.
The request comes during a recovery period for the university after it was hit with budget cuts and inflationary costs the past two years.
Since Seidel arrived on campus, he's hired six new vice presidents and six new deans and is working to bring stability to the university and focus on making decisions that will support the state's economic development, he said.
"We are focused largely on people and programs … and things that enhance our fundamental core land-grant mission," Seidel said. "It's to finish what we started in several areas."
Receiving more money to support staff members is a major concern of the university, Seidel said. Last year, the university received some funds from the Legislature and added its own $2 million contribution to pay for staff, but wages still need to be increased.
One project-specific request was for $5.5 million for tier one engineering programming, an initiative that began in 2017. Prior allocations in this area led to the construction of a new engineering building and contributions to the university's petroleum engineering program.
UW needs more money for this area in order to hire enough staff to provide all the classes necessary for the program, which so far has been a challenge because of budget cuts.
"One of my most important priorities for the university is to diversify our revenue streams to the university," Seidel said.
He said he didn't want the state to find itself in a bind if it needed the funds to be available.
One deposit would be made July 1, 2023, and a second on July 1, 2024. He proposed another $4.3 million be transferred to the Legislative Stabilization Reserve Account, also known as the "rainy-day" fund, in order for it to reach $2 billion. Gordon said it was a record amount, and speaks to the role the LSRA can play in budgeting efforts.
However, the governor said he wants to place "guardrails" on the reserve account.
He hopes the Legislature will take this under consideration and brainstorm approaches similar to Oklahoma. The Southwestern state has constitutional guidelines that only one-third of its LSRA can be available in any given year, and another third can be available in extraordinary circumstances.
"This leaves behind one third of that fund that can be used under exceptional circumstances," he said. "What this does in terms of investment is it means that you can invest for greater returns."
Gordon also recommended $68 million be transferred to the employee trust for the state's retiree benefit contribution, $5 million go to the Wyoming Natural Resource Trust, $8 million for the Wyoming Cultural Trust Fund and $35 million for Wyoming's Tomorrow Trust to help reach a goal of $50 million.
"I have offered two challenges," he said. "To enable a pathway for the private sector to contribute to the fund in a tax-deductible way, and to work with the private sector to raise an additional $5 million to meet that goal that I have already been working on."
"I also ask that the Legislature find a compromise to align Wyoming's Tomorrow, Wyoming Works and Wyoming investment or nursing programs' statutes and eligibility. We will be better off as these programs come together to make it easier on the industry."
The direction from the governor on the LSRA and the workforce program alignment led to questions from lawmakers, as well as his recommendation for $10 million to go to the Mineral Royalty Grant Funding account.
They wanted to know the proposed language for the guardrails on the reserve account, how to harmonize the initiatives and also how to keep the Mineral Royalty Grant funding specifically for smaller communities and emergencies.
"Some of the larger communities, including my own, managed to get in there," said Joint Appropriations Committee co-Chairman Sen. Dave Kinskey, R-Sheridan. "One man's project is another man's emergency."
Further questions were asked of the governor's staff regarding Gordon's recommendations after he finished his presentation.
They wanted more details on areas such as the $13.7 million proposed to address inflation, how the $68 million for the retiree contribution would break down in payouts, and the reasoning for the proposed $70 million external cost adjustment for K-12 education.
"My take was that he thinks that the $42 million that this Joint Appropriations Committee approved is probably insufficient to cover the inflationary costs to the impacts of education funding," said fellow committee co-Chair Rep. Bob Nicholas, R-Cheyenne. "I just want to make sure that we're on the same page of understanding the governor's position."
Some of those questions were answered in the follow-up with newly appointed Chief of Staff Drew Perkins and policy advisors, but others will be addressed later in the week by the governor's letters and reports. The letters won't be received until Wednesday, when the budget has to be organized by Friday.
"For us to make a recommendation on the governor's recommendations, and our own budgetary desires, we have to understand the background materials of the governor's letters," Nicholas said, adding he is concerned about the timeline of the letters from the governor's office.
Perkins said it was not the intention to stonewall the committee, but they wanted to make sure they provide the most accurate information, along with the details to understand their reasoning.
Members of the Joint Appropriations Committee will spend until Dec. 16 organizing the supplemental budget for the 2023 general session, which begins Jan. 10.
They are responsible for sifting through the governor's recommendations and taking them under advisement, as well as hearing testimony from state agencies on their needs.
Although Gordon placed an emphasis on savings, he spoke to the committee for nearly an hour on the issues he hopes will be remedied next year. Some of those included $50 million for capital instruction projects that need additional funding due to inflation, $7.8 million for cybersecurity, $1.48 million for the Animal Management Damage Program as
predatory losses increase, and $500,000 to the state engineer's office to handle hydrologic modeling of the Green River and Little Snake River basins.
He also recommended putting money toward mental health services, dental health services for children, environmental conservation and energy.
His supplemental budget was expansive and touched many areas of the state.
Gordon said his proposals seek to "make hay while the sun shines bright on our state."
"Wyoming emerged during the greatest economic and social challenge of our time," he said. "Not because we were scared, but because we knew our strengths and boldly saw prosperity."
Let us know what you think!
Tagged:
2023 Wyoming Legislative Session
Joint Appropriations Committee
President Ed Seidel
University of Wyoming