LARAMIE, Wyo. (Nov. 8, 2017) – Head coach Mark Branch and the Cowboy wrestling program added four new recruits on Wednesday as Jacob Greenwood (Livermore, Colo.), Logan Jensen (South Jordan, Utah), Tate Samuelson (Castle Rock, Colo.) and Chase Zollman (Poway, Calif.) signed their National Letters of Intent, committing them to wrestle for the University of Wyoming.
"We were able to receive early commitments from all of these guys which shows you their excitement for our program," Branch said. "I think they could see our youthful talent and visualize how they are going to fit in and add to a very successful era in Wyoming wrestling. We focused in on these four early and made them aware of our desire to have them be a part of this team."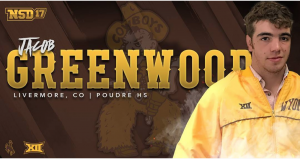 Jacob Greenwood | Poudre HS | Livermore, Colo.
Greenwood, a three-time Colorado state champ out of Poudre High School, is a two-time USA Wrestling Preseason Nationals Champion as well as the prestigious 2017 Doc Buchanon Tournament finalist. He'll wrestle at 141/149 for the Brown and Gold.
Coach Branch on Greenwood: "We have been very familiar with Jacob and his family for several years and to have a quality wrestler and even better person like this a short drive down the road was a blessing. It was a no brainer to go after Jacob hard to make sure he didn't get away from us."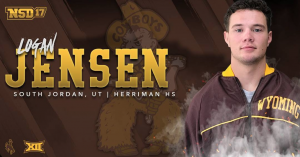 Logan Jensen | Herriman HS | South Jordan, Utah
Jensen hails from Herriman High School and is the younger brother of Cowboy redshirt freshman, Jaron Jensen. He is a Utah High School State Champion and a Freestyle and Greco Fargo All-American. Additionally, Jensen, who will wrestle at 157 pounds for UW, was a NHSCA Nationals All-American.
Coach Branch on Jensen: "Logan's brother Jaron has been a part of our program for the past 2 years and they have both been successful at the national level so it was a priority to reunite these guys. A large part of their success is due to them training side by side and now they will be able to resume that in our room. They will provide a powerful 1-2 punch."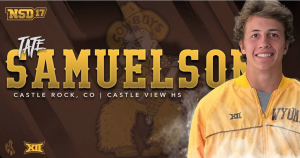 Tate Samuelson | Castle View HS | Castle Rock, Colo.
Samuelson was a Colorado State 5A Champion posting a perfect 44-0 record as a junior at Castle View High School. He was the state runner-up in 2016 as well. Samuelson is a four-time All-American that includes a fourth-place finish at Fargo Junior Nationals in 2017 and a fourth-place finish at the 2017 NHSCA Junior Nationals. He was also a Fargo Cadet All-American in 2015. He'll compete at 174/184 for the Pokes.
Coach Branch on Samuelson: "I was able to watch Tate a lot this summer and really fell in love with his style. He is so dynamic and can score big time moves upper body but he is just as dangerous low and on the mat. He will develop both physically and technically into a very successful competitor and I can see him anywhere from 174-197."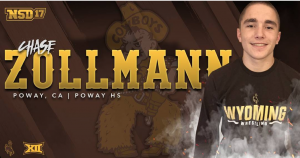 Chase Zollman | Poway HS | Poway, Calif.
Zollman is a three-time California CIF state placer out of California powerhouse Poway High School. He was a fifth-place finisher at the 2017 Fargo Junior Freestyle Nationals, with a seventh-place finish at the 2016 UWW Cadet Freestyle Nationals. Additionally, Zollman was runner-up at the NHSCA Sophomore Nationals and third at Freshman Nationals. He'll wrestle at 133/141 for Wyoming.
Coach Branch on Zollman: "Chase came out to our camps this summer and really impressed us but his explosion on the scene at Fargo sold me. He is a hammer on top and the state of California continues to prove it's one of the best."
Let us know what you think!
Tagged:
Big 12 Wrestling
Chase Zollmann
Jacob Greenwood
Logan Jensen
Mark Branch
Tate Samuelson
Wyoming Wrestling