(Video) – Heart of Christmas Concert

Coming to you from downtown Afton at the historic Ford Theatre, the Heart of Christmas Holiday Concert features talented performers from the area. The concert will be broadcast here on SVI beginning at 7 p.m. on Friday, December 4.
The performance is made possible by the Star Valley Arts Council and the following sponsors:
Rocky Mountain Yeti
Simplot Smoky Canyon Mine
Advantage Plus Credit Union
Bar H Motel
Hastings/Ace Hardware
Ford Theatre
3 Reasons Massage
Star Valley Independent
Lower Valley Vision
Star Valley Express Dry Cleaning and Laundry
CLICK HERE TO MAKE A DONATION TO THE STAR VALLEY ARTS COUNCIL!
The Heart of Christmas program planned for this week has changed venues and formats. The 2020 performance is under the direction of Shantay Clark and the Star Valley Arts Council.
"Due to the latest state health restrictions, we are moving this event to a free online-only event for the general public to watch on Friday, December 4 at 7 p.m.," said Clark. "We are so sad to have to do so, but circumstances are out of our control. We hope you'll join us for the virtual community event on December 4."
According to the Star Valley Arts Council, the December 4 virtual performance includes the talents of 16 singers from across Star Valley, joined by "a special musical guest and a cast of young dancers."
"2020 has been a turbulent year," said Clark. "Our wish is for this show to bring to every heart a message of hope – with a little bit of magic."
"SVI Media is pleased that we are able to provide a viewing option for community events and performances such as this," said Duke Dance of SVI Media. "This pandemic has presented a number of different challenges as far as such events and gatherings are concerned. We invite you to tune-in and watch this broadcast with your friends and family. We appreciate Shantay Clark, the Star Valley Arts Council and the performers that have put so much time in to make this performance possible."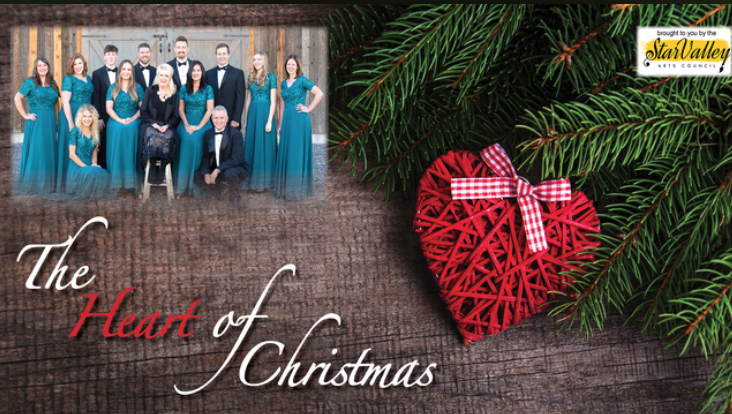 Tagged:
Heart of Christmas Holiday Concert
Star Valley Arts Council
SVI Media