Weather, disease whacks wildlife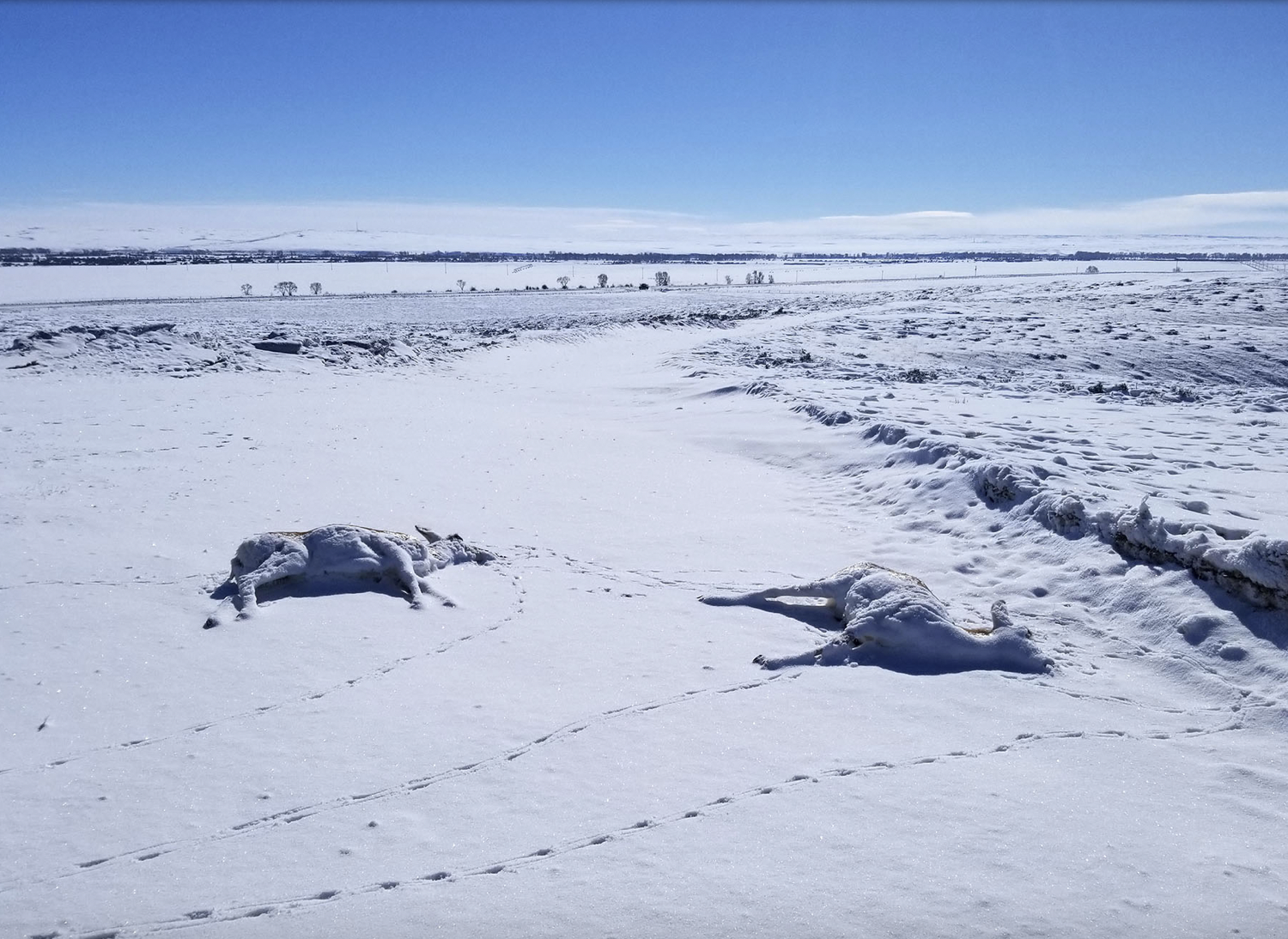 By Billy Arnold
Jackson Hole Daily
Via- Wyoming News Exchange
JACKSON — This winter is killing mule deer fawns in Wyoming's largest herd, and may be exacerbating a pneumonia outbreak in pronghorn near Pinedale.
"This is a real deal winter and we're in the thick of it at the moment," Ian Tator, the Wyoming Game and Fish Department's terrestrial habitat supervisor, said Friday afternoon.
But how severely winter will impact wildlife is unclear, particularly for Wyoming Range mule deer.
"It's still kind of early," said Gary Fralick, a Thayne-based state wildlife biologist who is tracking deaths in Wyoming Range mule deer.
Near Pinedale, an outbreak of a rare respiratory disease is moving through the Sublette herd of pronghorn, a group of nearly 40,000 antelope. A few hundred of its members migrate north to Grand Teton National Park in the summer.
Mycoplasma bovis infections that cause serious cases of pneumonia have killed some 200 animals in the herd since mid-February.
The pathogen is common in livestock like cattle and bison though it's not clear whether it jumped from domesticated animals to wild ones, said Hank Edwards, the supervisor of the state wildlife health lab. Either way, it's very uncommon in wildlife.
As far as Game and Fish officials can tell, Edwards said, earlier outbreaks in the winters of 2019 and 2020 in pronghorn near Gillette marked the first time bovis infections were detected in wildlife.
"Having it show up again was really depressing," Edwards said. "This is pretty serious."
A few miles north, mule deer in the roughly 30,000-animal Wyoming Range herd are falling victim to malnutrition, Fralick said.
Mule deer in that herd, some 130 animals, were recently collared as part of an ongoing study of survival rates. But Fralick said 42 of the 65 fawns the department collared last year have died: about 65% of the collared juveniles. The herd is typically the largest in Wyoming.
That's a significant increase from a typical year, when about 25% of the herd's young die.
Eight of the 65 adult deer that were collared earlier this year also died from harsh winter conditions. At 12%, that figure is closer to average for the herd.
"That's encouraging to this point," Fralick said. "But 12% is a number we're going to continue to watch because there's a lot of winter left."
Fralick said winter conditions are killing fawns.
In general, deeper snow makes it harder for animals to find food, depleting fat stores that help them make it through the winter. But it also makes it harder for them to move across the landscape, duck under fences, and safely navigate roads, where they become more likely to be hit by cars.
Fawns, however, come into the winter with less stored fat than older members of the herd. Because they're still growing, most of what they eat goes into getting bigger and stronger. So, when deep snow coats the ground, it's harder for them to rebuild those fat stores. And when there are frequent subzero temperatures, less fat means those animals are more likely to freeze to death.
But it's not clear if winter has exacerbated the pneumonia outbreak in pronghorn near Pinedale.
"We don't know," said Edwards.
The state's wildlife disease specialist thinks the two are related. In 2019 and 2020, when the disease popped up in Gillette, conditions were similar. There were big snowstorms, and animals started dying in mid-February. The outbreak tapered off by mid-April. But the connection between disease and weather is hypothetical at this point, Edwards said. Finding the pathogen in wildlife is new.
"We don't know if this is an emerging disease that is going to continually affect pronghorn," he said.
For both the Sublette pronghorn and Wyoming Range mule deer, there's more work to be done to determine how severe this winter has been.
Edwards said the department likely won't know how severe the mycoplasma outbreak is until the snow melts and biologists can count the number of carcasses on the landscape.
Fralick, meanwhile, is just starting to collect a larger sample of mortality data for the Wyoming Range herd that will estimate how many fawns have died across its 30,000-some animals.
Gathering more data will give the department a better picture of what's going on.
That won't be complete, however, until April.
Edwards, meanwhile, is taking a wait-and-see approach. Short of removing carcasses from the field, it's hard to prevent a pathogen like mycoplasma bovis from spreading.
"We're hoping that once the weather improves, once the snow melts, this outbreak stops and we stop losing pronghorn," Edwards said. "It's a concern that even if this disease continues to pop up, even sporadically, it could have significant effects on some of the local populations."
Let us know what you think!
Tagged:
Gary Fralick
Grand Teton National Park
Wyoming Game and Fish Department
Wyoming Range mule deer