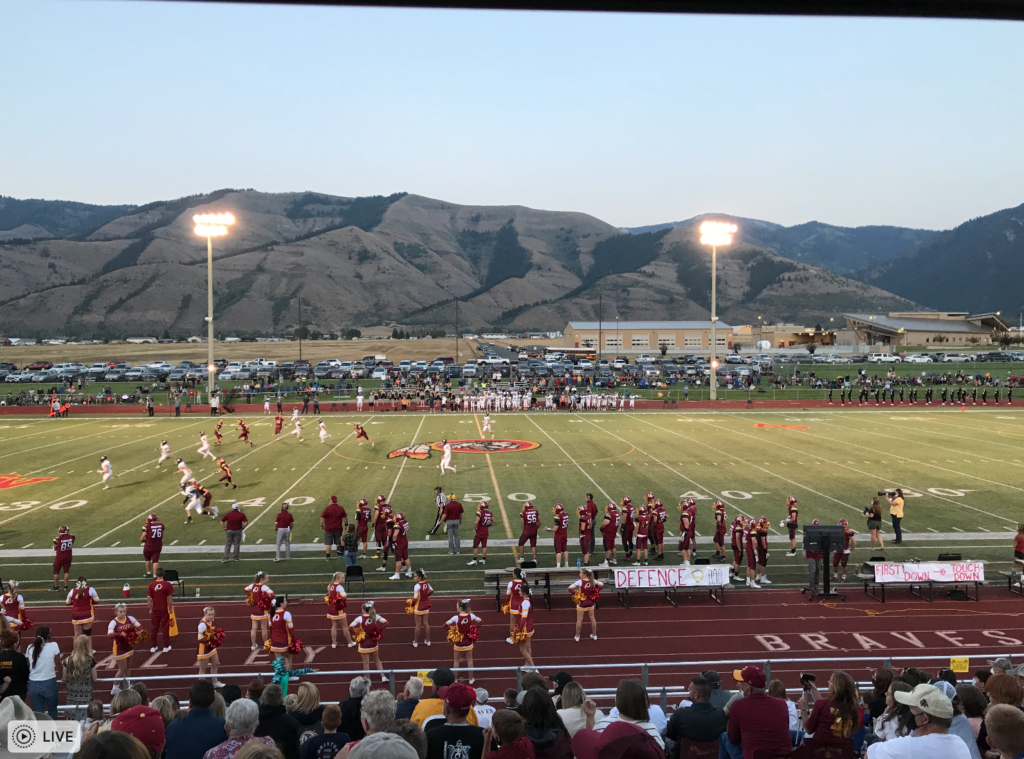 ————
• Football
Summit Academy 24  Star Valley 14
The streak is over. So now we can stop talking about it.
The Star Valley Braves (0-1) battled against a talented Summit Academy squad but could not overcome penalties, turnovers and a balanced effort from the Bears (3-0). The Braves lost the ball on an interception, a forced fumble, a blocked punt and on downs.
It was the program's first defeat since September of 2018, a road loss to Sugar-Salem.
Joe Garlick passed for 208 yards and two touchdowns while Jaxon Case carried the ball 32 times for a 137 yards and a score as the Utah visitors scored the game's final ten points after Star Valley drew even in the third quarter.
Brant Nelson passed for 112 yards and a touchdown to Winston Green and the running game produced 168 yards on 36 carries and a score from Layne Oesch who led the team with 78 yards on the ground.  Green finished with seven catches for 62 yards. Lucas Chappell finished with a total of 73 combined yards.
"I was proud of our guys, there was no quit in them even when things were ticking away in the fourth quarter," said head coach McKay Young. We have a mountain of things mentally to address but the effort was good tonight."
After leading the majority of the first half, the Braves' penalties finally caught up to them as the Bears scored with just 11 seconds left in the first half to tie the game 7-7. Summit scored again in just 90 seconds to start the third quarter and led 14-7.
There were moments the Braves' potential was on display as was the case in a long drive that tied things up 14-14.
The two key moments both came after turnovers as the Bears banked in a 23-yard field goal before Garlick dropped a dime to Titan Kilgore who outran the defense for a 73-yard score to push the advantage to ten points.
The Braves will now host the Preston Indians out of the Idaho 4A Class next Friday before traveling to take on the two-time defending 3A Idaho champs at Sugar-Salem High School. (SCROLL TO THE BOTTOM FOR MORE WYOMING SCORES)

• Cross-Country
Running on Thursday evening in Soda Springs, the SVXC teams were battling familiar faces as part of their annual Summitview High Altitude Running Camp (SHARC) buddies in a meet to help all the squads in a schedule constantly evolving due to the coronavirus and its restrictions.
Peter Visser won the race with a time of 16:25, pulling away from Pocatello's Shane Gard and Mitchell Athay of Idaho Falls in the final moments. Idaho Falls put five into the top eight however and easily took the top spot with a score of 28. Pocatello was second with a 41 and Soda Springs edged the Braves 85-88.
Junior Johnny Hunting was second on the team with an 18:13 while the pack of Bryan Hahn (19:17), Wyatt Dunn (19:17) and Noah Draney (19:21) rounded out the scoring.
The Lady Braves were led by a 6th place finish from senior Jacie Angell who ran a 21:10. Idaho Falls took the top two spots with a pair of sophomores led by Elanor Eddington who finished with a time of 20:08.
Emily Strasburg (22:07) and Eve Mavy (22:14) just barely finished outside the top ten with Sara McKen (22:42) and freshman Liberty Mavy (23:16) rounding out the top five. Junior Emmalee Hale and senior Jill England were close behind Mavy with seven runners finishing in the top-25 spots.
Pocatello won the team score with a 29, followed by Idaho Falls' 35. The Lady Braves finished with a 66 while Soda Springs was fourth with a 97.
CLICK HERE FOR FULL RESULTS FROM THE SHARC MEET.
• Golf
Official scores from the Rock Springs Invite at White Mountain Golf Course are still not available. According to coach Kelly Fullmer the Lady Braves shot 298 for he believed was a fourth place finish behind Jackson, Evanston and Green River. Senior Taylor Erickson led the girls team with a 92.
The boy finished with a 372 led by freshman P.J. Horsley while fellow freshman Parker Paxton won with an amazing 69; his second straight weekend shooting under 70. Fullmer again felt the Braves finished fourth behind Jackson, Evanston and Riverton while finishing in front of Kemmerer and Lyman.
Due to COVID-19 restrictions there is no final gathering of teams to receive final scores and hand out awards so sometimes scores are not yet known as the team leaves the venue.
The varsity teams will be in Pinedale on both Thursday and Friday before the 3A West Regionals in Powell.
State will take place in Evanston at the Purple Sage Golf Course as hosted by Lyman High School.
Wyoming High School Football Scores provided by WyoPreps.com.
Torrington  24  Gering (NE)  6
Lyman  24  Malad (ID)  6
Ben Lomond (UT)  29  Evanston 14
Jackson  34  Teton (ID) 12
Powell 37  Riverton 7
Sheridan  42  Laramie 10
Thunder Basin  34  Cheyenne East 28
Cheyenne Central  35  Natrona County 21
Kelly Walsh  54  Cheyenne South 14
Rock Springs 35  Campbell County 6