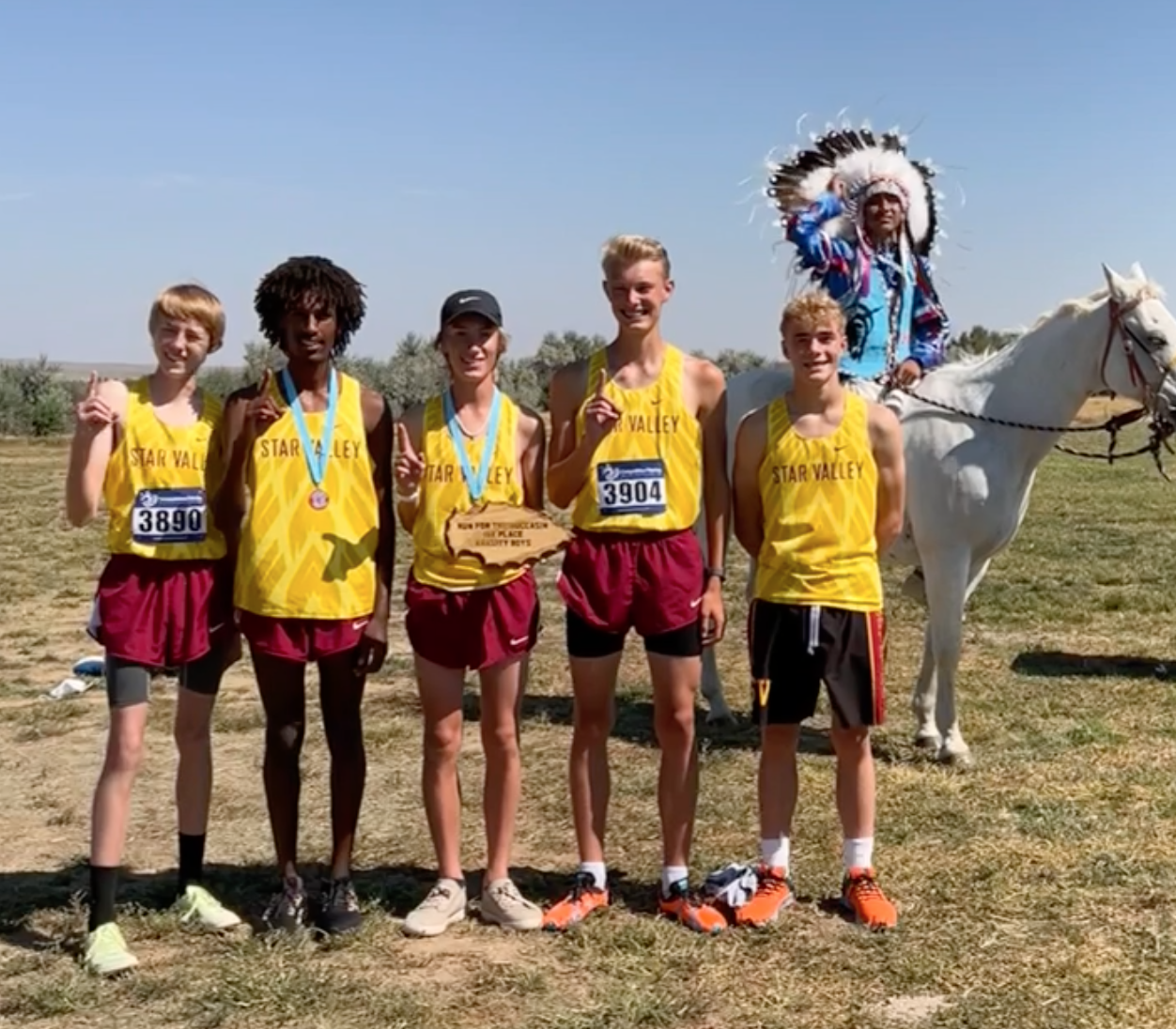 Amid an impressive field at the Chief Nation Invitationals in Ethete, the Star Valley Braves took the team title led by a pair of sophomores. Habtamu Wetzel placed second overall just three seconds off the winning pace of Mountain View's Owen Burnett wit its a time of 16:14.9. Jase Burton also finished fifth with a time of 16:55.7. The top-five combo was enough for Star Valley to finish with 47 points as they edged Mountain View who was second with a total of 50. Natrona County was third with 64 followed by Worland (81) and Evanston (81).
The Lady Braves were led by Kaelle Opitz who was 22nd overall. Alexis Angell was four spots back in 25th.
Both junior varsity squads placed second overall. Matt Heywood and Bryan Hahn were second and third overall in the JV race with Ty Terry and Brigham Hahn running sixth and eighth respectively.
Kaitlyn Bach was second overall in the JV race.
"[There was] a little sickness going through the team but proud how they competed today," replied Head Coach Ty Draney.
• 4A West Regional Golf Qualifier
With the goal of both teams reaching the State weekend in Rock Springs next week, both the Braves and Lady Braves accomplished what they set out to do as the boys finished third and girls placed fourth to punch their ticket.
Day Two of the tournament in Casper was scrapped due to weather conditions.
PJ Horsley had the top score of the tournament as he shot a 75 and earned All-Conference on top of his individual title. Sean Stout shot a 70 and earned All-Conference as well with a seventh place finish.
The Lady Braves had all three golfers shoot under 100 led by Taylor Anderson's 98.
• Football
The Braves wrapped up their out-of-state schedule as they traveled to face perennial Idaho powerhouse Sugar-Salem. The two squads traded touchdowns and were tied 7-7 in the second quarter before the Diggers were able to punch in a pair of scores to lead 21-7 at the break.
The Sugar running game got on track in the third quarter as they extended their lead 28-7.
The Braves had early success with the passing game early on but were unable to find the end zone again as the Diggers tacked on a late touchdown for a 34-7 final. Chase Stewart led the squad with 74 yard receiving and a touchdown.
The loss improved Sugar-Salem to 4-0 as Star Valley dropped to 2-1. The Braves will be on the road again next week in Riverton as they play the Wolverines in an early afternoon game at 12:30 on Friday September 16. Both the junior varsity (14-6) and freshman (40-14) teams picked up wins against Sugar-Salem.
• SVHS Volleyball Invitational
The Lady Braves got to play their first home matches of the season with teams at Star Valley High School. Friday's action started with 2-0 wins over Kemmerer (25-23, 25-13) and Evanston (25-18, 25-11). Campbell County then defeated Star Valley 2-0 (22-25, 22-25).
Saturday started with an upset win as the Lady Braves knocked off #2 Thunder Basin after dropping the first set (15-25, 25-23, 15-12). The hosts then swept Cokeville 2-0 (25-21, 25-19).
Wrapping up the final session, Star Valley beat Shoshoni 2-0 (25-11, 25-15) and Jackson (25-7, 25-20).
Look for more details in the September 14th edition of the Star Valley Independent.
Let us know what you think!