Western Wyoming Community College (Western) will host one international summer abroad trip in 2025. Western's 2025 tour will explore South Africa for eleven days with an additional two day extension to Victoria Falls in Zimbabwe. Western is hosting an informational meeting for those interested in participating in the trip on September 20 at 6:30-7:30 PM, in room 1003 or via Zoom. 
The tour will be led by Michelle Schutten, an eight-time cultural tour group leader. When asked about 2025 tour, Schutten states, "South Africa is a bucket list location. Our tour will be an adventure that promises unforgettable moments and incredible excitement. I am especially looking forward to the panoramic views of Table Mountain, the wildlife safari in Kruger National Park, and the breathtaking views of Victoria Falls." 
The eight-day tour includes highlights across South Africa. Stops include Cape Town to view its colorful architecture and vibrant culture. In Soweto, learn about the country's history and apartheid struggle. One of the stops includes Robben Island. The prison where Nelson Mandela was held for 18 years during South Africa's era of apartheid.  
Unbelievable natural scenery and vantage points dot the way from Kruger National Park to Johannesburg. During the park safari participants will enjoy small group drives. The chance to see some of Africa's unique wildlife will be unforgettable.  
All of Western's cultural tours include roundtrip airfare, land transportation, hotels with private bathrooms, breakfast and select meals, a full-time tour director, sightseeing tours, select entry fees, and free time.    
To find out more about this trip join us for an informational session on September 20. Those who can't attend in-person can join through Zoom. To participate in the meeting via Zoom, see westernwyoming.edu/calendar for login and link information.   
To learn more about Western's international travels and study abroad visit: westernwyoming.edu/enrichment. EF Tours is cosponsoring the trips. More details can be found on their website at westernwyoming.edu/enrichment.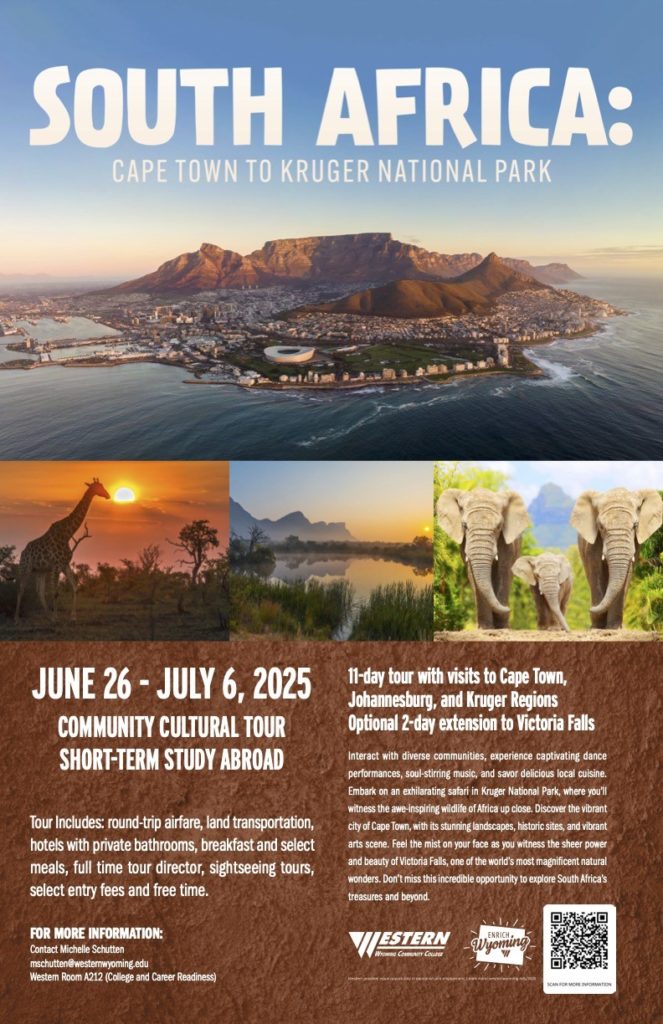 Let us know what you think!
Tagged:
Michelle Schutten
Western Wyoming Community College
WWCC