Wrestlers compete in Utah and Idaho Tournaments
◆ Varsity team will be in Casper for the Trojan Border Wars this weekend. (Photos by Christy VanDeburg)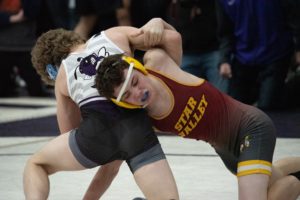 The Braves wrestling program split up their roster this past week, sending varsity and junior varsity wrestlers to both the Richardson Memorial in Brigham City, Utah and to the Madison Invite in Rexburg, Idaho.
At the end of the weekend, head coach Eddie Clark offered his thoughts on the status of the team.
"We are a little behind where we would like to be at this point in the season," he said. "We need to go back and focus on some basics to get where we want to be."
The Braves placed 12th overall in the 21-team Richardson event. Coach Clark singled out Waylon Nelson for his efforts.
"He stood out this week, Clark stated. "He is improving every day and is super coachable."
Nelson had the Braves' best finish in Utah, placing third at 120 pounds.
In Rexburg, the Braves didn't' have a full varsity contingent but still managed to place 10th out of 16 varsity teams in attendance. Bridger Smith advanced to the finals in the 98-pound weight class.
Up next is the relatively new Trojan Border Wars in Casper this weekend where Star Valley will see traditional wrestling powers from Wyoming, Nebraska, South Dakota and Montana.
"Over the next two weeks we have a difficult task," Clark added. "We need to heal a few kids up while trying to improve. We may need to sit a few kids here and there to get healthy for the end run but we will take everything week to week and day by day. We have to raise the intensity level as well as keep working on our skills."

Richardson Memorial (@ Brigham City, Utah)
106: Boaz Simpson 0-2)
113: Jacob Guild (6th)
120: Waylon Nelson (3rd)
126: Spencer Larson (2-2)
132: Joseph Thompson (1-2)
138: Haze Child (5th)
145: Kale Johnson (0-2)
152: Ren King (2-2)
160: Zac Patterson (2-2)
170: Carson VanDeburg (0-2)
182: David Walker (6th)
195: Trent Clark (4th)
Richardson Memorial (Team)
Payson 234.0
Box Elder 182.5
Bear River 145.5
Viewmont 137.0
Altamont 125.5
Syracuse 121.0
Fremont 116.0
Corner Canyon 108.0
Sky Ridge 94.0
Mountain Crest 89.0
Weber 88.5
Star Valley 86.0
(21 teams)
Madison Invite (@ Rexburg, Idaho)
98: Bridger Smith (2nd)
132: Spencer Howes (0-2)
138: Caleb Hirschi (5th)
145: Jacob Walker (2-2)
152: Tony Mickelson (6th)
160: Joshua Semadeni (6th)
182: JaAron Smith (4th)
Madison Invite (Teams)
Century 164.0
Thunder Ridge 163.5
Jerome 157.5
Blackfoot 154.5
Sugar-Salem 143.0
Firth 111.0
Bonneville 109.0
Madison 96.0
Highland 73.0
Star Valley 71.0
(16 teams)
Tagged:
Eddie Clark
Madison Invitational
Richardson Memorial
Star Valley Braves Wrestling
Trojan Border Wars