Even without key contributors the Star Valley Braves wrestling team not only ran away with the varsity team title in last weekend's Lander Invite, but they also took the junior varsity crown as well.
As a team, Star Valley finished with 261.5 points. Powell was a distant second with 204.0.
Individually, the Braves sent six wrestlers into the finals of the tournament with Haze Child (120), Tristian Hicks (126) Grayson Hicks (132) and Parker Merritt (285) winning their respective weight classes. Kyle Kunz (160) and Koa DeLong (170) placed second.
Head coach Eddie Clark stressed that he was proud of the team's effort but that there are always things to hone. In addition he said the team will not sacrifice a potential 3A team title for a January tournament title.
"There are always some things we want to do better and there are always some matches you want back but there are just some things to clean up."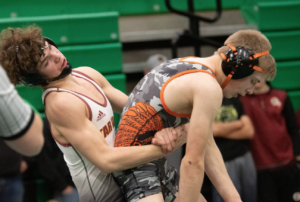 After spending the majority of the season facing off against Utah and Idaho squads, Star Valley will be seeing primarily Cowboy State squads for the next six weeks.
"It's finally nice to see 3A Wyoming so we know where we are compared to everyone else," Clark said. "It gives us a chance to adjust some weights. The really important thing is to see what the competition has. We hadn't seen Powell or Worland yet. Some of those teams that we are always battling with. To get Haze Child back was nice. Obviously he performed well. Parker was a JV guy last year and he wins the varsity this year. Hicks twins are back in form so that's good."
This next week will be the annual Ron Thon Memorial in Riverton which draws all of Wyoming for a defacto all-class tournament. The Braves may not be one-hundred percent but the staff is not expressing concern.
"We feel like we left some points on the table in Lander," Clark said. "Trent (182) didn't go and I think we have some kids that we can compete with."
Clark pointed out some of the other contenders for this weekend's title.
"Kelly Walsh and Green River and Cheyenne East and Moorcroft and even Kemmerer," he said. "We have our guys and Powell has theirs. I have a feeling we are going to have a few guys at home this weekend. We're not going to sacrifice our shot at the end for this weekend. It's just another chance to find some things to work on. I think of each tournament kind of like a quiz so we can get ready for the end and at the end we have the final exam."
• Junior Varsity
The Braves JV won the tournament with 114.5 points, edging Lander's 104.0.
Jacob Isaacson (120), Tysen Peavler (132), Jacob Walker (145) and Joshua Semadeni (160) all won event titles. Zeke Kemp was second at 120 to his teammate.
"The fun thing is that we entered the majority of our varsity and JV and even three kids in the varsity tournament so for us to win the JV tournament is really neat," Clark said. "That speaks well to where we are with those kids."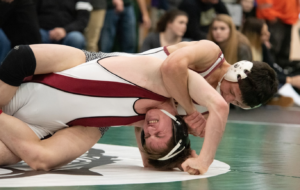 Lander Invite (Varsity)
106: Jacob Guild (4th)
106: JJ Hunsaker (1-2)
113: Waylon Nelson (3rd)
113: Winston Green (5th)
120: Haze Child (1st)
126: Tristian Hicks (1st)
126: Spencer Larson (4th)
132: Grayson Hicks (1st)
138: Harrison Hoopes (5th)
138: Kale Johnson (2-2)
138: Zach Patterson (1-2)
145: Ren King (4th)
145: Carson VanDeburg (2-2)
152: Tyson Hoopes (4th)
152: Tony Mickelson (0-2)
160: Greyson Hunsaker (2-2)
160: Kyle Kunz (2nd)
170: Koa DeLong (2nd)
170: David Walker (0-2)
182: Kyle Wanek (0-2)
195: Connor O'Brien (4th)
195: JaAron Smith (1-2)
195: Bryan Ray (Inj.)
220: Gabe Nield (0-2)
220: Brennan Harris (5th)
285: Parker Merritt (1st)
Team Scores (@ Lander)
Star Valley 261.5
Powell 204.0
Douglas 161.5
Worland 121.0
Pinedale 117.5
(20-Teams)
Tagged:
Eddie Clark
Grayson Hicks
Haze Child
Lander Invite
Parker Merritt
Ron Thon Memorial
Star Valley Wrestling
Tristian Hicks