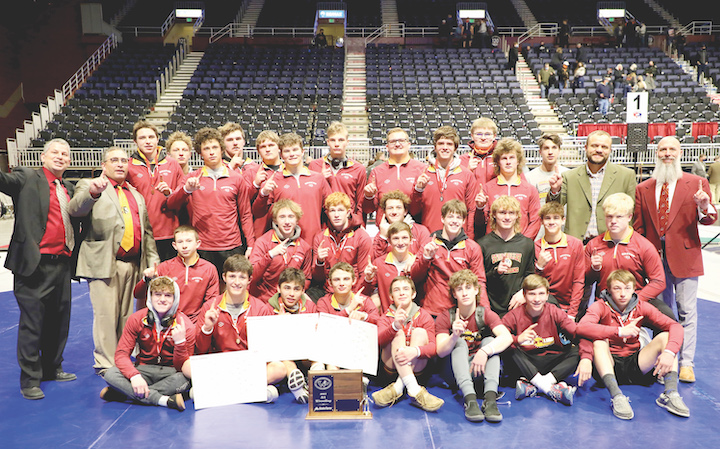 ◆ Braves Brawl is December 11-12.
After winning six straight Wyoming 3A team titles, the Star Valley Braves have a chance to tie the school record for consecutive wrestling championships which took place seven times from 1991-97 under Richard Hoopes and Ed Bruce.
The key to this year can be found in the Star Valley room.
"The biggest challenge has been to not get complacent.," said Head Coach Eddie Clark. "We've been so good for so long that it gets easy to read your own press. There's a lot of work between now and the state championship which is the goal. So we have to come in and focus up and go to work."
That state championship will continue to be one of the main goals."
This will be chased while the Braves will be overcoming some early-season scrapes and injuries
"We have a great returning nucleus of our team and expectations are high," Clark said. "Goals are high. That comes with pressure and a lot of things so the hard part is not resting on your laurels from years past and put in the work and get the job done."
Clark pointed out that several wrestlers who will be limited early on should be fine during the meat of the season.
"It's a marathon not a sprint. Harrison will be released and Winston Green is a little nicked up so we don't know what his timetable is to be 100-percent.
Zac Patterson is limping through so we'll figure out a plan for him to get him healthy. We lost Malachi Patterson early on with a knee injury. We'll just take our time and get them in and go when they're ready."

• The Streak
Winning a seventh straight team titles isn't something you can expect to see taking up much of the staff's time other than the fact that it would be accomplishing this season's goal.
"We haven't discussed it," Clark stated. "More than that we talk about our personal goals and team goals and the legacy of that is the teams before us. You don't wanna drop the ball. We try not to worry about it. They know it's there. We know what we want and everything is a process until then."
• Impending Move
With the current release of the ADM Figures moving forward, Star Valley can expect that any 3A sports will be moving to 4A starting next fall.
"It doesn't matter to us," Clark continued. "3A or 4A or 5A or 6A. We wrestle schools in Utah with 3000 kids and beat them every week. We see schools bigger than any of the schools in Wyoming all the time and we're competitive. It doesn't matter much to our kids I don't think. It doesn't matter to me. Our wrestling community doesn't either. If we get beat, great, they were the better team. Not because we didn't do the work. If you do the work sometimes you get beat and that's ok."
• Numbers
Star Valley Wrestling will continue to be one of the top programs in the state.
"I think we'll have close to 60 which is big numbers," Clark added. "We have a big freshman class and we had a big freshman class last year. It's exciting. Numbers are up and that has its own set of issues so that's fun. We should be super competitive in the room so that makes us super competitive out of it.
• Girls Wrestling
There are three girls competing with the wrestling program this season and with every state surrounding Wyoming. Recently Lovell and Evanston saw approvals for a girls wrestling team. The State of Wyoming needs eight for it's own classification. Clark stated that while good for the sport, it adds to an issue of space that Star Valley battles every season.
"In that conversation there's been talk of that expansion so we just don't have the space to do that kind of thing," he said. "If SVHS decides that's what they wanna do, then we'll get one going. But it's got to be approved first they need eight schools. So we'll wait until that time comes."
Let us know what you think!