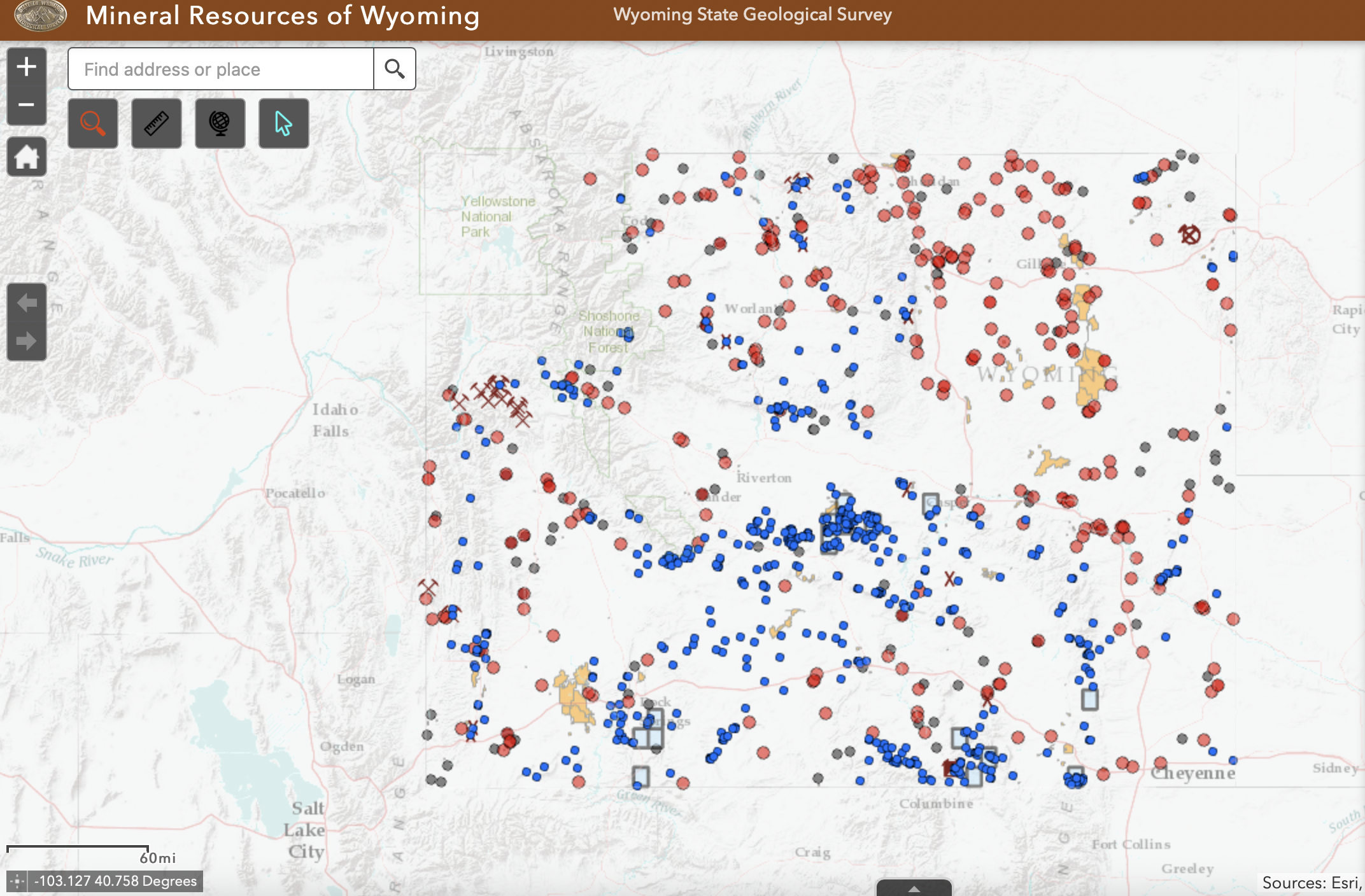 Wyoming is rich with minerals. The state has abundant energy minerals, such as coal and uranium; industrial minerals, like bentonite, trona, and gypsum; as well as critical minerals, metals, and gemstones. The Wyoming State Geological Survey (WSGS) has developed a new interactive map that will make it easier to research the state's extensive mineral resources. The online Mineral Resources of Wyoming map will be routinely updated as new data become available.
"Our suite of online maps continues to expand and is growing in popularity among users. The addition of our new Mineral Resources of Wyoming map provides the public with a central location for information about minerals in the state. We anticipate it will be useful to many individuals in the public, government, and industry," says Dr. Erin Campbell, WSGS Director and State Geologist.
The map is an update and expansion of the WSGS's 2018 Mines and Minerals map. New features include an interactive index of downloadable uranium logs, and locations of geochemistry results from reports and STATEMAP projects. External information detailing current mining, such as Wyoming Department of Environmental Quality active mines layers, and federal and state mineral leases have also been added.
"The Mineral Resources of Wyoming map greatly expands the amount of geochemistry data and mine information over the previous map, as well as adding information regarding mineral leases, critical minerals, and dozens of WSGS and U.S. Geological Survey mineral reports," says Jim Stafford, a geohydrologist and map developer at the WSGS.
Also included are several statewide minerals maps published by the WSGS that have been made interactive and a series of layers showing study areas for WSGS mining district publications.
"The goal with this map is to make mineral-related data more accessible and interactive to the public," says Stafford. "Whenever the WSGS releases new mineral reports, they will be added. The map will be routinely updated as new data become available.
"The map also highlights areas in the state with active WSGS projects that are tied to mineral research," adds Stafford. The WSGS is currently working on multiple, large, critical mineral projects that include on-the-ground analytical work as well as helicopter surveys to collect geophysical data. "Links for these data will be posted to the map as the projects progress."
In addition to the Mineral Resources of Wyoming map, other WSGS interactive maps cover geothermal,geologic hazards, geology in Yellowstone National Park, groundwater, and oil and gas. The survey has also developed an interactive map of its geologic map index.
Let us know what you think!