WWCC class schedule is now available; deadline is August 29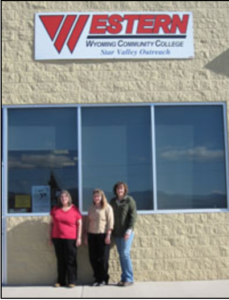 The Fall 2019 schedule of WWCC classes is now available. The cream colored brochures may be picked up at various businesses and other locations along Highway 89 and in each community.
"Of course, you pick one up at the office or you may find it online," said Yvonne Putnam of WWCC Outreach. "Over 130 College Credit classes are being taught over the Internet. Nurse Assistant and Principles of Phlebotomy are being taught locally."
According to Putnam, all college credit classes may be audited by individuals who do not desire the credit but want to obtain the information taught in the courses.  Tuition does not change, but completing class assignments and taking tests becomes optional, and no grade appears on the transcript.
Seven high school concurrent classes (high school courses in which the student may receive college credit) are available this semester.  WWCC employees will be at the high school on August 26 and August 27 to assist with registration. All paperwork must be returned by August 29.

More than 20 non-credit classes and workshops offer a wide variety of learning opportunities.  In addition to many arts and crafts classes, including Cartooning and Irish Ladder Quilt, American Sign Language I & II, Gardening Workshops, Zumba Gold, Estate Planning, Workers Compensation, and more.  Never-before-offered courses include:  Basic Communication in American Sign Language, Cake & Cookie Decorating, Enriching Life with Mindfulness and Meditation, Landlord/Tenant Law Seminar, Cardio Kickboxing, and Zumba Toning.
"Some of our classes have sample displays available at the office or online," said Putnam.
For those who cannot or do not wish to attend classes, hundreds of Non-Credit Internet classes are available.  The entire listing can be found at www.ed2go.com/starvalley.
Several options are available:
• 1) Instructor Led Courses.  These six-week courses begin on the second Wednesday of each month, and provide not only personal enrichment opportunities but Teacher Recertification Credit, Nursing CEUs, and vocational classes and certificates, as well.
• 2) Self-Paced Tutorials.  These classes start anytime, and can be completed at the student's convenience.
• 3) Career Training Programs.  Much more extensive than the other two class options, these programs can be completed between 6 and 18 months, and will help students prepare for employment and national certifications.
Registration for all classes and workshops will be held at the WWCC Outreach office (247 N. Washington in Afton) August 21 and August 22 from 10 a.m. to 7 p.m. and August 23, from 10 a.m. – 4 p.m.
You may choose to mail in your registration.  A form has been provided on the back of the book. Phone-in registration is also available for those using a credit card.
NOTE:  Although registrations for some non-credit classes will be accepted later in the semester, early registration is encouraged.  Tuition must be paid at the time of registration.
For more information, call WWCC Outreach Office at 886-3834.
Let us know what you think!
Tagged:
Western Wyoming Community College
WWCC Outreach
WWCC-Afton