WYDOT hosting WYO 22 Corridor Project Open House June 14 & 15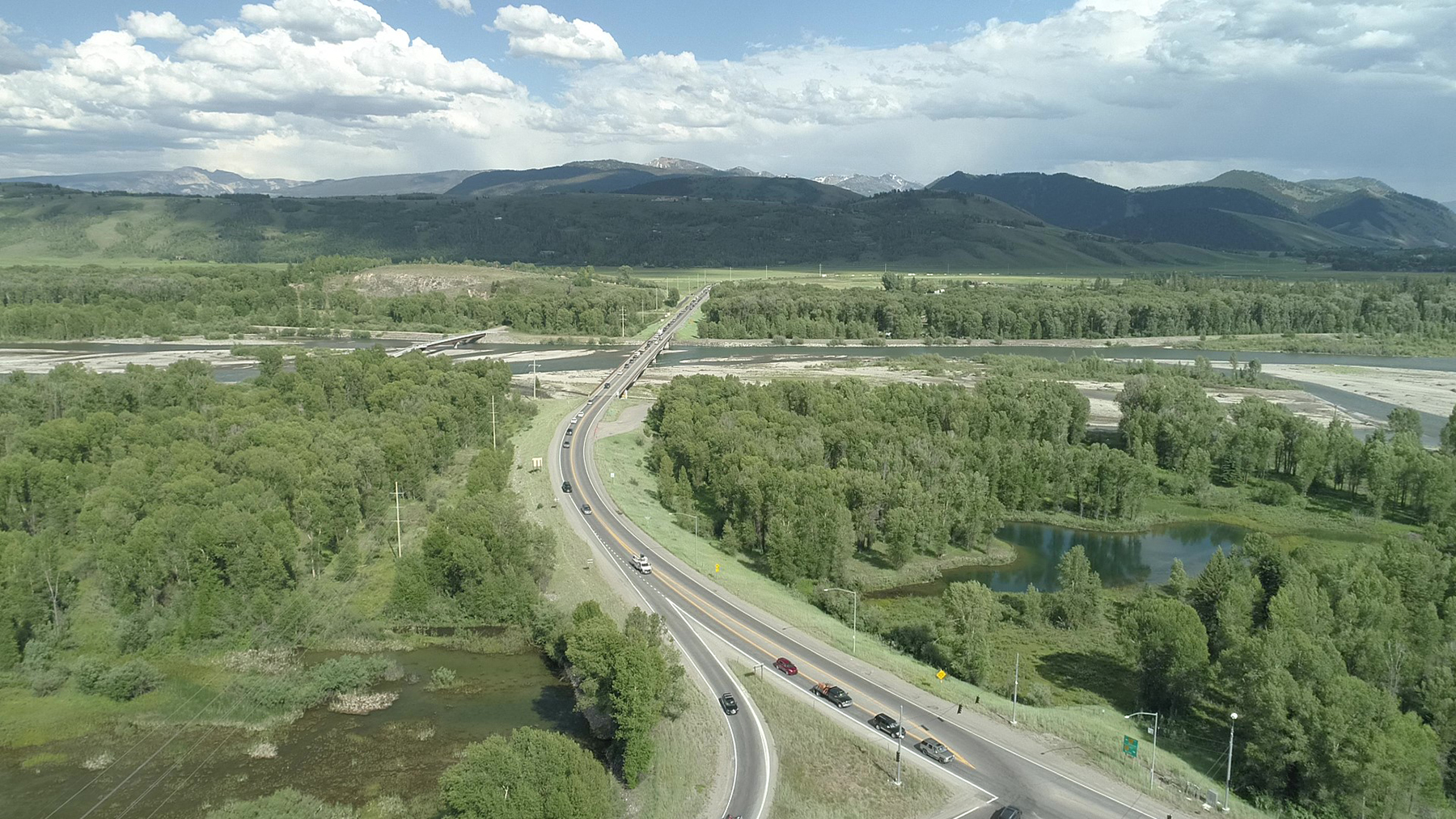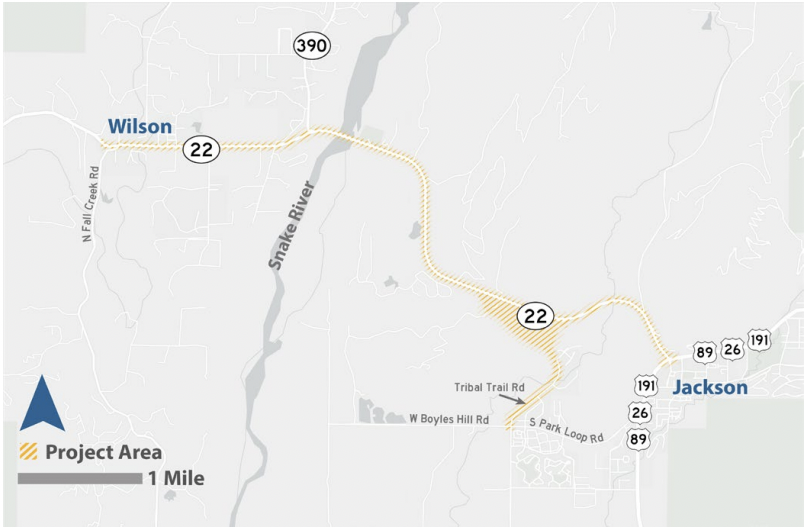 The Wyoming Department of Transportation (WYDOT) will be hosting two public meetings to discuss the environmental analysis and design of improvements to the WY 22 corridor.
The WY 22 Corridor Project extends from the Y intersection with Broadway Avenue through Wilson.  It also will evaluate a connection to existing Tribal Trail Road, per an agreement between WYDOT and Teton County in March to fold the County-led Tribal Trail project into the WY 22 project.
"Combining the two projects helps respond to comments from some members of the public that the Tribal Trail project should be analyzed along with the WY 22 project," said Bob Hammond, WYDOT's Resident Engineer.
Building on previous WYDOT and local studies, the WY 22 Corridor Project will examine potential corridor improvements including multimodal aspects (e.g., roadway, pathways, transit) and animal-vehicle collision mitigation opportunities. This project involves identifying transportation needs and improvements to WY 22 and analyzing associated impacts, in coordination with stakeholders and the public.  This work will be used to support a National Environmental Policy Act (NEPA) process that WYDOT hopes to initiate in 2024.
These open-house-style meetings will provide an opportunity to learn about the project; ask questions and provide your input; and find out about next steps and project schedule. Comments received will be considered in the NEPA process.
The meetings will be held on Wednesday, June 14, at Victor Elementary School in Victor, Idaho and on Thursday June 15, at The Virginian in Jackson, Wyoming. There will be no formal presentation, and interested parties may drop by the meetings anytime between the hours of 5 p.m. to 7 p.m.
WYDOT officials and other team members will be on hand to answer questions and discuss any concerns you may have. In addition, you will be able to submit written comments during the meeting or after the meeting via mail or email. Spanish interpretation will be available at both meeting locations.
If you cannot attend in person, WYDOT is also hosting a self-guided virtual open house. The online meeting launches June 14.  You can participate at any time through July 17. The online meeting can be accessed 24/7 at https://visualmedia.jacobs.com/WY22Corridor/.
If you have questions or specific accessibility needs, please contact Stephanie Harsha, WYDOT D3 Public Relations Specialist, 307-352-3065, stephanie.harsha@wyo.gov. Questions can also be directed to Bob Hammond, WYDOT Resident Engineer, 307-877-3665, bob.hammond@wyo.gov.
Project information is available on the project website: www.WY22corridor.com.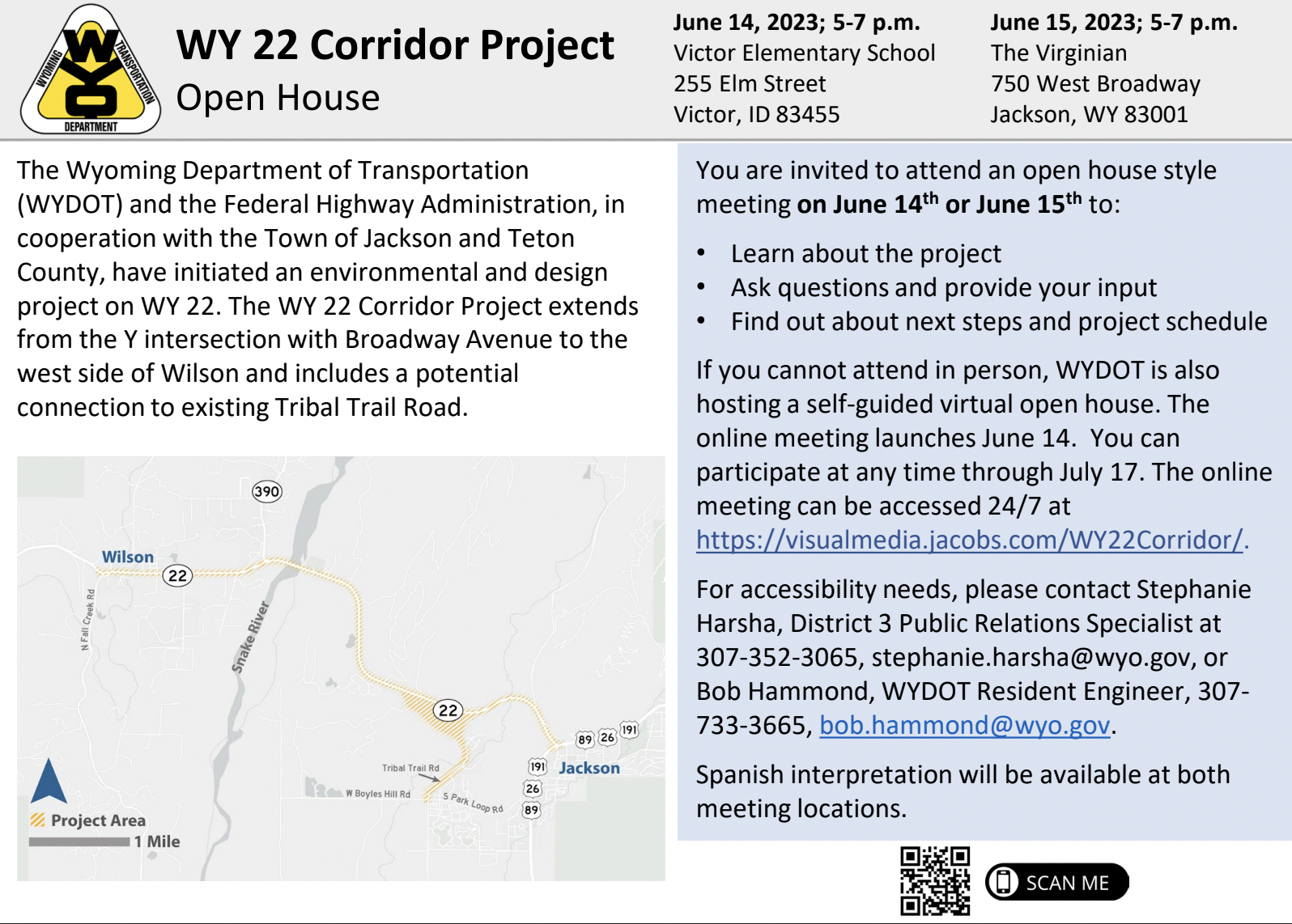 Let us know what you think!
Tagged:
WYDOT
WYO 22 Corridor Project
Wyoming Department of Transportation